To make a positive impact for plus size people and the planet.
Our Vision
A personalized shopping experience based on community and sustainability
Our Values
Positive impact - We are not willing to compromise people for things. We only partner with ethically made brands and sustainable practices.
Inclusive - Body positivity and confidence is what we aim to inspire in all our customers.
Sustainable - Promoting sustainable brands as we believe there's a responsible way to create products that don't harm the planet.
Community - The power of community is so important. Coming together in support, love and acceptance of each other's bodies.
Our Story
Our mission is to build an inspiring, community-led plus size shopping experience that's personalized for your style, size and spend. We are committed to minimizing our environmental footprint and inspiring others to do the same.
But who are we and what brought us here?
Well here goes. We're two sisters, Sylvie and Danielle - living in Sydney, Australia and Leeds, UK.
Danielle has always struggled to find stylish clothes as a size 18-20 and Sylvie began to notice this when the sisters went shopping together. Danielle could never find anything she liked in her size and asked Sylvie to try things on her behalf so that she could feel included in the fun of fashion.
So the sisters decided to build an inspiring and stylish home for plus size fashion online. A place that brings amazing brands onto one place and with inspirational, stylist curated outfit ideas.
Although 70% of women are plus size, only 20% of apparel is made in plus sizes. And to make matters worse, that 20% of plus size clothing is almost all fast fashion, low quality items made of synthetic fabric.
Sustainable fashion may have hit the zeitgeist of the fashion world in the last 5 years, but plus size consumers were widely ignored by major brands.
So Insyze is also a place to find awesome sustainable brands and learn more about where your clothes came from.
During the last 2 years, Insyze has also grown a kickass community of plus size people supporting each other in fashion advice, body confidence and outfit posts.
So Insyze is the first of its kind, community-led, sustainable plus size marketplace.
"We want to make sustainable shopping more accessible and inclusive, so that you can the most positive relationship with your clothes and the environment." says Sylvie.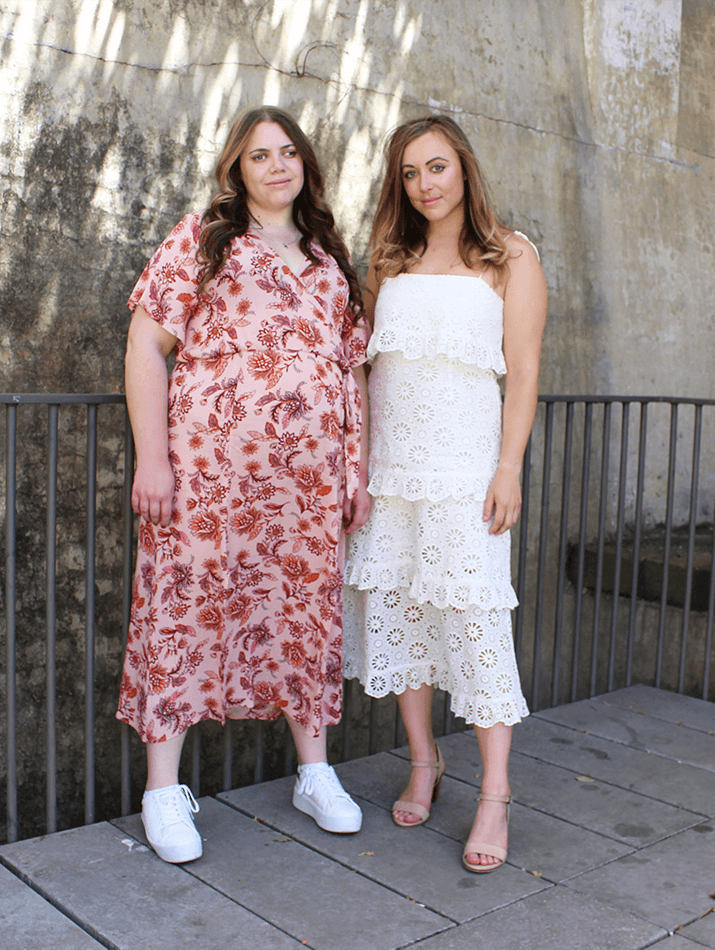 We care for plus size people
We want every person, no matter their size, shape or ability, to feel confident.
We want every person to have access to stylish clothes that make them look and feel good.
We want every person, no matter their income, be able to access sustainable fashion options and make positive purchases.
We want to foster a community that cares for, uplifts and supports one an other.
We don't accept unsolicited health or dieting advice. We have a zero tolerance policy for trolls or abuse.
We care for our team of people
Insyze is a living wage employer.
Our gender pay gap is ZERO.
We have an inclusive working environment.
We care for the planet
Our packaging is compostable
We plant a tree for every order we receive.
We are working towards becoming B-Corp certified.
We research every brand that we list so we can create a comprehensive sustainability profile for them. This is to help educate our customers on the garments and the brands that make them so they can make an informed purchase decision.

Our stylists show how an item can be worn in multiple ways - so that customers can get the most out of their purchases

Our packaging is compostable to reduce packaging waste
---
We know there's still a long way to go in making plus size fashion sustainable. As a start-up, we're doing our best with the resources we have right now, but we know we can do more. Our pledge is to improve month on month, year on year at making plus size fashion better for people and the planet.