Who doesn't love earning points?
We know we do. That's why we've introduced Insyze Points, so for every interaction you have on Insyze - you can earn points and rewards!
Points can be earned from creating collections, sharing outfits, inviting friends and engaging with peoples' posts (by liking and commenting).
Insyze is a positive space. The more love you share, the more you're rewarded.
Your points = $$ to spend at Insyze
Your Points can be exchanged for $ to spend on Insyze!
200 Points = $5
500 Points = $10
1000 Points = $15
2000 Points = $20
3000 Points = $25
5000 Points = $50
Here's how you can get points:
You earn Insyze points by posting or engaging with content on Insyze.
1 Outfit share post
= 20 Points
Answer a Chat
= 10 Points
How do I know how many points I have?
Your points score is visible in the Account Settings of your profile.
To view your Points from the website, tap your profile icon and hit 'settings'. You will see your points score there.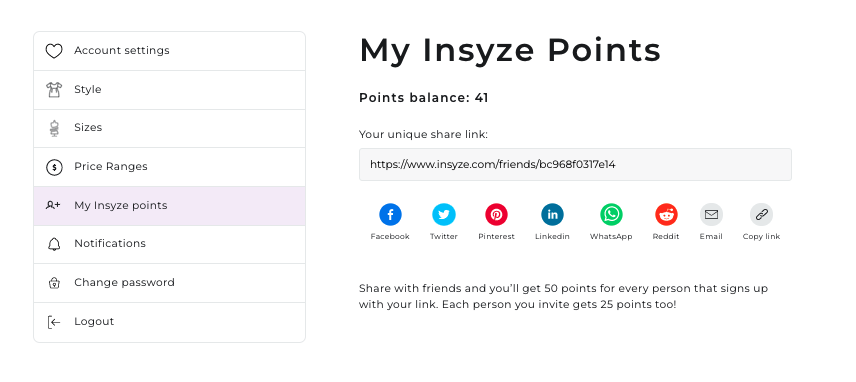 How do I claim my rewards?
When you hit each reward threshold, you will receive an email from us with a unique code to use at checkout.
Please allow up to 48 hours after reaching the points threshold to receive the email. If you don't receive an email after 48 hours, check spam or contact us here.
What are the T&Cs?
Read our terms and conditions here.