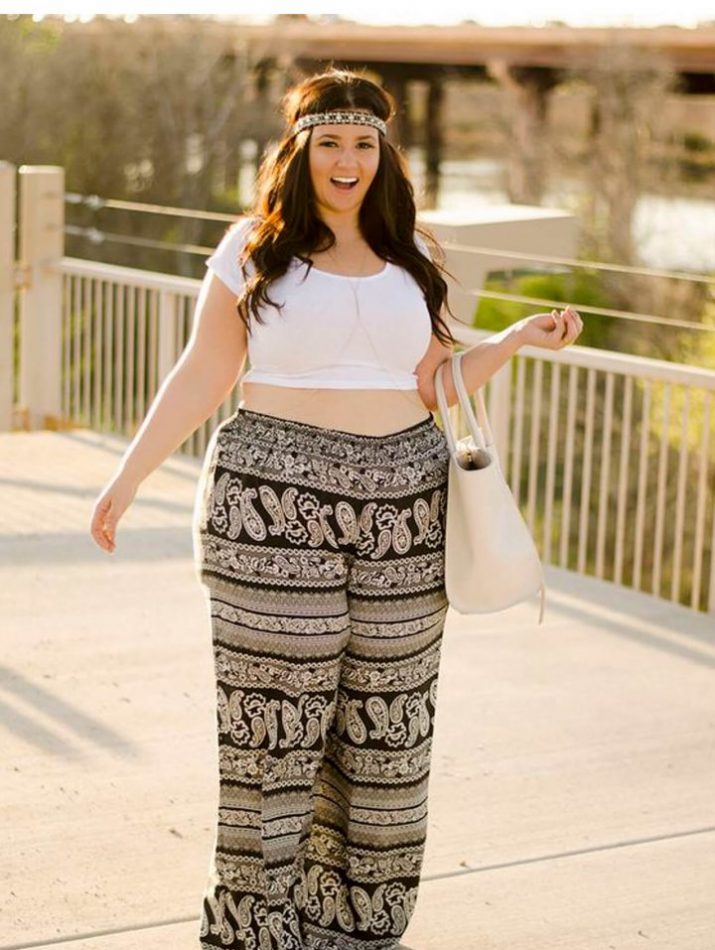 Tis the season to be jolly. Why? We hear you ask. Santa's sleigh is another 6 months away! Well that might be the case, but summer is the season of music festivals, where you can be truly free, inhibited and enjoy yourself in the summer sun.
plus size festival fashion style
Tis the season to be jolly. Why? We hear you ask. Santa's sleigh is another 6 months away! Well that might be the case, but summer is the season of music festivals, where you can be truly free, inhibited and enjoy yourself in the summer sun.
Oh yeah, we love a good festival. From the amazing music, good vibes and incredible fashion – what's not to adore? Babe, it's time to get your party pants on because we've got the run down of the US' hottest festival fashion for you right here.
There's so much more choice for us plus size babes now and festival fashion is getting hotter by the minute. Here are some of our favorite festivals and outfit ideas for each one.
Lollapalooza – Chicago, Illinois
This year's line up for Lollapalooza is bigger and better than ever! With amazing pop, hip-hop and indie artists, there's something for everyone at this summer festival favorite. The same goes for your style – here's a festival you can totally be yourself, with its chilled out, good vibes.
Want to wear shorts? Go for it babe. Now's the time to rock your body confidence like never before. We love these black culotte shorts with a paper bag waist from ASOS:
Burning Man – Black rock desert, Nevada
If you're one of the lucky burners heading to the black rock desert this year, then man are we jealous! Burning man doesn't just require an outift.. you need some serious costumes for this crazy place.
Think Halloween but 100x better and more ridiculous. Burning Man is all about the costumes, with incredibly ornate outfits being one of the major exciting things about this music and arts festival.
We're talking bikinis, ski goggles, glitter, tutus, headdresses, wigs, floral crowns, leather goth boots and feathers — often all worn at once. And listen, Burning Man is not just for skinny young people. This is a creative festival all about acceptance and love – so you better bring it!
We adore this Astra Signature bodysuit.
Electric Daisy Carnival- Las Vegas, Nevada
If you like EDM, you'll love the music at Electric Daisy Carnival. As if Vegas could get any better, it sure does when this festival's in town.
This epic festival is all about NEON. Get your rave gear on gorgeous, because it's time to take your style to the glow in the dark side and start raving…
We love this Forever 21 jumpsuit – it's bright, light and there'll be absolutely zero thigh chafing in this number.
CMA Festival – Nashville, Tennessee
What's not to love about the Country Music Awards! Some of us here at Insyze are big country music girls at heart and this is one of our favorite events of the year. We love the feminine, southern belle looks. Try a cute co-ord or boho romper like this ASOS curve style:
Jazz Festival – New Orleans,  Louisiana
The iconic New Orlean's Jazz and Heritage Festival brings together a huge variety of music, food, arts and people from all over the world!  Musical influences include blues, jazz, folk, latin and celebrate indigenous culture.
Because it's such a festival of celebration and happiness, let your outfit, style and smile shine through!
Want to stand out for all the right reasons? Make a statement in this Fashion Nova Curve jumpsuit:
Stage Coach – Indio, California
As California's premiere country music festival, you can guarantee that everyone is going to be sporting daisy duke denim and checked shirts! We love that country style, but if you want to do things a little differently then how about a cute two-piece such as this yellow culottes number from Simply Be.
Plus Festival Tips
Tip 1. Comfort and Style
Think you have to sacrifice one for the other? Nope! At a festival it's key to be comfortable as well as stylish, and luckily you can do both. For example, don't bother taking heels – if you're going to be in a field for three days straight, are you kidding!!
Boots and sandals are a great choice for footwear – great for rain or shine!
Tip 2. Pack Smart
Whether you're camping or staying near the festival site in a hotel, planning your outfits before you leave for the festival is a great idea to make sure you're not schlepping a load of excess baggage around. Who needs to be sweaty from carrying their suitcase when you've got all that dancing to do!
Tip 3. Look after your skin
We keep coming back to this three days in a field thing. But not only will you be in a field, you're also going to be in the sun. Look after your skin with a high factor SPF and stay hydrated by drinking lots of water throughout the day.
Tip 4. Dress in layers
Even in the desert the temperature can quickly drop at night, so we advise to take layers that you can throw on and off when you need. A flannel shirt or light jacket are a great choice!
Tip 5. Enjoy yourself!
Whatever you do, the number 1 important thing to remember is to have fun! Don't get hung up on your insecurities, it's such a waste of energy when you're in this vibrant festival environment. Laugh with your old friends, laugh with new found friends and let your soul shine! Remember, your body is as beautiful as the music.
At the end of the day, although every festival has a signature look and feel – you want to feel confident, happy and most importantly; authentically you. Don't hide behind your clothes, express yourself through them!