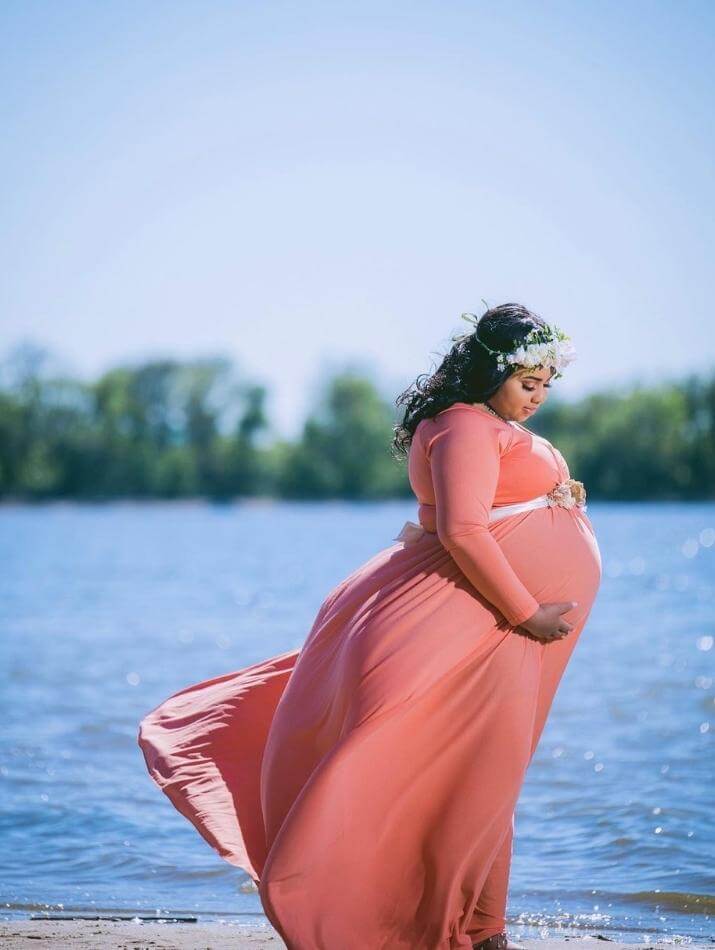 If you are anything like us, you'll probably start planning your maternity photoshoot as soon as you find out that you are pregnant…maybe even earlier. After all, pregnancy is an incredibly special time in your life so it makes perfect sense to document it- baby bump and all- with a photoshoot. In this blog we want to answer your questions on creating the perfect pregnancy photos and give you a curated selection of our favorite maternity dresses for photoshoots.
For more on our series on plus-size maternity fashion check out or recommendations on what to wear to a baby showers plus see our picks of where to buy plus-size maternity clothes.
Featured Image: @plussizebirth
When to book your maternity photoshoot
For many expecting baby mamas, the sweet spot for a maternity photoshoot is between 28 and 32 weeks. At this stage in your pregnancy your bump is gorgeously on show,  but wait too long and you may find that posing for a portrait session can get a bit uncomfortable.
What to wear
Your maternity photoshoot is an entirely unique and personal experience so what you wear should be too. 
Choose an outfit that accentuates not just your bump but also matches your personal style. It's important that you can feel comfortable to move into different poses and let your genuine emotions come out. We recommend having a few different outfit options with you for any last minute changes and aso to give you a bit of variety.
Choosing the theme
The theme you choose for your maternity photoshoot can be a big factor in deciding on the perfect outfit. 
Do you want to have your photoshoot inside or outside? 
What season are you having the photoshoot?
Alone or with family?
Where are you going to hang the picture when it's framed?
Glamorous or understated?
For intimate boudoir style photos, lingerie and sheer robes may be absolutely perfect, however for a more laid-back and cozy vibe, you may want to swap the robe for a cuddly sherpa or fleece style. 
However if you want to wear a ballgown - because why not? - only a great hall in a stately home will do.
Your photographer may specialize in certain types of shoots so if you want to go with a particular style, do your research to find a photographer that matches your vibe.
The best colors to wear 
We can all agree that your beautiful baby bump is the real star of the show so you'll want to frame it and really show it off. Dark colors like black and navy  ( the same colors that we as plus size people are generally encouraged to wear because they are 'slimming') are best avoided because they mask or minimize your bump. Instead choose soft light to mid tones.
Many choose to wear solid colors for their maternity photos but if you prefer patterns then we say - go for it! 
Pick your pattern carefully though so not to pull focus. Small or patterns that very busy can be really distracting but so can large patterns. Instead choose medium sized patterns on complimenting and subtle colors.
If your partner is going to be in the pictures with you we recommend choosing an outfit for them that compliments yours but is not totally matching. If the colors are too similar you run the risk of blending into each other in photos. Take a look at the color wheel to help you decide on which colors work best with each other or talk to your photographer about it.
Styles of dress
Style and fit are two things we think about a lot when we're buying plus-size clothes and this is heightened when it comes to choosing maternity dresses for photoshoots. 
Figure-hugging body con dresses in clingy fabrics will really emphasize your shape however you'll want to be sure that they are comfortable for wearing at 30 weeks. 
For a more fairytale or boho vibe we love a flowy maxi dress in an A-line silhouette. This style of dress gives you lots of movement - ideal for wearing over a long period of time.
Our favorite maternity dresses for photoshoots
The best maternity dresses for photoshoots are all about the perfect blend of color, style and comfort. Check out our collection to see some top picks from ethically and/or sustainable plus-size brands.