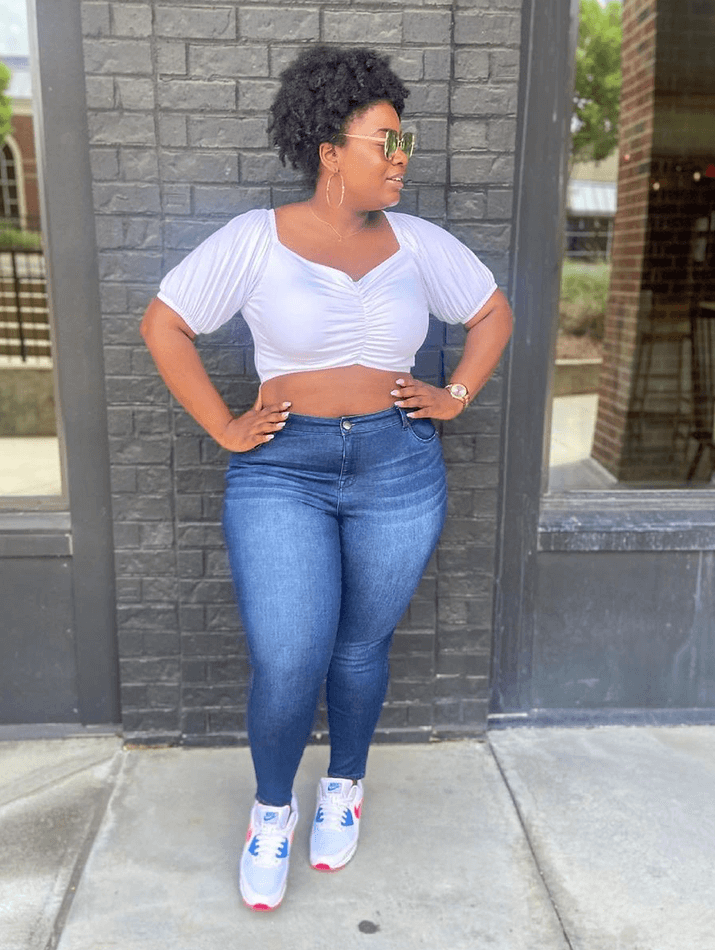 Jeans, whether you love them or hate them, they are an absolute wardrobe must-have. They may have started life as heavy-duty American workwear but you can now get jeans pretty much any way you want them. From raw, selvedge, rinse washed, distressed and we haven't even started on all the fits. In this blog we're sharing what fit of jeans are best for your body shape. As with all of our guides, these are our tips and recommendations and not 'rules.'
Featured Image: 1822 Denim
Apple and Strawberry Body Shapes
For Apple (O) and Strawberry (V) bodies who are 'top heavy' and carry fat around your midsection and have broad shoulders look for bootcut or straight-leg jeans. Look for styles with detailing below the waistline like whiskering, pleating or distressed patches.
If you have wide shoulders, balance out your silhouette with flared jeans or wide-leg pants.
Check out our collection of the best jeans for the O and V body shapes;
Including these Oak Plus Modern Straight Jeans in 31 rinse from Warp & Weft.
Pear Body Shape
For pears (A), we love the millennial fave; the skinny jean. Choose jeans with lots of stretch to hug your curves. Bulky denim - especially raw will hang off and can make you look boxy. Alternative fits that look great on pears include slim and straight cuts.
Check out these incredible stretchy Plus Sculpting Shapewear 28" High Rise Ankle Skinny Jeans from 1822 Denim.
Banana Body Shape
The best jeans for your body shape if you have a straight up and down or banana (H) type are pretty much any you want goes. If you are short-waisted, pick mid or even low-rise styles. Slightly flared pants and light washes are great picks for your body type.
We love these Mid-Rise Flare Jeans from Torrid.
Hourglass Body Shape
Hourglasses, elongate your legs with a pair of skinny jeans. We all know that hourglass (X) body types are known for their curvaceous figures but even though your 'hips don't lie' they can sometimes make you look a little bit on the stumpy side. Choose mid to high-waisted styles and try to stay away from jeans with lots of embellishment to the waist.
Check out the Seine High Rise Skinny Jean from Universal Standard.
What jeans fit do you wear the most? Share your denim looks with us on Insyze!