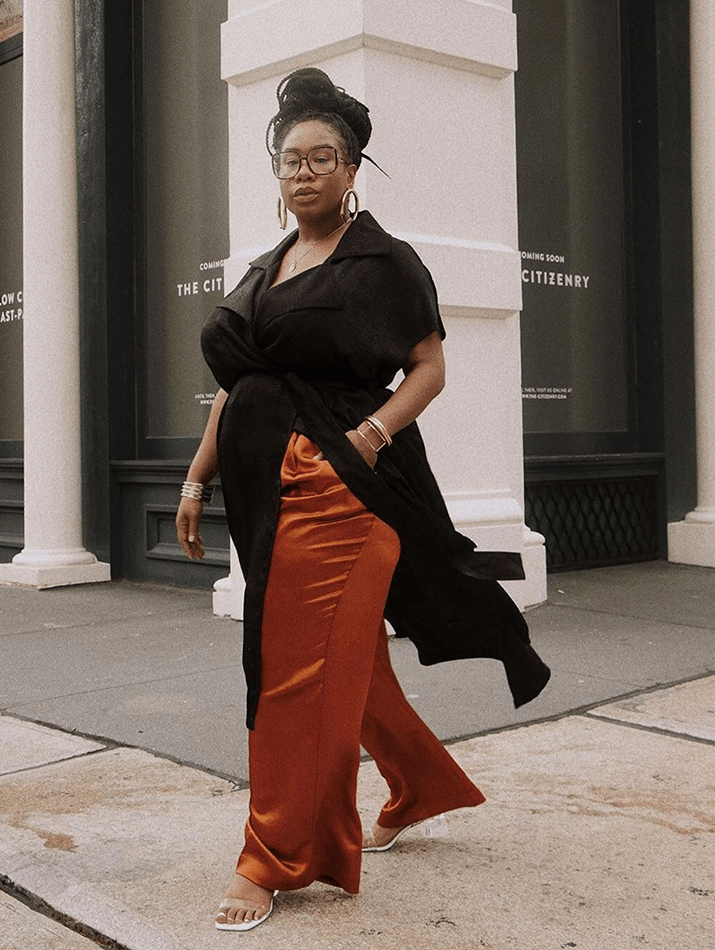 Designer plus size clothing is about more than just the label. High-end, luxury clothes are made using the highest quality fabrics and processes. Yet, if you are a fan of designer labels, you'll know that a lot of designer clothes don't come in extended sizes. In this guide, we want to show you some of the best places to buy designer plus size clothing; perfect for that special occasion.
Featured Image: 11 Honoré / Kelly Augustine B
The Hour
The first shop we want to shine a light on is The Hour, a London based brand. It's dedicated to bringing us contemporary plus size clothes that flatter the fuller figure. We love their use of luxury fabrics and premium craftsmanship to create stunning stylish pieces.
Diaphanous Coat
Delicate, stylish and super versatile. This long length kimono style coat with bell sleeves would be perfect worn with dress pants and a blouse.
Marina Rinaldi 
Italian luxury for software silhouettes since 1980. The Marina Rinaldi collection is classy, stylish and size inclusive. For FW20, Marina Rinaldi collaborated with British designer Antonio Berradi and we are so here for the stunning iconic pieces!
Compact Crepe Jacket 
With the maxi lapels and lace detail to the back, we are so in love with this bold red blazer.
Dear Curves
African inspired wax prints are perfectly showcased in the Dear Curves capsule collections and we are obsessed! With a focus on premium quality and minimalist styles, Dear Curves is an ideal fit for wedding guest outfits or special occasions.
Plus Size Leopard Print Kimono
Insyders know that we love our leopard print and this kimono style maxi dress is no exception. 
11 Honoré
Size inclusive and designer plus size clothing from 11 Honoré is bringing the edited runway in sizes 12-28 US / 16-32 UK and AU. At 11 Honoré, you'll find all of your favorite designers plus the stunning 11 Honoré collection.
Maya Pants
These wide-leg satin pants are high-waisted with flattering pleating to the front and a self-tie.
Veronica Beard 
Extended sizing at Veronica Beard runs up to 3X (US 24 / UK and AU 28). The effortlessly sophisticated, classic clothing offers a stunning array of dresses, blazers and blouses for that special occasion, but we would love to see more plus models featured.
Raylee Dress
This rich fig dress has an asymmetric hem and a V-neck. We love the side ruched detail!
Whether you're dressing up for a wedding, anniversary or a special date, look and feel a million bucks in some gorgeous designer plus size clothing. 
We're always interested in finding more fabulous brands to feature so make sure to tell us about your favorite designers!
Check out more Insyze guides including our guide to sustainable fabrics as well as where to shop for size 30+.
*Disclaimer: We may earn a commission on these links*