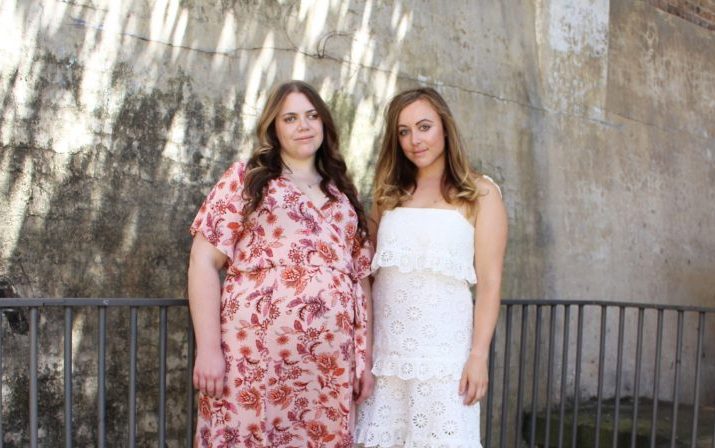 Finding plus-size clothes that are cute and affordable is hard! We know it because it's the reason we started Inysze - a one-stop-shop to find plus-size clothing you'll love.

Whether you're new to this blog or are one of our OG subscribers we wanted to tell you more about us. Who we are and how we make shopping for plus-size clothing a breeze.

Back in 2018, we started Insyze because whilst we knew that the number of plus-size clothing sites was growing, we still found it hard to find what we wanted, when we wanted it. 

Insyze is a plus-size shopping website with shoppable search features that means you can find clothes in your size from lots of different brands all in one place.
Our mission is to help people of every body shape and size to feel confident and happy in their own skin.  We want to inspire confidence, empower others and, most importantly put the fun back in online shopping for plus-size clothing. 
We're two sisters on a mission and we're so excited you're here!

On Insyze you can find hundreds of items from some of your favorite plus-size clothing sites. The product feed even updates daily.

Here's how it works:

Step 1:

Open insyze.com and click shop now
Step 2:

Ok lets go to work on those filters. First let's choose the type of clothing you want to search for. Let's hit pants.

Step 3:

Once you're browsing your category, you can filter even further by style and color. So if you're shopping for pants, do you want a pair of plus-size jeans, sweatpants, leggings? We're going to choose, wide-leg for this example. 

Step 4:

But as you will know from shopping online for plus-size clothing, it's all great finding styles you love, but they're rarely available in your size. Our Size filter helps you to just browse clothing from all brands in your size only. We're improving this too so that we can make size suggestions for you very soon!  

Step 5:

So we got the type of clothing we want, the style and the size. Now let's choose the color. Here we're looking for some cute work pants so we're going to hit... black. It's perfect for mixing and matching, right? And looks totally professional too. 

Step 6:

Found the perfect pair? Click through to the plus-size clothing site to buy. 

Right now there are over 17000 incredible plus-size clothes on Insyze and we're growing every day.

Here are some of the best plus size clothing brands that we host right here on Insyze:
Warp And Weft
Also keeping it the family are Warp and Weft. For over 3 decades Warp and Weft have been making amazing denim pieces. We love how they are big on environmentally friendly practices, like reducing the amount of water used in denim washes.


Torrid
If you are from the US, or even if you are not, then you are probably still going to have heard of Torrid. Plus size exclusive fashion brand Torrid stock some of THE CUTEST looks in sizes 10 to 30.
We love hoe how all of their clothes are measured to real women, no mannequins, so that they actually fit!
Find out more about Torrid's loyalty programme ; Torrid cash here.
Soncy
In sizes 10-32, Soncy is a lifestyle brand that wants to empower women to 'strut their stuff' with new sizes being added weekly. Find out more about the fashionable and affordable clothing range in our introduction to Soncy blog.

Showpo
Australian brand Showpo is youthful, fun and size-inclusive! We love their carefree styles that are so summer-ready. From starting life in a garage, Showpo is now winning all the awards and celebrating women in business!
River Island
We know and love River Island for bringing us fresh, new fashion for the whole fam and that includes a killer plus size clothing dept. River Island have been a high street mainstay for over 60 years with massive international online presence. We love River Island for cute going out looks and  casual vibes.
Pretty Little Thing
Pretty Little Thing is one of the fastest growing online retailers. They are cool, relevant and size-inclusive! We love the reGAIN app which means that you can recycle your old garms (not just from PLT) by sending them back in exchange for discounts!
NastyGal
For the badasses and 'girls in progress'; clothing from Nasty Gal is all about giving you the confidence to live your best life. The size-inclusive range is available up to US size 18 (UK size 22.)

ModCloth
Vintage-inspired, indie clothing with feminist roots. Clothing from ModCloth is available up to 4x (US size 30 UK size 34)

P.s. due to GDPR, ModCloth is not available for European shipping right now.  

Fashion Nova
When the subject is plus size clothing sites , we know that Fashion Nova Curve is going to be on your list.
At Fashion Nova they know that looking a million bucks can really help boost your confidence and feel like a total bad-ass. But before you go breaking the bank, make sure you check out the affordable, fashion forward styles from Fashion Nova.

Eloquii
For Eloquii it's all about the transitional power of fashion with a focus great fit. Sizes are available from 14 -28 (US)
P.s. due to GDPR, Eloquii is not available for European shipping right now.

Which plus-size clothing sites would you like to see on Insyze?
Follow us on Instagram for more fashion inspo.