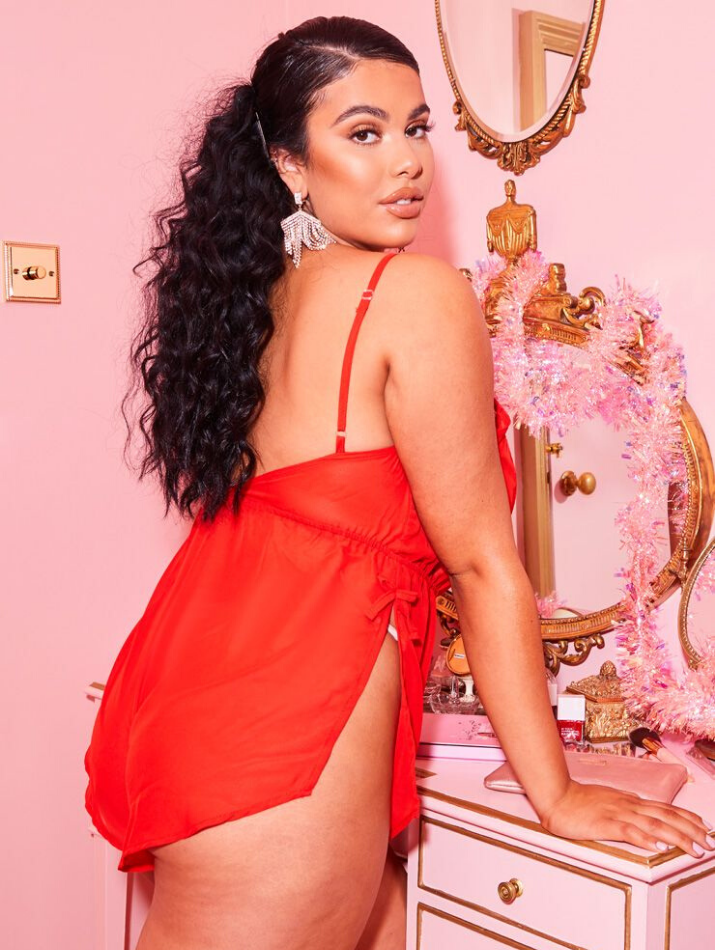 Goodbye winter and say hello to your newest piece of lingerie this spring with Insyze. We have curated hundreds of the internet's best plus size lingerie in one place to allow shopping from the comfort of your own home.  The days of plain underwear are gone, it is time for all of us to reap the benefits of lingerie.
Shake it up this spring by stepping out of your comfort zone and into different prints, styles, and materials.  With so many gorgeous styles to choose from, we have listed ten of our favorite plus size lingerie sets for Spring 2020 right here. Which will you be buying first?

Plus Red Chiffon Teddy
It doesn't have to be Valentine's Day to slip into your pinks and reds.  This PrettyLittleThing teddy features a fiery red mesh with a luscious lace trim.
One thing's for sure, you'll have hearts throbbing in this set. 
Wild Animal Lace Trim Set
No lingerie collection can go without an animal print set.  Lucky for you, Ulla Popken's Wild Animal Lace Trim Larissa Underwire Bra and Microfiber Panty is just what you need. Its lacy detailing with the cheetah print makes it the perfect combination.  The best part? It comes with a matching nightgown. You're welcome.

Available sizes for the bra: 38-40 D/E
Available sizes for the panty: 24-3
Available sizes for the nightgown: 12-30
Black Lace Stripe Slip Dress
Who doesn't love a little black dress? Especially when it's made for the bedroom? This beautiful slip from Missguided has a sheer stripe with a lace cup detail.  You'll want to show it off to everyone!
Plus White Lace Satin Detail Bodysuit
Run, don't walk to this PrettyLittleThing sultry bodysuit for the pretty price of $35.  The plunging lace neckline and high waist emphasizes all the parts we want and none of the parts we don't.
Faux Fur-Trim Night Dress
Are you feeling a little daring? A little extra flirty? Well, do we have the dress for you! This ultra-sexy dress from Forever 21 will be one you can't wait to bring out at night because we all know nothing good happens after midnight…
Lace Houndstooth Print Underwire Larissa Style Bra & Panty
Gingham print has been all over this year and it's not going anywhere yet.  Ulla Popken's bra and panty set should be next on your list; it's stylish without sacrificing comfort with soft cups and thick straps. 
Available sizes for the bra: 38-46 C/D
Available sizes for the panty: 16-30
Mesh Trim Panties and Bralette
This matching set has everything you want; comfort, style and, most importantly, sexiness.  The velvet makes it not only comfortable on the skin, but for all parties involved. The panties and bralette are sold separately, but they're both priced well. 

Available sizes for the panty: 12-20 
Available sizes for the bralette: 12-20
In Your Dreams PJ Set
Not in the mood for lace or anything too revealing?  Not a problem! We have the perfect PJ set for you from FashionNova.  It is made with spandex so it has that little extra elasticity to optimize comfort! 
Navy Mesh & Lace Harness Underwire Babydoll
A constant struggle with lingerie is keeping everything up because sometimes there just isn't enough support. This babydoll dress from Torrid has a harness-inspired detail to accentuate your bust. 
Black Mesh Longline Underwire Bralette
Ending it off simple, but sexy with Torrid's plunging bralette.  Enjoy this under low cut tops or on its own for a night in.  With the 7-hook closure, take the pressure off your shoulders while keeping up the style (and your goods).
These are just a few of our favorites this spring, but what will you be slipping into (or out of) this spring? 

For more Insyze style guides check out The Insyze guide to finding a great fitting bra.