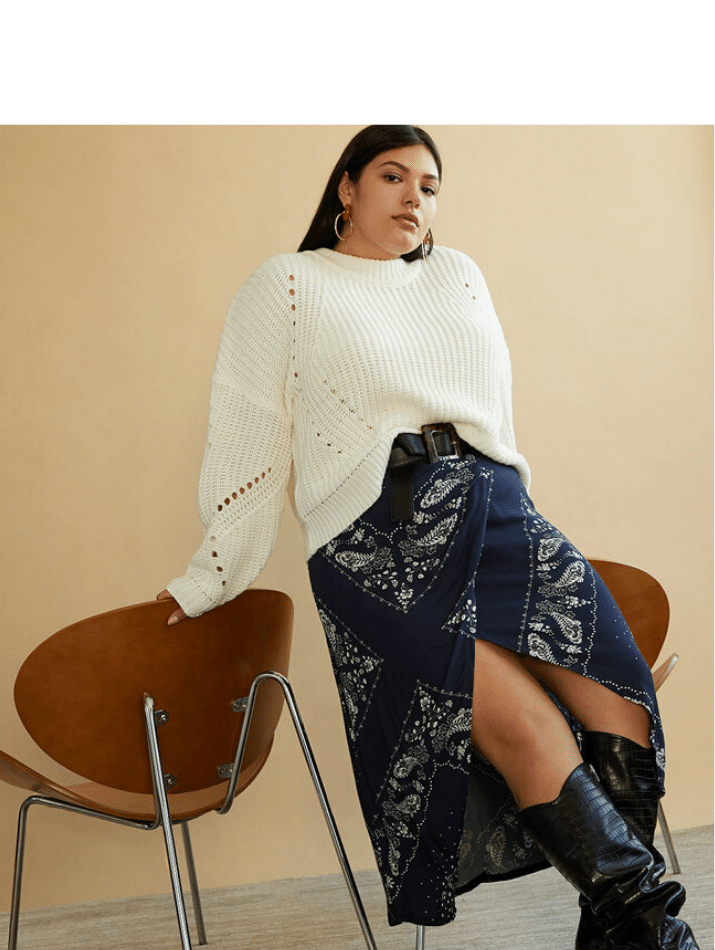 Is it spring? Is it summer? Who even knows anymore... But what we do know is that it is heating up outside so that means our outfits are also!
2020 has been a wiiiild ride so far, so let's take control of what we can - our style. We have rounded up the hottest fashion trends for this summer and where you can buy your new plus size clothing.
Paisley, Baby!
It's time to apologize to our moms, aunts and whoever for writing off paisley until recently. Paisley is making its big comeback and us plus size fashion lovers are ready!
Paisley is a perfect print to dress up or down this summer and you can easily find fashionable plus size pieces that are affordable. We've linked our favorite plus size paisley skirt that you can match with a sweater and some fab boots. Or, before hitting the beach, you can grab the paisley kimono to wear as a coverup for a flattering look!
Tie Dye is Here to Stay
If you haven't noticed the tie dye phenomenon hitting the fashion world, where have you been?! From matching loungewear sets to athleisure and every other clothing piece, you'll definitely see it this summer.
Tie dye looks good on all bodies because the design and colors have so much going on and you can pick from a variety of colors. You can pair a tie dye shirt with anything; from plus size biker shorts or a trendy plus leather skirt, it will add that extra flair.
Summer 2020 calls for good vibes and that means dressing the part. So while you're digging up some vintage paisley make sure you snag some 70s tie dye as well.
Sunflowers are Blooming!
Last year, the hottest summer print was the lemon, but that is no more! While it is still a cute print, if you want to be on trend and ahead of the fashion curve start buying sunflowers!
Sunflower plus size clothing is a bit harder to find, but we have done the hard work for you by finding the most fashionable, flattering curvy pieces.
You can either wear your sunflowers in the daytime for a date night plus size outfit, or rock it at the beach. For transitioning to night, we recommend a sunflower print with a dark background to make it dressier.
Get Noticed in Neon
Neon is also a trend that is not new. It has been around for the past couple months, but its true time to shine is this summer! The point of neon is to be loud and bold, and after being cooped up in our houses for so long that is exactly what we need to do!
You can rock neon in your plus size athleisure, or you can hit the town in a neon plus size dress! Jump from your neon sneakers to heels, reeeeal fast.
Sassy Sparkles and Sequins
Sequins are never leaving our plus size wardrobes. It's just not happening, we love them too much! Depending on the color of your sequins, you can wear them year round and look fabulous while doing so.
There are some items you already own in sequin that you can style up with a new accessory. New accessories like... a sequin fashionable face mask?
These are the five of the most important trends we see coming for the plus size world in Summer 2020.
We would love to hear what else you're excited to wear this summer and how you style it!
Tag us in your summer pictures on our Instagram to possibly be featured on our page!