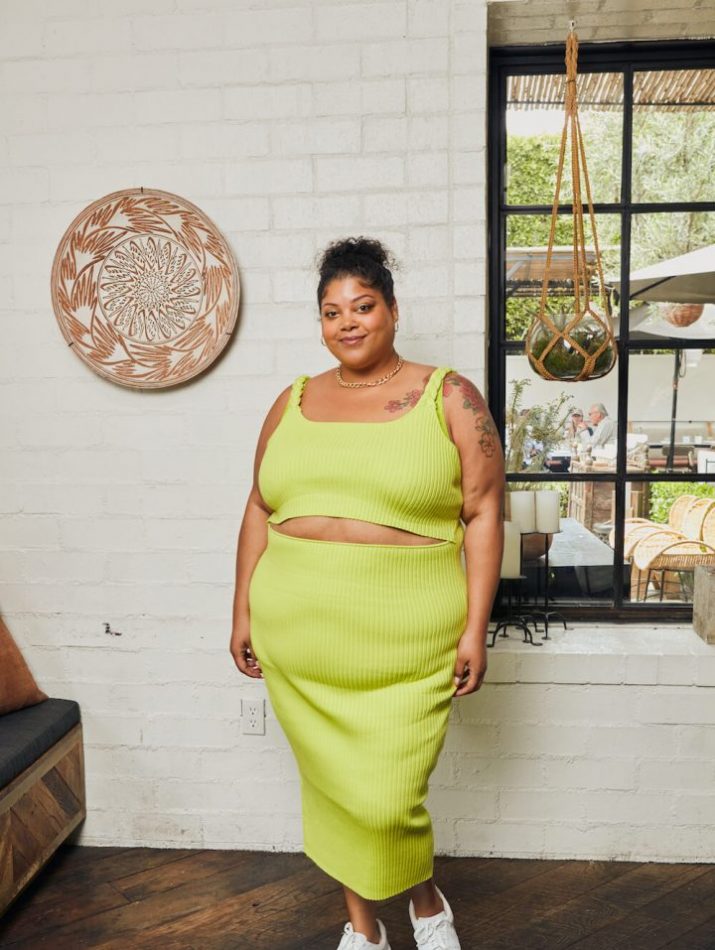 It was once said (in the Oprah magazine in case you were wondering) that you should only wear a crop top if you had a flat stomach. Um, excuse me! This controversial advice sparked the #RockTheCrop campaign across social media as many bloggers and curvy girls bared the belly in some great looks.
In a previous post we talked about some of the fashion myths that said that 'fat girls can't wear' and this time we're back asking 'Can you wear a crop top over a size 16?'
The answer, of course, you can! We created a plus-size crop top Insyze collection with our favorites that you can add directly to your collections or shop! You can create your own collections after taking our style quiz here.
Featured Image: Felicity Hayward
But in case you need some further convincing, then read on…
All you need is confidence.
Every single woman on the planet has insecurities. If you're fat (like us), then the idea of exposing your tummy or thighs might be really scary and that's because of toxic diet culture and societal stigma that only thin is beautiful. Well, WRONG.
We shouldn't let our insecurities stop us from wearing whatever we want to express ourselves in, including that really cute crop top you've had your eye on for months. So leave your apprehensions about flaunting your tummy at the door and take a look at some top tips for how you can #rockthecrop:
1. Be Confident
The key to wearing a crop top is to be confident. I know that sounds easier said than done, but here's the tea...
Ever seen someone wear an outrageous outfit but they totally pull it off?
We're talking feather boas, loud prints, and bold colors that would shock your grandma...
The kind of people who 'can pull it off, all have one thing in common; CONFIDENCE.
Confidence is not just a thin person thing. Nope. Confidence is something anyone can have, given the right frame of mind and positive attitude. Why shouldn't you wear the crop top? Will people look? Maybe. Will they judge? Who TF cares!
The first step to confidence is to acknowledge that no one's opinion over you has any power for your self-worth.
So hold your tummy high and know that you look fabulous!
2. Go High Waisted
High-waisted skirts, trousers are everyone's friend when it comes to styling out a cute crop top! If you're really wanting to pull off the crop and high waist look, then absolutely go for it girl!
Wear the Luvmemore Puff Sleeve Sonny Crop top with the matching Cher maxi skirt or pair it with your favorite pair of High waisted jeans.
3. Wear with jeans
Jeans that hold your belly in with a supportive waistline are perfect for giving you the confidence to pull off the crop. We love Allison Teng from Curvy Girl Chic's stylish looks, here she has paired her crop top with boyfriend-fit jeans.
We love how Natalia Calhoon has styled the Altar Houseline Rowan Wrap Knit Top with mid-wash distressed jeans.
4. Wear Co-Ords
Co-ords are a style that we absolutely love but if done wrong, it can look like you are wearing pajamas. Break up the pattern by showing a bit of skin, or a lot.
Check out the Luvmemore Donny and Marie Crop Top and Maxi Swing Skirt Two-Piece Set. Also available to purchase separately.
More Insyders Wearing Crop Tops
In case we haven't already convinced you that it's more than ok to wear a crop top if you're plus size, then check out these gorgeous Insyders looks. They are all rocking their crop tops and are curvy confidence queens!
We love Jazmine's of JD Series leopard print crop and distressed jeans look that is bringing the understated yet super cool vibes.
What Kali Wears is killing it with this two-tone look and we are here for it...and a little obsessed with that hat.
Shop our favorite crop tops here:
Read more body confidence
We love sharing body confidence posts with you guys, so if you liked this article then check out these ones below.
Body Positive Messages from Plus Size Bloggers to You
Top tips for the apple body shape