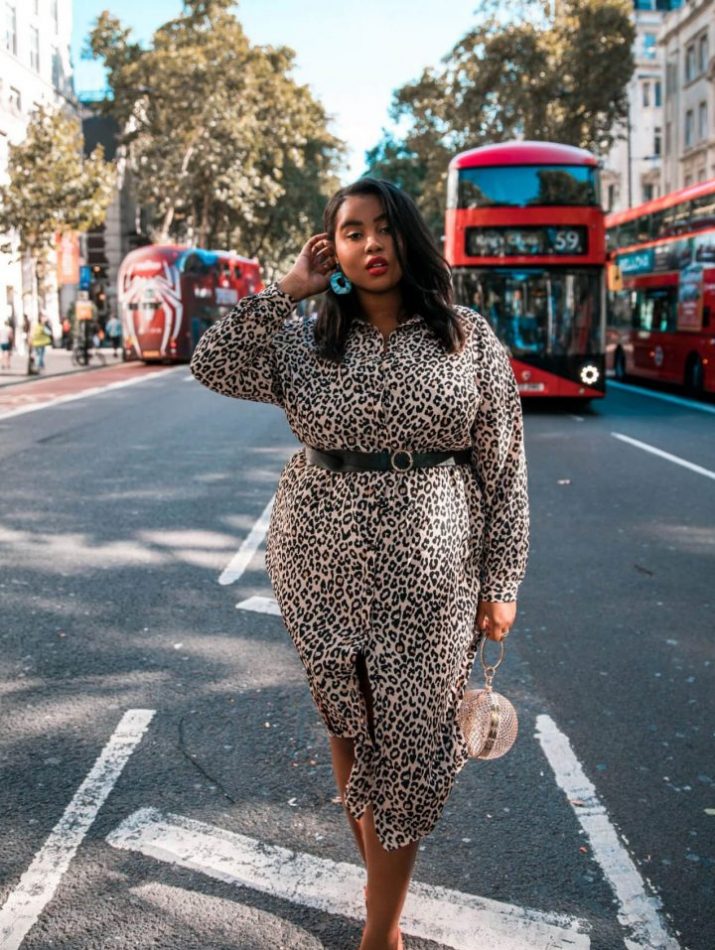 We can't seem to get away from Animal prints this season. As you know, we're a little bit obsessed with leopard print and a lot obsessed with looking fierce! So animal prints are a bit of a win-win. But for us bigger girls, where are the best plus size animal prints right now and what are the new style rules for what to wear them with?
Photo Credit: Lauren Nicole (Fashion Killer)
Well as style rules go, you know we're all about making your own... let your gorgeous personality shine through your style girl! Animal prints are the way to show your adventurous side, so have fun with how you accessorise too!
Here are some of our favorite Animal prints this season – all for plus size in UK 14 – 28/ US 10 – 26.
This Boohoo dress  is one of our favorites from their Fall collection. The Leopard print is totally on trend and the flattering Midi button-down style works well for all shapes and sizes. Here's what the dress looks like on their (probably size 12 and not plus size!!) model:
We love the way the dress flows and it's also extremely versatile! Here's how we'd style is for a Date Night:
For the second look we love, we've gone right back to Boohoo for the clothes – well you may as well save on shipping, right? But this red jumpsuit doesn't contain any animal print… because ladies, look at those boots! Yep, snakeskin. It's the Kylie-Jenner-bringing-back-the-00's-snakeprint trend that is oh so wrong, yet oh so right.
These snakeskin boots let you wear animal print in the most subtle, yet bold way possible.
Pair with a classy bag, like this studded Prada number to make your high street outfit instantly more expensive looking.
Do you love these looks? Add us on Instagram for more style inspo!