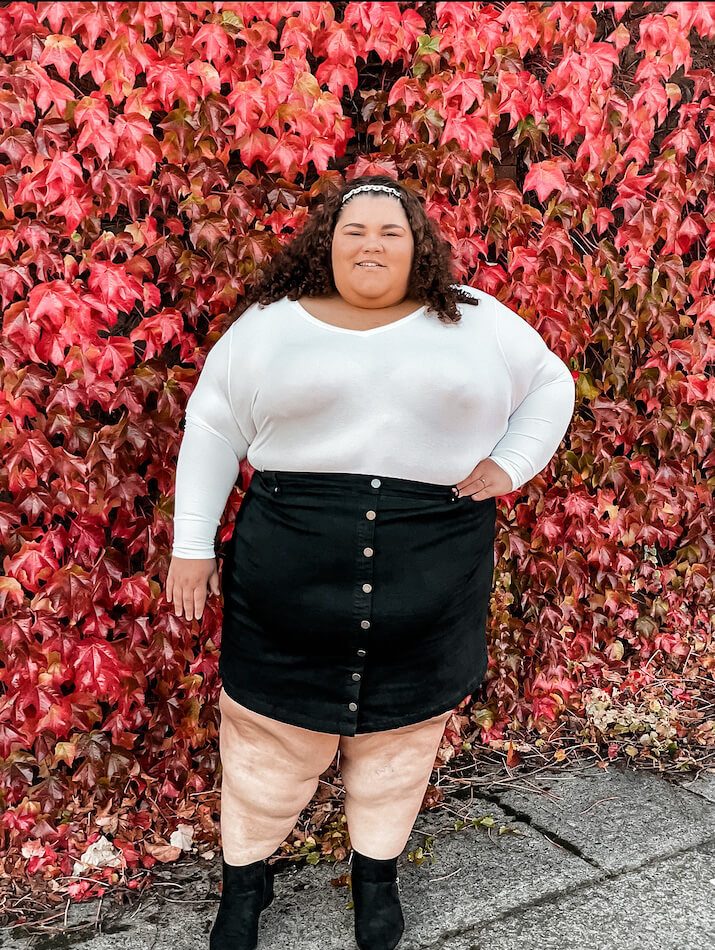 Featured Brand: Universal Standard | Featured Model: Jae'lynn Chaney @jaebaeproductions | Items Pictured: Universal Standard Foundation Long Sleeve V Neck Tee in color White and Ang Denim Button Down Skirt in color Black
Written By: Jae'lynn Chaney @jaebaeproductions
It's time for an Extended Plus Size Brand Review: The brand we're covering today is Universal Standard! If you've never heard of Universal Standard, you're surely missing out! Universal Standard prides themselves on being one of the most size-inclusive brands out there. One thing that sets Universal Standard apart is that every style they offer is available in their full size range. From the styles to the fit, Universal Standard has a ton to offer! For this review I will be giving you my honest thoughts on the brand as a whole.
Sizes Available
Universal Standard currently offers a wide selection of clothing available in sizes 00-40. On their website you can find modern essentials made to fit a wide range of body types. Universal Standard has made it their mission to provide all shoppers with the same shopping experience: They want a size 40 to be able to have the same shopping experience as a size 00. They carry wardrobe essentials, loungewear, athleisure, denim, and a ton more all available in up to a size 40.
As a plus-size consumer the first thing I do, when shopping with a new brand, is check out their size chart. Universal Standard's size guide varies from other brands that I've tried, but I have found it to be very accurate. I wear a size 32 or above which equates to a size 2x or 3x at Universal Standard. Before you shop at Universal Standard, be sure to familiarize yourself with their size chart.
Quality of Fabric
What I love most about Universal Standard, aside from their inclusive sizing, is the quality of their products. The fabrics and materials they use are some of the best quality I've seen anywhere. Not only do they last much longer than most, but even after several washes the fabric really maintains its shape. I recently tried several items from them and was blown away by the quality of every single item.
The first item I tried was their Foundation Long Sleeve V Neck Tee. This Tee was the perfect staple piece. It's made from ribbed jersey and you can truly feel the quality of the fabric once it's on. I paired this top with both Universal Standard Skinny Jeans and a Denim Button Down Skirt.
Universal Standard has quickly become my favorite place to shop for denim! Whether you're looking for the perfect pair of jeans or a cute denim skirt, Universal Standard has got you covered. As someone who wears extended plus sizes, it used to feel near impossible to find jeans.
At Universal Standard I feel empowered when shopping for jeans knowing that they will have cute options that will fit right and last a long time. Universal Standard denim is made of quality fabric that is meant to hold up wash after wash. I recently tried their Seine High Rise Skinny Jeans, one of their best-sellers. They fit like a dream and you can truly feel the difference in quality compared to other brands.
All the items I tried from Universal Standard for this review passed the quality check, especially their Bree Sweatshirt Dress. The Bree Sweatshirt Dress is super cozy and perfect for Fall. What stood out most is the thick, yet breathable French Terry fabric.
This dress will keep you warm and cozy on a nice Autumn day. Overall, you can truly tell the difference between the quality of fabric used at Universal Standard compared to other brands.
Quality of Customer Service
Customer Service can truly make a world of difference when it comes to shopping for clothing. One thing that sets Universal Standard apart in this area is their responsiveness via social media. Many of us nowadays look to social media when trying to find answers. If you have a question and message Universal Standard's team on social media they will get back to you quickly. Their website also has lots of resources for customer concerns.
On the Universal Standard website you can find a list of FAQ's, a customer service phone number, an email contact, and an IM chat box. It's very easy to navigate their website and find what you're looking for. They also offer a Fit Liberty program which allows you to buy clothing in your current size, and if your size changes within a year they will send you your new size free of charge. Overall, Universal Standard has made it their goal to provide customers with an enjoyable shopping experience no matter their size.
Styles Available
Universal Standard is known for their luxury fabrics, staple styles, and modern essentials. They carry a wide range of items including: jeans, sweatshirts, coats, jackets, loungewear, tops, bottoms, workwear, pregnancy clothing, athleisure, bodysuits, and petite clothing. Universal Standard has staple pieces that are both trendy and modern.
They have curated lists of their best-sellers, outfits of the month, wardrobe capsules, and so much more, conveniently located on their website. Whether you're looking for your new go-to pair of jeans or a cute dress to wear to the office, you can find it at Universal Standard.
Every style that Universal Standard offers is available in every size they carry, which really sets them apart from others. Some of my absolute favorite Universal Standard looks are featured in this article. Check them out!
Have you shopped at Universal Standard before? What are some of your favorite extended plus size brands to shop at? Share your faves with us on Insyze.