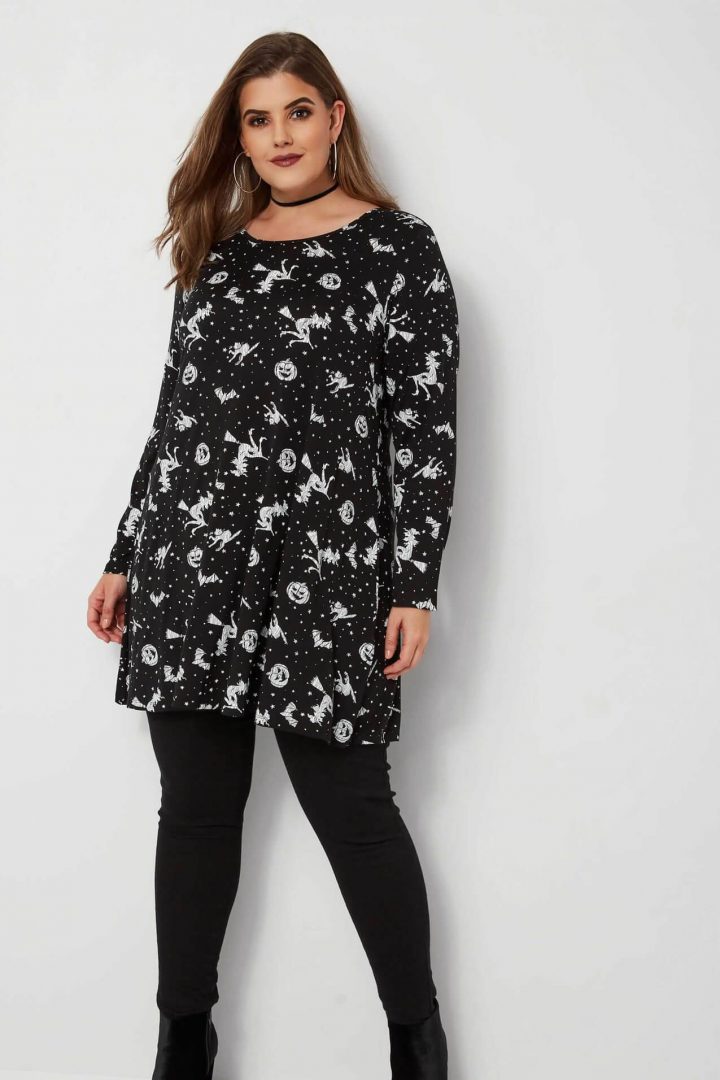 Halloween Outfit Ideas For Sizes 16-32
The spookiest time of year is nearly here and at Insyze we are looking forward to getting our fancy dress on. Whether you want to go full out for Halloween with fake blood and fangs galore or are looking for some Halloween inspired outfits….without the gore….we've got you covered. From looks for the whole month of Spooktober to Halloween night itself, keep reading for our  Halloween Outfit Ideas for sizes 16-32
For the whole month:
If you really love Halloween as much as we do, we know that one night just isn't even to celebrate all things spooky which is why we just adore the Halloween inspired outfits available at some of our fave plus size and size inclusive brands. So grab your pumpkin spiced latte and let's go shopping:
Lindy Bop
What's the first thing that pops into your head when you think about Halloween? For us its pumpkins which is why we just can't get enough of the Matilda Polka Dot Pumpkin Dress: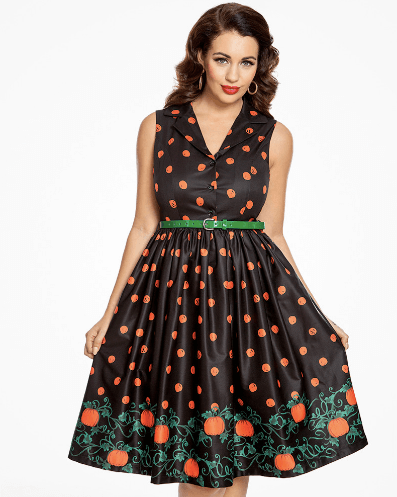 The sleeveless shirt dress with a thin green belt to the waist has the most adorable print and it even has pockets! How cute does Vanessa Huntbach look wearing this on her recent trip to Disney.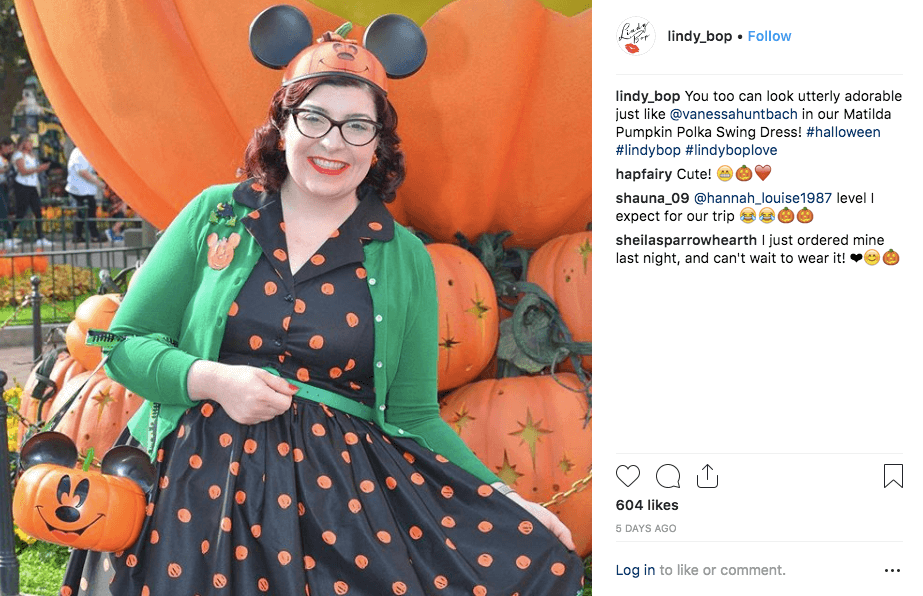 Channel Cruella Devil vibes in the dalmatian print Marisole Swing Dress.

Lovedrobe
We love a good novelty print as much as anyone…probably more… and this KOKO Halloween Print Swing Dress is just everything for our October wardrobe.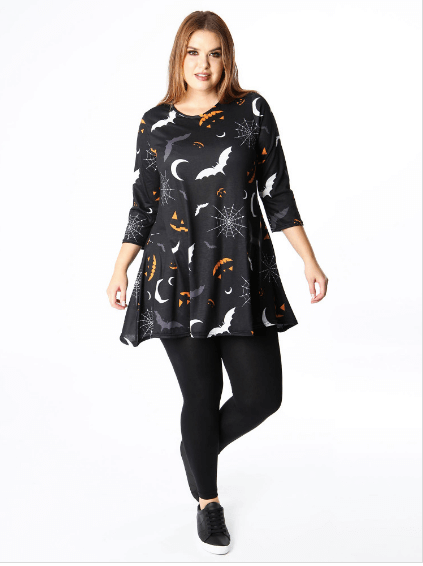 When you really love Halloween but want to keep it on the down low, we love the KOKO Topsy Curvy Studded Skull Hanky Hem Top. The gothic feel tee has a flattering, long fit style that is great for skimming over problem areas.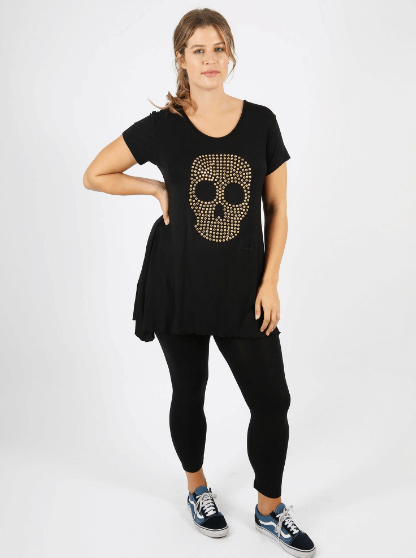 Hell Bunny
The gothic styles of Hell Bunny are perfect for Halloween season so when you're looking for Halloween Outfit Ideas for sizes 16-32, Hell Bunny is the place to go. Top of our wishlist is the Bugs and Roses dress, the frill detail on the skirt is super cute.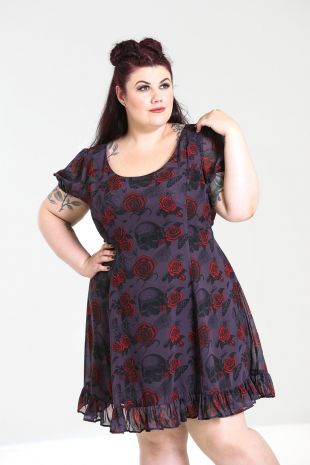 Everyone knows the nursery rhyme about little Miss Muffet but did you know that you can now get her skirt too? We NEED the Miss Muffet skirt in our lives, the question is, would you choose black or pink?
Rosegal
The Pumpkin Halloween Flared dress is perfect the strawberry body shape with the plain top and colorful skirt and its great for Halloween season too!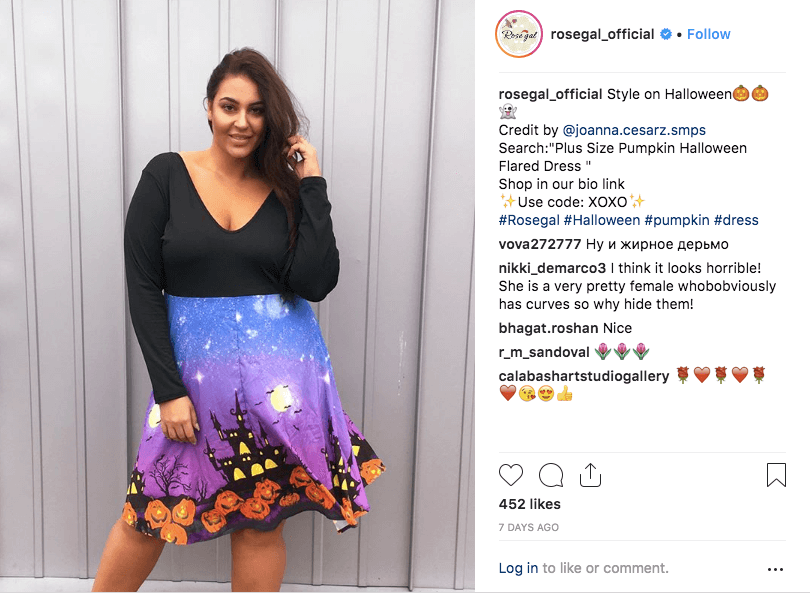 The spooktacular Mesh Insert Bat Pumpkin Skater Dress is just the cutest and a must have for anyone who loves Halloween.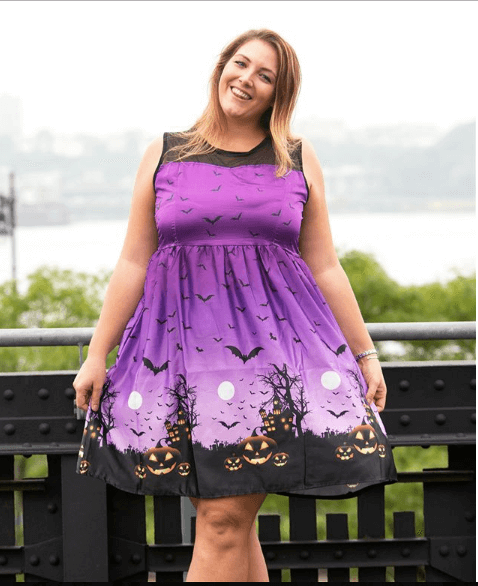 Yours Clothing
Bring on the witching hour when you wear the Halloween Witch Top. The crew neck tunic is great for everyday wear.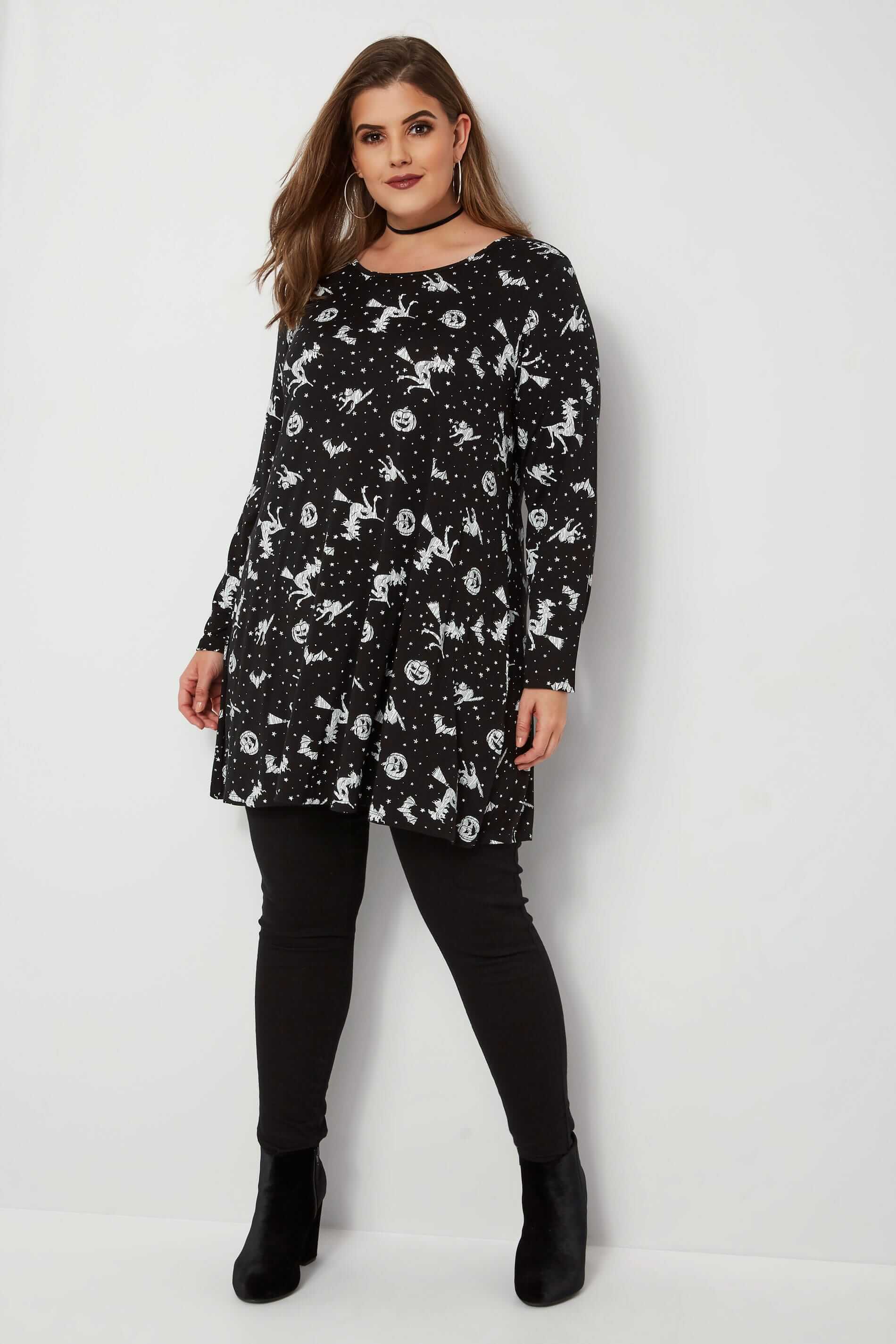 This pumpkin and ghost print Halloween Swing Top is a total monster mash and we 're here for it.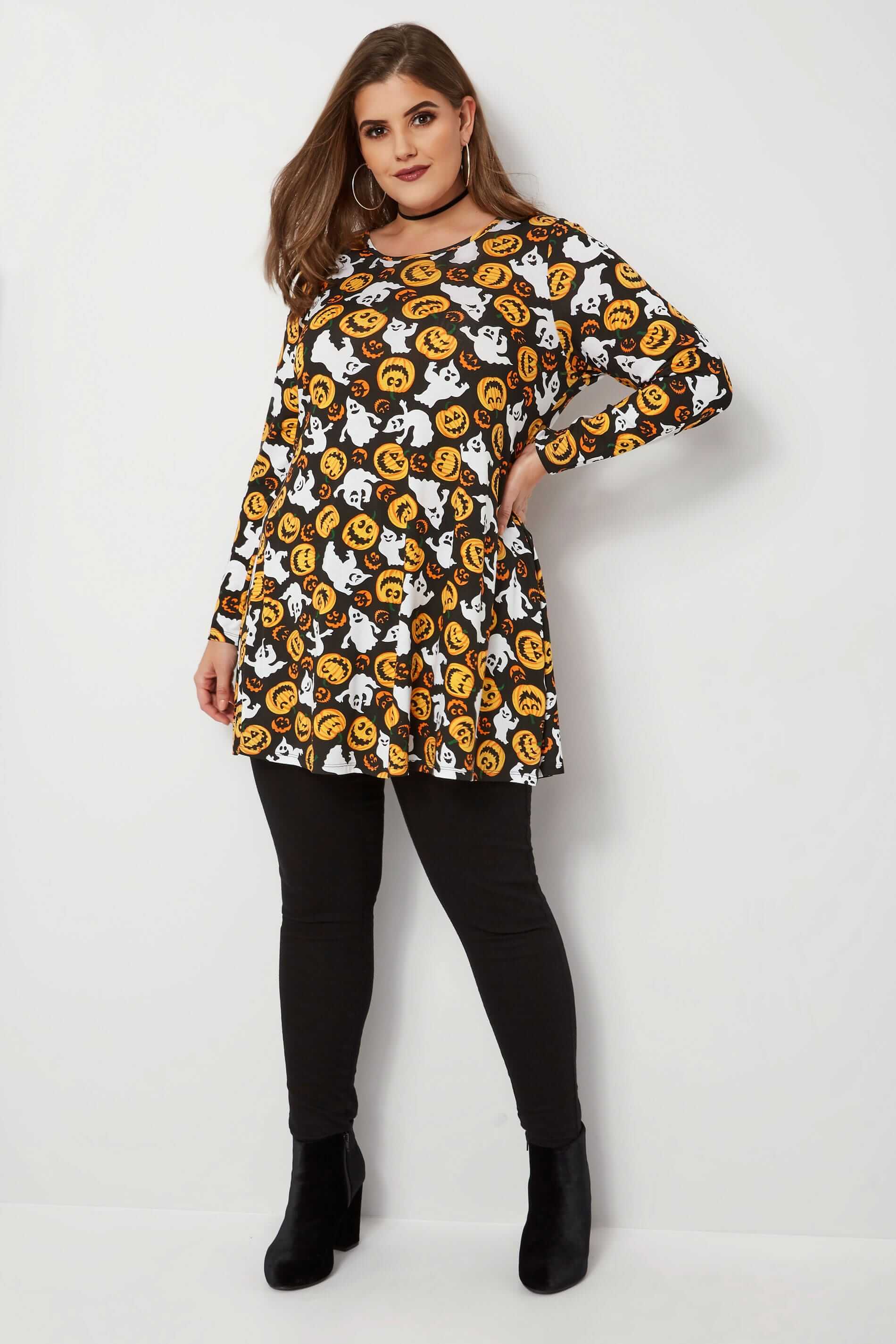 For Halloween night:
Let's talk about fancy dress. Deciding on a costume and getting properly dressed up is, hands down, one of our favorite things about Halloween. The problem is, a lot of the costume shops we go to don't stock our size which s a real bummer if you've really set your heart on being a corpse bride this year but the only costume that will fit you is a pumpkin.
In our Halloween Outfit Ideas for sizes 16-32 blog we have searched for the best size inclusive fancy dress shops so you can find a look that rocks this all hallow's eve:
Cheapest Fancy Dress
The plus size range from Cheapest Fancy Dress is available in (UK) sizes 20-34. From flappers to piratesyou can find a great selection of costumes at affordable prices
Mega Fancy Dress
Mega Fancy Dress is the biggest fancy dress e-tailer in the UK and they've got the perfect outfits for every theme and budget.
Large and Lovely
The costume collection at Large and Lovely is made to flatter the fuller figure and is available exclusively for (UK) sized 18-40.
Escapade
If you fancy something different, check out the costume range at Escapade. The plus size collection, in the same designs as the main collection, offers a more comfortable fit.
Smiffys
The Smiffys plus size costume range is exclusively tailored to fit. From spooky to retro, sizes go up to XXX L (UK 28 -30)
For more fancy dress options take a look at:
In our Halloween Outfit Ideas for sizes 16-32 post, we've looked at a great selection of Halloween inspired outfits and fancy dress costumes to suit all budgets. So, we want to know, what will you go as, this Halloween?