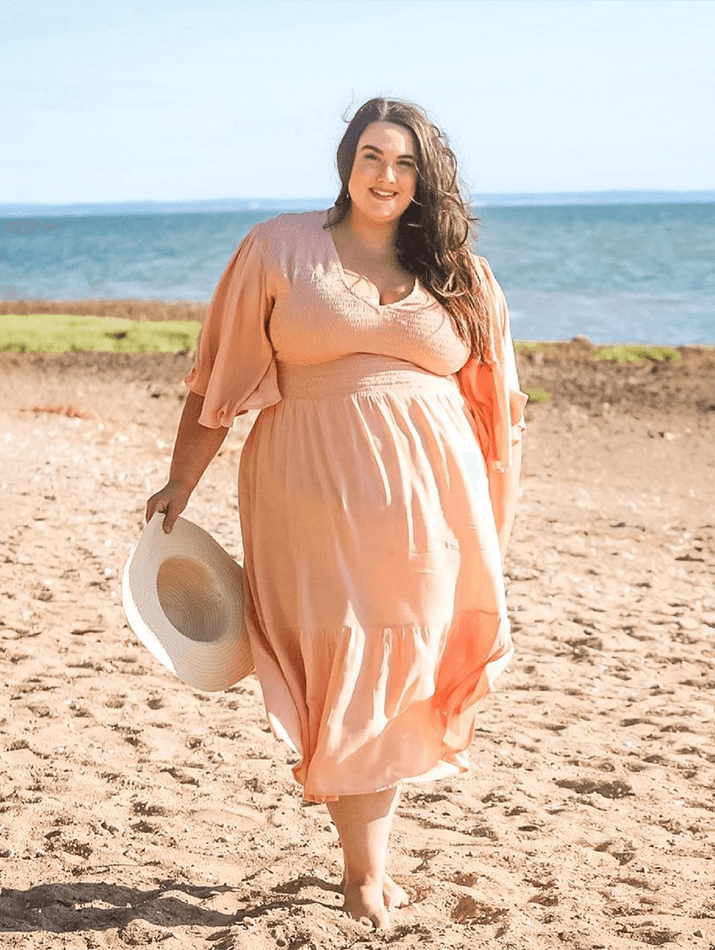 Cute, traditional and romantic. Cottagecore fashion is all about embracing the rural, simple side of life. Whether it's with fashion, baking, knitting, gardening, reading, frolicking in nature or dressing more sustainably, Cottagecore is big on wellness, social consciousness and you'll find it all over Instagram, TikTok and Tumblr. This isn't just fairy tale aesthetic, it's a movement and community that's harmonious with nature and rural styles.
To get the aesthetic, plus that iconic cottagecore dress check out our collection:
Featured Image: Dani Marie
Cleo Midi Dress - Dani Marie
Few things say Cottagecore fashion to us more than long afternoons in the country with a picnic. Wicker baskets and wide-brimmed straw hats optional. The Dani Marie Cleo dress was made just for this. We might even say it's the ultimate cottagecore dress! 
With a shirred bodice and floaty sleeves, you can totally imagine yourself dancing through fields in this beautiful dress. Available in sizes 14 - 26 from Dani Marie.
Floral Fabric Mixed Hi-Low Kimono - Torrid
Fairy tale vibes mean flowing floral kimonos are perfect for conjuring up a dreamy Cotteagecore look that you also feel super comfortable in. Check out the Floral Fabric Mixed Hi-Low Kimono from Torrid.
Extended Shoulder Sweatshirt With Cables - Eloquii
Get a warm, fuzzy feeling with earthy tones. We love this cable knit Extended Shoulder Sweatshirt from Eloquii, how cute is the exaggerated shoulder detail.
Whimsical Watercolor Dolman Sleeve Blouse - Kiyonna
Cute florals aren't just for spring, they are for all year round and this Kiyonna Whimsical Watercolor Dolman Sleeve Blouse is bringing a dose of pretty to your look.
Plaid Dress With Tiers -Eloquii
From the tiered flounce skirt to the shirred puff sleeves, there's so much we love about this Eloquii Plaid Dress With Tiers.
What do think of the Cottagecore trend? Do you love the romantic, whimsical styles or is it just not your cup of tea?
Share your Cottagecore dress, skirt, and other outfits with us on Insyze and join in the conversation.
Insyze is a community style app for plus size fashion.
*Disclaimer: We may earn a commission on these links*