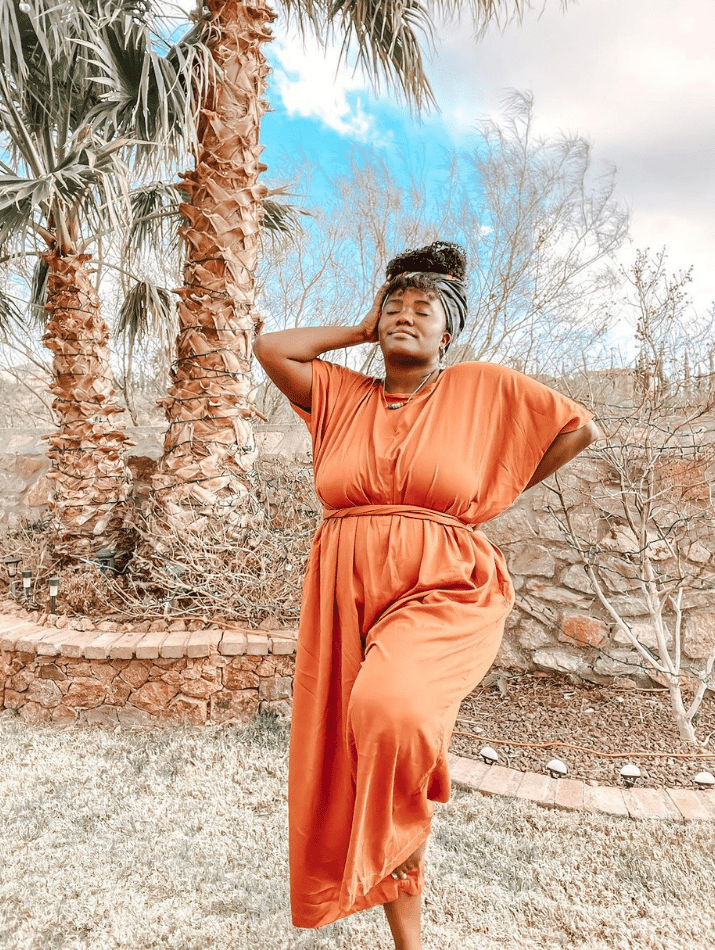 Maya Pete is the Zillenial Blogger behind @maya.esthetic and @fat.fit.fly. The Stanford Alum, Plus Size Fashion and Fitness Enthusiast also works in direct response and performance advertising when offline.
We first fell in love with Maya's Instagram because of her bright, vibrant outfits that she always pairs with her contagious smile. After following along, we got to get to know her from her vulnerable, raw captions that are relatable to any plus size fashion lover.
We got the pleasure of interviewing Maya and checking out her Insyze account, so continue on to learn all about Maya!
Maya's Collections
Maya shared her Insyze profile with us for you to follow, shop or add her pieces to your own Insyze Collections.
How to Style Jeans
From plus size straight leg high rise jeans to trendy split hem pants, Maya covered all the grounds. The plus size denim picks are perfect for any season or event. You can checkout the collection here.
Brown is the New Black
Be on trend with Maya from her Brown is the New Black Collection. Her collection boasts a lot of plus faux leather and fun jackets.
Lounging is a Sport
If you haven't hopped on the plus size loungewear train, what are you waiting for? 2020 introduced us to the love of styling sweats and that is not going away anytime soon. Shop all the loungewear here.
Maya's Outfit Shares
One of Insyze's newest features includes our Outfit Shares. Insyze is transforming into a plus size social networking site where you can feel confident and share with other plus size fashion lovers. You can start sharing your outfits and following others after creating an account.
Maya's Interview
Please introduce yourself and tell us about your journey to becoming a blogger:
I started blogging when I studied abroad in South Africa.  I felt like I had so much to say and no obvious place to say it, plus I've always loved writing.  I became really devoted to my blogging post-graduation upon simultaneously moving to LA and realizing my intense love for fashion (specifically Plus Size Fashion). I'm still on my journey to becoming a blogger, but with less to do this past year I've really been able to zero in on what parts of blogging bring me joy.  It's been truly cathartic.  My hope is that my blog can be someone's "happy place" the place they go for constant inspiration and genuine vibes. I want to always be vulnerable and true in my writing, in my posting, and in my living. That's my aesthetic.
What lead you to creating a separate account for fat.fit.fly?
Growing up, I was super athletic if you can believe it.  I started playing soccer when I was four-years-old and played both varsity volleyball and soccer in high school.  Surprise! I was in the best shape of my life back then, but surprisingly I never felt comfortable in my own body.  Everyone on the team was noticeable smaller than me and I hated wearing the uniforms because they were made for my smaller teammates — as if a big girl couldn't play sports! 

In adulthood, I've tried to remain active as I was in my teens (I don't think I'll ever get there but I strive). I love going to different workouts classes and trying out new gyms but I always notice that the smaller women are in the cutest matching sets and the curvier girls are in baggy shirts and oversized hoodies.  I love a fashion moment at any time and I realized that I didn't want to let my perception of what people my size should wear be based on what society deemed acceptable.  So, I started wearing those matching sets and I felt even more empowered to workout.  More than that, I began to fall in love with my body just the way it was. I created @fat.fit.fly to chronicle my journey to self love but also to show anybody that cares that beauty doesn't have a size and neither should fashion or fitness!
What has been your journey with body positivity?
I never had fat friends growing up.  The body positive movement, especially on Instagram — gave me that! When they say representation matters, it's so true.  Seeing women with bodies like mine that were loving themselves out loud made me want to do the same.  I used to walk by mirrors and avoid them because I loved nothing about the way I looked.  Now, I walk up to mirrors, stop, love on myself, and sometimes even take a picture.  I'm really falling in love with my body in all its stages and it's a lovely journey. 
What motivates you when you're feeling low in confidence?
Beyoncé. Well Beyoncé, Megan Thee Stallion, Rihanna, Nicki Minaj, and many more women to be fair! I have this great girl power playlist that I listen to to remind me that I'm a BOSS (the all caps is important)! Also, I'm a firm believer of speaking light into your situations.  Today I might feel less comfortable in my skin but I remind myself that I am healthy, I am beautiful, I am strong, and I will get through this.  Then I thank my body for all that it's gotten me through in the past. 
How would you describe your style?
I think that my style depends on the occasion and my mood.  Some days I'm Sporty Spice, other days I'm Posh, and occasionally I'm Scary. I change my style as regularly as the wind blows because it's my favorite form of expression.  However, I think that every outfit has a touch of glamour to it and maybe that's my signature style. 
What is your favorite plus size brand and why?
This is a hard one! There are so many really great plus size brands doing super cool things, but if I have to pick one it would have to be Fashion to Figure.  I love how they prioritize making the trends attainable and comfortable for plus size women. 
What is your favorite Instagram tip?
DON'T do it for the likes. If you post pictures just for people to like them, you run the risk of making Instagram a burden rather than a form of expression.  It's important to be your authentic self and if people don't like it, that's their problem.

Who takes your pics? Best posing advice?
My two favorite photographers are my little brother and self-timer.  I'd say about 75% of the photos on my instagram were taken by me with the help of my phone and my tripod (probably the best purchase I made in 2020). 
My best posing advice would be to imagine that you're at a high-end photo shoot every single time.  The world is your runway, if you treat it as such I guarantee you'll love the photos you take! 
Make sure you follow Maya on Instagram and show her some LOVE!