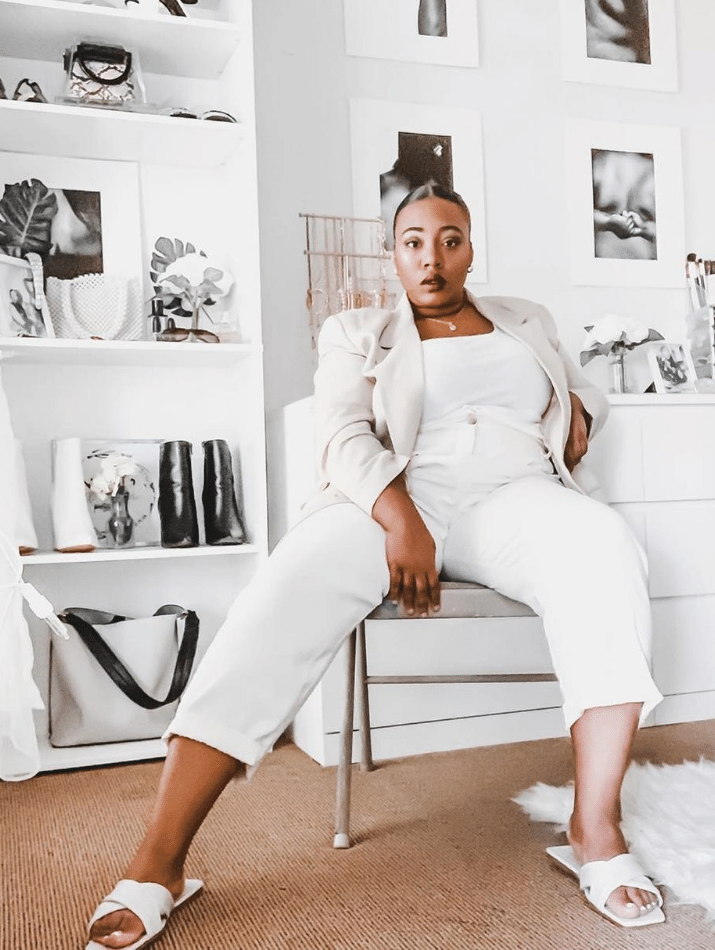 I spent most of my teenage years in jackets and cardigans to keep everything covered...lol NOT ANYMORE! Your girl is 28 and feeling great! I wear anything that makes me feel amazing and sexy...

- Lauren Alexandria
If you haven't seen Lauren yet, we are confident she will be one of your favorite plus size bloggers to follow by the end of this article! We recently found Lauren's Instagram and was instantly hooked - she has one of the most consistent and aesthetic feeds we've ever seen!
In addition to her Instagram where she shares the behind the scenes to her beautifully lit life, she also serves her followers with fabulous plus size fashion tips on her blog, As Seen By Lauren. Her blog boasts everything from travel, beauty, fashion advice and everything in between. It doesn't stop there, Lauren is also an award-winning portrait photographer and graphic designer, which explains why her feed is oh so fabulous.
We had the pleasure of interviewing Lauren and we couldn't be more excited to share it all with you all, so...let's get right into it!
When did you first develop a passion for photography and graphic design?
I've always had a passion for photography even as a little girl. I started shooting photography at the age of 13 and since then I was hooked! At first, I wanted a career in Maternity and Newborn photography, because I love portrait photography and children, but my passion for fashion was stronger! I've always dreamed of attending New York City Fashion Week and or shooting photography at the shows.

Now my love for graphic design came much later while majoring in Fine Arts in college. I had the best graphic design professor! Davis, that's her name. She pushed me to reach new levels I never knew was possible for me as a black female creative and with those new levels came amazing graphic design opportunities and awards! 
How would you describe your style? Has that evolved over time?
I would describe my style as "everyday chic" mixed with "elegant style."

Look, I didn't come from money, but I didn't lack it either. I've always wanted to feel and look elegant as a black woman, but I thought with elegance you had to have money and wear designer. I was wrong. You don't need money to feel and look elegant. Elegance is how a woman carries herself, not the branding of her clothing.

Also, I am really big on feeling comfortable in my clothing. It's nothing worse than buying a piece of clothing or outfit, wearing it, but can't wait to take it off at the end of the day because it was so uncomfortable to be in. So anytime I shop I make sure I feel completely free in whatever I'm wearing.      
What are you most excited to wear this fall?
I really love Fall. It is my absolute favorite season to style in. The art of layering clothing is one I have mastered over the years..lol

But to answer your question, the item I'm most excited to wear this Fall is a trench coat. Not so much a wool trench, but a nice lightweight trench coat that's perfect for the autumn season.  
Do you see any trends happening?
I do see a trend happening. I do believe the color Chocolate or Dark Brown will be the color to wear this Fall. Brands like Zara and Mango are already throwing it out there in their new fall collections, and it looks absolutely beautiful.  
What do you do when you're in a creative rut? What helps you get out of it? 
Whew!! It's rare that I find myself in a creative rut, I swear my mind is always coming up with new creative ideas. Sometimes I wish I could turn it off when I sleep, but when I do hit that rare moment of creatives block, I rest.

I stop and I take a break from creating and I'll do something else I love like going to the movie theaters or spend time with my family and friends. Doing that helps me relax. It allows me to not overthink things, and then after a while the creative bug kicks back in again.    
What is a fashion tip you would give to plus size fashionistas?
Girl you are beautiful! Curves and all! Wear that crop top or bikini. Slip-on that sexy dress and work the hell out of it! No one else opinion matters, but yours. PERIOD.  
What is your favorite thing you've worn recently?
My new crop tops. I was talking to myself in that last response as well. I just recently fell in love with crop tops.

As a teenager, I did not wear anything that was revealing to my body. I was ashamed of how I looked. So I spent most of my teenage years in jackets and cardigans to keep everything covered...lol NOT ANYMORE!

Your girl is 28 and feeling great! I wear anything that makes me feel amazing and sexy and right now crop tops are doing it for me.
Do you have a favorite Instagram tip?
Ladies, Please DON'T COMPARE YOURSELF to your favorite social media influencer. Comparison robs you of your joy. It tries to convince you that you should be someone else, but yourself.

Also, Nano Influencers! KNOW YOUR WORTH! I can't stress this enough!! It is possible to close a 4-5 figure deal as a Nano Influencer. I've done it! Continue to produce amazing organic content and the followers and brands WILL come!! 
We hope you had as much fun reading Lauren's interview as we did asking them! She emits confidence, positivity and compassion, which makes her social profiles a positive person to follow.
Some of our favorites of Lauren's recent blog posts include:
Let us know what you think of this spotlight and DM us on Instagram with other people you think we should feature!