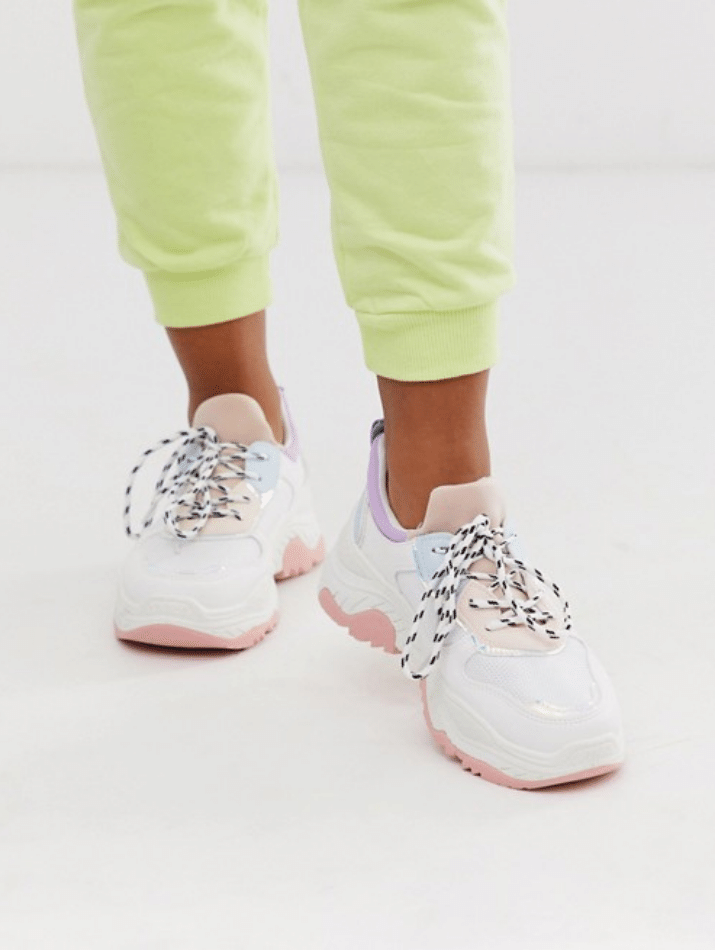 Whether you call them sneakers, tennis shoes, gym shoes, trainers, whatever - we've got your new favorite pairs this season! The Insyze Stylist has rounded up her favorite funky trainers.
You can shop the shoes directly from the collection, or you can add it to one of your own collections! The shoes chosen are perfect for a fun plus size wardrobe or a fall shoes edit.
Don't forget we only have a couple more weeks until your chance to win one of our $300 giveaways ends. How to enter? simply make collections; there are no limits to how many you can make and they will all be entered in the giveaway!
Converse One Star White Leather Sneakers
Starting off this collection with what may appear as plain sneakers, but the trendy, delicate star print white leather converse is perfect for people who prefer a simple look. In this case, simple is not boring, more a subtle style flex.
Mesh Embroidered Sneaker in White Multi
These multicolored floral mesh sneakers are so pretty for the girly girls! They have just enough of color for those who want to brighten up their outfits without overpowering.
These sneakers are from Keds, who sell a number of fabulous items on ModCloth's site and others. You will surely be covered when it comes to fashionable sneakers after shopping with Keds!
Disney Mickey Mouse Polka Dot Black Canvas
Who doesn't love a Mickey Mouse moment?! These canvas shoes are non gender specific and perfect for our Disney lover fashionistas. You can pair these with jeans, dresses, shorts, whatever! The shoe is the statement, no need to worry about your outfit as much - the shoes do the talking.
Public Desire Boe White Pastel Detail Chunky Sneakers
These ASOS chunky sneakers are amazing in the pastels. It's perfect for the trend lover; you are combining the chunky style with the pastel trend. Two trends, the comfort of a sneaker and affordable! What more could you want?!
Vans Classic Slip-on Sneakers in Iridescent Check
The skater, emo punk look may be something we looked backed on and shuddered at our younger selves, but this homage to that time is doing it in style.
These classic slip on sneakers add the perfect amount of grunge with its funky detailing.
Superga 2790 Rainbow Espadrille Flatform Sneakers in White Rainbow
These ASOS rainbow espadrille sneakers are perfect for those boho lovers! The espadrille sole is good for those with a rainbow soul - see what we did there?
Vans Era Mix and Match Sneakers in Green Multi
You can't have a funky sneaker list without including Vans. These are a stylish twist on the classic Vans making it a style worth rocking. You can pair this colorful shoe with white, black or denim pants, or you could contrast these shoes with a dress!
Nike Air Jordan 1 Nova sneakers in pink and black
Nike high tops have been around forever for a reason - they're comfortable, stylish and allow you to express yourself through the colors you choose! This combination of the black and pink is a great contrast together; this shoe is perfect for those with an alternative style!
Let us know what shoes you're wearing this fall in one of your collections! If you DM us a link to your collection, we will share it on our Instagram Stories!
*Disclaimer: We may earn a commission on these links*