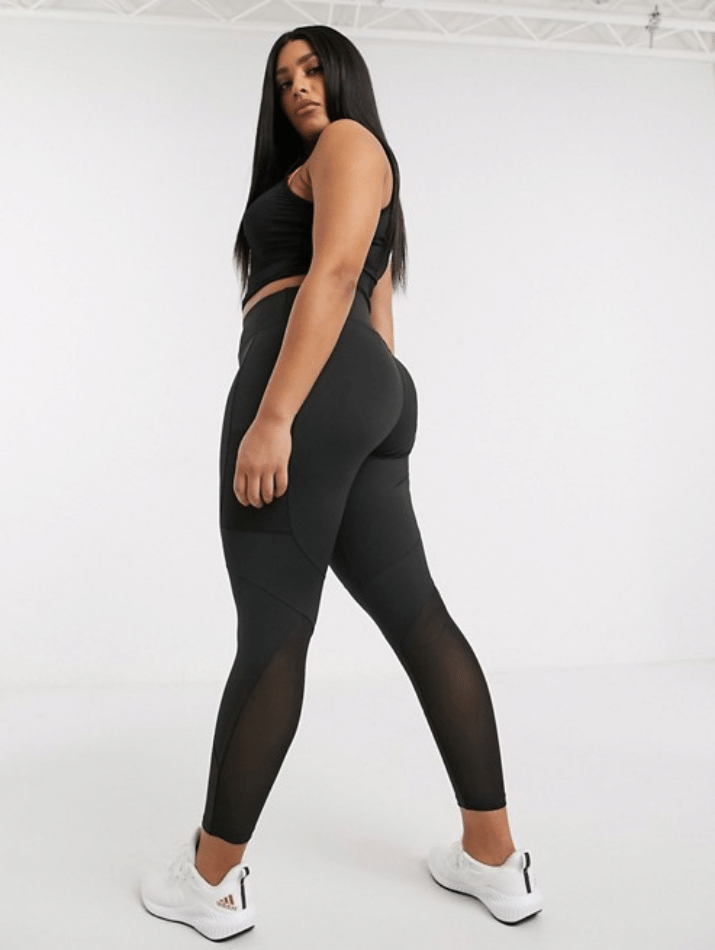 In or out of the house, leggings are a always a good idea. Especially with leggings blurring the lines of athletic apparel to casual clothes to even going out outfits. We've rounded up our favorite plus size leggings for our readers to shop or add to their own collections.
You can create your own collections after taking our Insyze style quiz that will suggest plus size clothing based on your style preferences.
Featured Image: ASOS
Faux Leather Zip Hem Sienna Fit Leggings
Let's start with plus size leggings that will have you feeling trendy yet comfortable all night. These faux leather zip leggings from Ulla Popken can be paired with a dress shirt and booties to wear out to dinner or can be dressed down with more casual shoes.
ASOS Curve Icon Legging with Bum Sculpt Seam Detail and Pocket
These flattering plus size leggings from Asos have a butt sculpt detail and pockets to not only increase the style, but practicality as well. The sizes of these leggings go up to a size US 26, so there are options to find a comfortable size.
Leopard Spot Print Elastic Waist Stretch Leggings
Leopard is always a good trend and will probably never go away. You can rock these plus size leopard leggings with a plain black hoodie and sneakers to run errands or spice up your work from home wardrobe.
LIVI Capri Power Legging - Tie-Dye With Crisscross Hem
Capri leggings are more athletic and casual; perfect for running around town or going on a walk while still wanting to look cute. These tie dye leggings are also very on trend with the world of tie dye right now.
Miracle Flawless Legging with Sequin Front
Sequins are NEVER a bad idea. These Eloquii leggings are perfect for a New Years Eve outfit that can be paired with a blazer and a nice shirt with booties for a fabulous outfit to ring in 2020.
Fila Performance Legging
Get the liquid leather look with these Fila Performance Leggings that will give the illusion of a luxe material at an affordable price.
Printed Livi 7/8 Power Legging
Who doesn't love a printed legging? These plus size printed leggings from Lane Bryant will make your outfit feel complete with just a casual top or sweater to pair.
Curve Rib Leggings
Let's talk about ribbed detailing! This has been around all year in different forms. From these plus size rib leggings to sweaters and so many other ways to style it, you won't go wrong trying this trend out.
Get your own plus size leggings recommendations based on your style after taking our quiz!