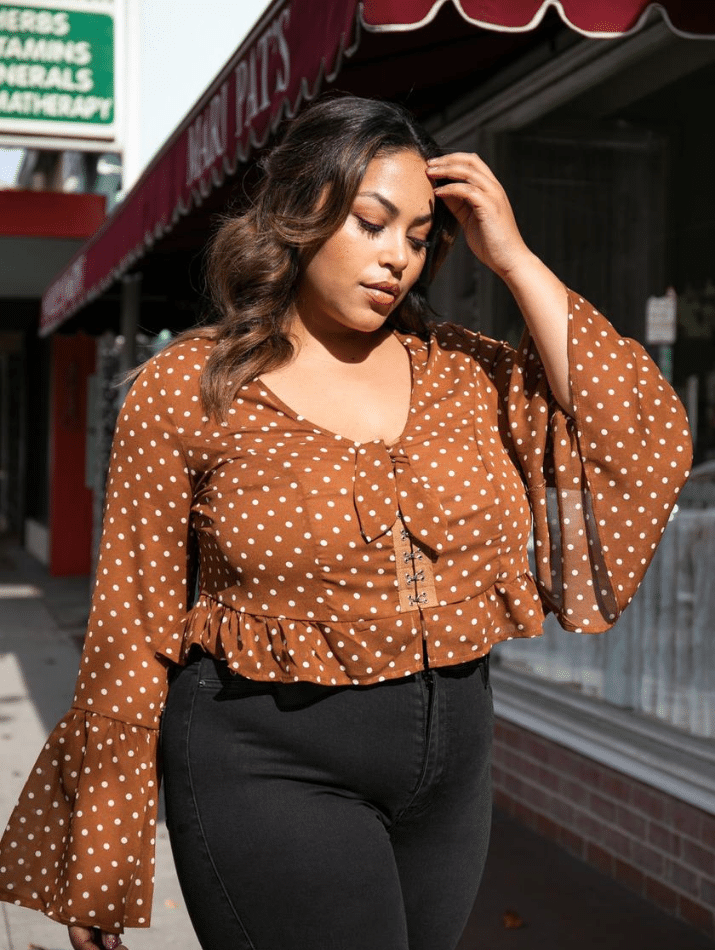 There is nothing quite like having a flattering plus size top to complete a fashionable look. Lucky for us, tops are one of the easiest clothing pieces to find to flatter our beautiful curves!
Our in house stylist has made a Collection of her favorite flattering tops you can shop on Insyze.
Aliya Faux-Wrap Bodysuit
This Fashion to Figure plus size bodysuit is perfect for those who are arm conscious. The flattering long sleeve top is a sexy low cut plus size top that highlights those assets!
We also love a plus size bodysuit because it ensures that the fabric won't ride up unexpectedly.
Off The Shoulder Ruffle Top
Off the shoulder plus size tops are a fan favorite. It ensures that your arms are covered while still showing skin for that sexy feel. Aside from being insanely flattering, the bold orange color on this Eloquii ruffle top makes it trendy and bright.
Blooming Floral Print Tassel Tie Ruffle Hem Blouse
This boho plus size top is a comfy top covers everything while staying fashionable. Ulla Popken is one of our favorites for plus size boho looks that are affordable.
You can easily pair a colorful purse and either your favorite jeans or your most flattering plus size shorts to complete your best look!
Lace & Beads Plus Embellished Crop Top
This embellished plus size black crop top is an ultra sexy, flattering top. The sequins and open back makes it sexy, but the box style makes you feel confident that you're totally covered.
Feel glam and hot in this fabulous top for a night out by pairing it with high-waisted pants.
Plus White Polka Dot Tie Front
This frill hem crop top in white polka dot will be your new favorite top! Polka dots always look good and are super flattering. The low cut shows off your best assets.
This PrettyLittleThing top is affordable and fashionable, which makes it a great addition to your closet.
Sheer Cropped Top in Vintage Rust
We told you polka dots are flattering and we meant it! This Soncy top includes one of our favorite prints with ruffles to elevate the style while being ultra flattering.
Plus Orange Knitted Halter Neck Crop Top
This plus size crop top is one of our favorites on the list! It is comfy and looks sexy, which is the best combination! You can rock this for plus size loungewear or you can dress it up and pair this flattering crop top with high-waisted jeans.
Berry Purple Smocked Off Shoulder Peplum Top
Torrid's smocked plus size peplum top is perfect for those who want to cover their stomach while maintaining shape. We love the smocked off the shoulder look on this summer pastel top that keeps it stylish while maintaining a flattering feel.
We love sharing our style picks through our Collections and we love seeing yours even more! If you send us your Collection, we would love to feature it on our Instagram.
*Disclaimer: We may earn a commission on these links*