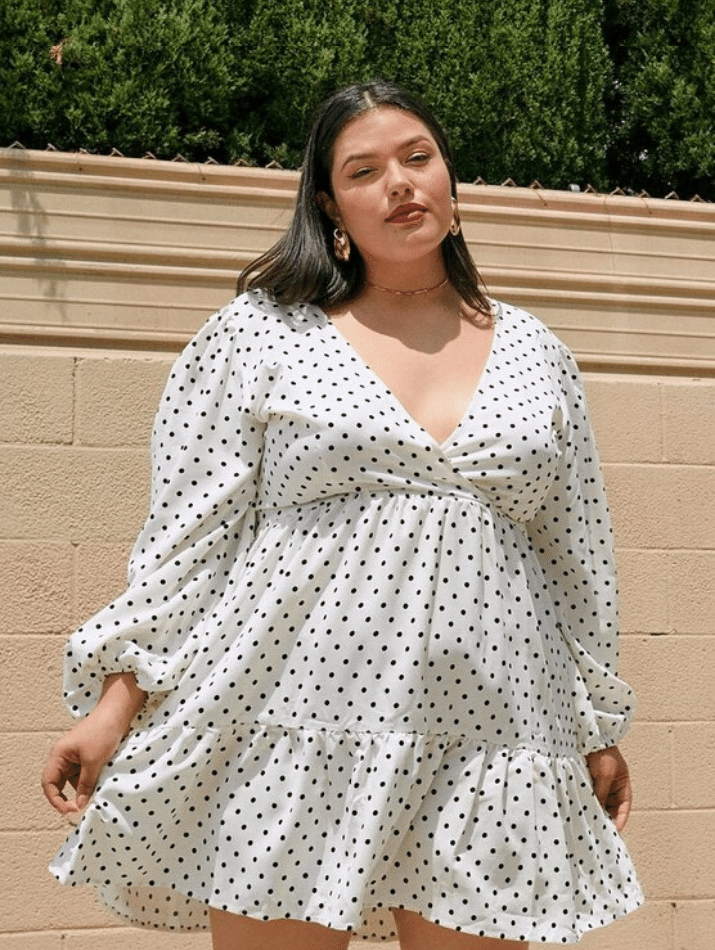 Featured Image: Nasty Gal
It is peak summertime and while the fun includes BBQs, beach days and picnics, but there is a downside to this climate. The annoying truth is the hot weather does not come without its side effects: thigh chafing and sweating.
A way to combat all the issues that come with heat while staying comfortable and chic are sundresses; a style staple that has been around forever. But, now we're older, more stylish and ready to rock some cute and flattering plus size sundresses!
The Insyze team rounded up some of our favorite plus size sundresses in our Summer Day Dresses Collection.
Asos Checkered Dress
The Only Curve Midi Smock Dress with Tiered Skirt in Gray Check is a great option to hide your arms without suffering from a heat stroke. The sleeves on this plus size dress are flowy enough to covered - not smothered.
The print is an alternative, edgy style with its muted colors. This makes this dress perfect for daytime or nightwear.
Ulla Popken Linen Blend Shirt Dress
This classic plus size dress has a flattering cut and is perfect for a more mature style.
The linen blend fabric is super cooling and breezy for summer. You can easily dress it up with a pair of sandals with a little heel or keep it casual with a pair of sneakers.
Joe Brown Palms Print Dress
The Joe Brown Palms dress has a fun summer print that will surely be your next date night outfit. This plus size preppy sundress includes a flattering tie in the waist that allows you to adjust as you please.
The only thing you're missing is a sunhat and your entire outfit is sorted!
Nasty Gal Hard Smock Life Plus Mini Dress
This fabulous smocked mini dress from Nasty Gal's plus size collection is to die for! It's classic polka dot print can be for nearly any wardrobe; classic, preppy, vintage - you name it! Polka dots are for everyone.
Since it's a mini dress, you have a lot of options when it comes to shoes. You can rock sneakers or slip on sandals if you're wearing this during the day. We've already rounded up where to buy wide fit shoes for summer here.
But, if you want to rock this mini plus size dress at night, you can pair it with a pair of heeled booties. Transition to fall by pairing a black knee-high boot and a cross body bag.
Nasty Gal Daisy Plus Midi Dress
The You Say I'm Daisy Plus Midi Dress from Nasty Gal is one of our favorite dresses we've seen this summer! The color and print is super girly that can be dressed up or down and is very flattering for all body types. The white daisies make it perfect to pair white sneakers for a fun, flirty look.
The wrap style makes it flattering for most shapes because it accentuates above the stomach. This flowy style does not hug to the body, which is not only good for flattering reasons, but for summer heat as well.
Nasty Gal Strappy Smock Midi Dress
The Plus Strappy Smock Cotton Midi Dress is a perfect option to throw on for a beach day. The cotton material is a great cool fabric for those hot summer days, so you won't have to worry about a bulky, non-breathable dress.
We also love the plain, classic color because it is such a good staple to keep in your closet. This color looks great on everyone, especially in summer, and matches almost any accessory.
Ulla Popken Floral Lace Long Sleeve Maxi Dress
The Floral Border Lace Trim Long Sleeve Maxi Dress from Ulla Popken is a great boho plus size styled option. This earthy print is perfect to throw on for cooler summer days.
While it is long sleeve, they are flowy and have adjustable button cuffs so you won't be too covered up.
Ashley Stewart Belted Ruffle Midi Dress
The Belted Ruffle Hem Midi Dress from Ashley Stewart
This bright, orange Belted Ruffle Hem Midi Dress is such a fun color. The pop of color is perfect to wear with gold sandals for a girly day time look. You can rock this plus size dress out for a brunch date that may or may not include a photoshoot with your best friends - you'll be dressed for it!
We had so much fun putting this collection together and we want to see what you're shopping for! You can make your own collection by signing up here.
Make sure you share your collection in our Facebook Group Plus Size Outfit Share!
DISCLOSURE: We may earn a commission when you use one of our links to make a purchase.