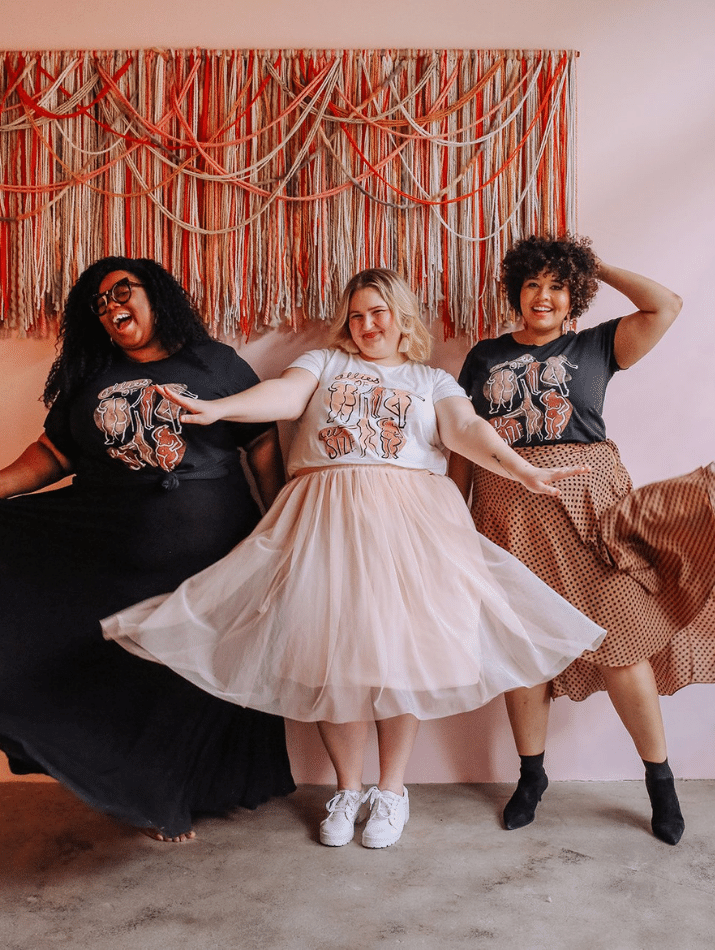 Let's get real, one of the best things you can wear is sustainable clothing. Because we all know, sustainability is sexy! It's tricky for plus size women because a lot of the market is dominated by fast fashion brands. But, we're determined to showcase sustainable plus size brands that won't hurt the planet or your wallet.
One brand we are loving is Dazey LA. All of their clothing is made is hand drawn and handmade to order in LA. By creating the clothing based off of pre-orders, there is zero waste. By focusing on "slow fashion," Dazey LA is focused on making clothes that last.
Sustainable Creation
In addition to the ordering process being ethical, the actual products are environmentally friendly as well; all of the clothing is made from 100% organic cotton. If you recently read our Guide To Sustainable Fabrics, you can understand the importance of using sustainable fabrics.
But, wait! It doesn't stop there. Aside from using quality products, the "production process is fully ethical and our garment workers are paid a living wage and work in clean safe facilities, something most fashion companies can not claim."
Ethical purchasing, creation and hiring are all important elements when looking into a business. With the high quality products from Dazey LA, you are sure to have these clothes for the long-run!
So what do the clothes look like?
The clothes are funky and hand drawn in Los Angeles by the company's owner Dani. Dani is a self taught artist, muralist, graphic designer, fashion designer, interior designer, and photographer.
In the designated "Proudly Plus" section, Dazey LA offers a wide range of options sizing from 1X - 4X. This includes plus size graphic tees, overalls, shorts, swimwear, leggings, plus size dresses and more.
One of our favorite pieces of clothing on Dazey LA's site is the "Allies of All Size Tee." The campaign is a collaborating with the podcast She's All Fat. The details are here:
The Allies of All size design is a collaboration between the body posi queens Sophie and April, who coined the phrase Allies of All Size, and Dani, the designer behind Dazey LA, who created the artwork which includes a disabled person using a cane (inspired by Selma Blair at the Oscars), a person with a single mastectomy showing only one nipple, and a variety of bodies and body types. As a whole, this graphic aims to promote inclusivity and show people of all sizes celebrating their bodies. This collaboration is a huge step for Dazey in becoming a more inclusive brand and doing the work to expand beyond 4X in the future. The photoshoot for the Allies of All Size campaign includes a woman of each size, S through 4X, including the original body posi blogger Gabi Fresh.
What are the prices?
Everything on the site ranges from $50 to around $100. So while it may be a stretch if you're used to cheaper t shirt, but the quality and love that has been put into this brand makes it worth the price.
Plus size tee shirts are on average $52 and plus size swimwear is about $80 with such cute designs!
In addition to the plus size clothing, she also designs facemasks that are $25 and include a donated mask to the Downtown Women's Center, an organization that aims to help women experiencing homelessness.
Beyond clothing
Dazey LA does so much more than just sell ethical plus size clothing. There is a dedicated space for other small businesses owned by women. She sells other female designer goods on the Dazey Lady Shop, she supports female businesses from art to homegoods.
Dazey LA is the total package; fashionable, ethical and inclusive! What else could we wish for?!
We are always after new ethical brands to feature, so make sure you DM us on Instagram with any sustainable plus size brands you love.