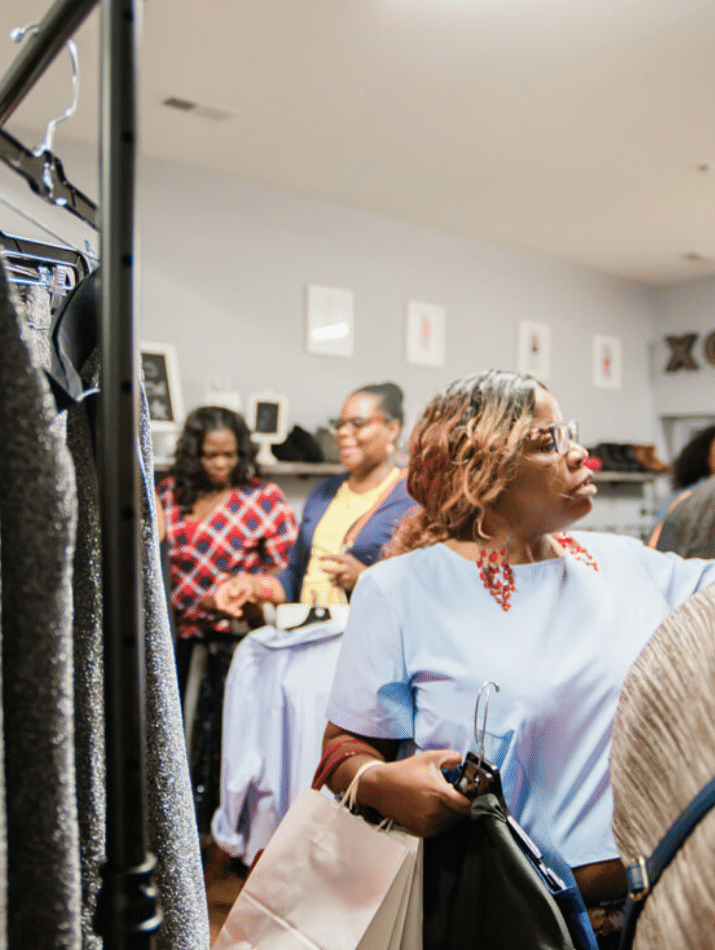 Curvy thrifters, it is your time to shine at the Curve Conscious boutique in Philadelphia! This consignment shop offers vintage and trendy clothing for sizes 12 to 32 - thank you! Curve Conscious also sells fabulous plus size accessories such as scarfs, belts and purses.
Every item in the store is hand-picked, making sure the quality and style is the best plus size fashion for our customers.
Adrienne Ray is the queen behind this plus size consignment boutique. She started Curve Conscious in 2016 out of frustration. She was sick and tired of scouring the racks of her local thrift shops, resale and consignment stores only to not find any items in her size.
Thrift shopping is hard enough, but when you factor in searching for plus size items, it makes it nearly impossible.
That frustration turned into the plus size resale shop it is today. She opened her store in Philadelphia is now the go-to spot to buy trendy plus size clothes for the fraction of its retail price.
The contemporary plus size clothing is mainly sold in Curve Conscious's store in the Brewerytown Neighborhood of Philadelphia. But, don't worry if you don't live in Philly because they frequently post items for sale on Instagram and Facebook. Curve Conscious has live sales on Facebook twice a month - so make sure you keep your eye out!
If you are lucky enough to live locally to Curve Conscious, you are able to:
Buy gently used or brand new plus size clothing at affordable prices
Sell your plus size clothing that are on trend and in good condition - you can be given cash on the spot!
Swap items you are selling with items in Curve Conscious boutique with the store credit option
The boutique recently expanded into sizes from 24-32 because they understand that plus size does not end at 24. But, with this new addition, they do not receive as many in those sizes. So if you're looking to sell clothes at those sizes, you have a great chance of Curve Conscious buying your items!
​If you're interested in selling your clothes, or want to know more about Curve Conscious Boutique, we recommend clicking here to read more.
Has anyone thrifted any plus size clothing you love? We would love to see it! DM us on Instagram to have it featured on our story.