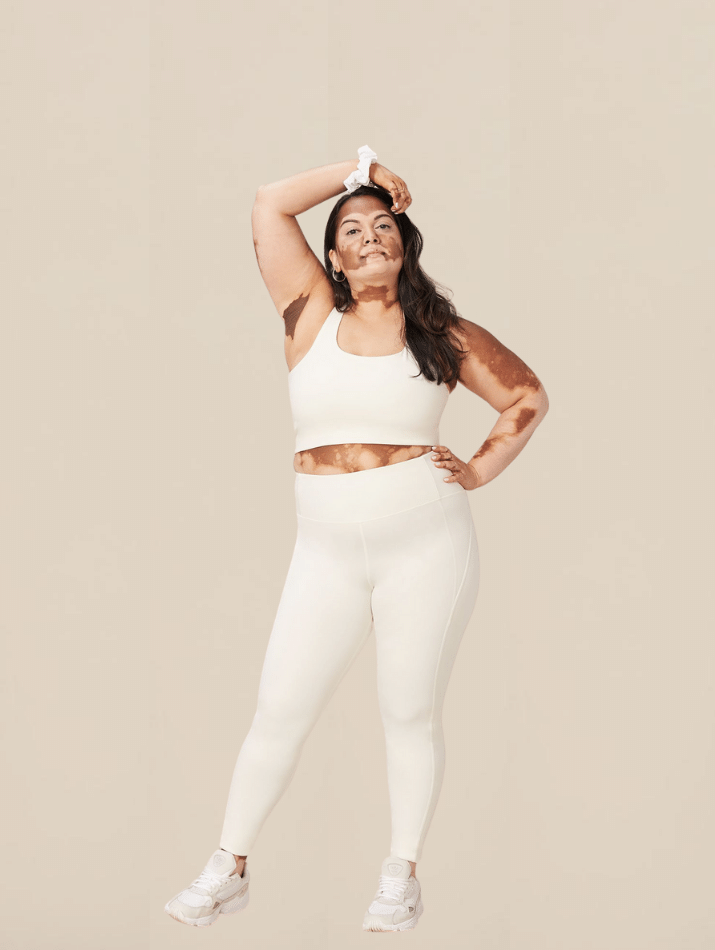 Ethical, plus size, fashionable, what more could you want? With Girlfriend Collective, you're going to get that and so much more.
The main theme of this brand is transparency - on the business side, not the leggings don't worry! The About Us page on the website breaks down exactly how and what the clothing is made of.
With sizing that goes up to 6X, Girlfriend Collective is not leaving us plus size gals behind.
The Products
Girlfriend Collective could truly form your entire wardrobe. Their products range from plus size unitards, curvy sports bras, skirts and so much more.
In addition to having all the loungewear and workout clothes you ever dreamed of, they also sell plus size underwear and scrunchies. The smaller items are great gift options for your best plus size friend.
There are a ton of options to stay on trend with the matching workout gear. You can choose to color coordinator, or switch it up and rock a couple different colors.
What do you mean, Sustainable?
We often hear about clothing being made from recycled bottles, but what does that really mean?
Girlfriend Collective explains that it "all starts with 100% post-consumer water bottles that have their labels removed, are crushed into billions of miniscule chips, and then washed until they're sparkling clean." Meaning less landfill, more sustainable clothing!
Each item is broken down to the exact percentages of what is recycled and what is not. For example, the Compression Leggings are made from 25 recycled post-consumer bottles and 79% recycled polyester.
With their ReGirlfriend program, you are able to send in leggings you wish to get rid of instead of throwing them out. You are also given store credit to incentivise this program.
Everything that is polyester is fully recycled, from the zipper to the thread. Once your item arrives at the recycling facility, they're shredded, the polyester is separated from the spandex, and the polyester is recycled into new Girlfriend clothing.

- Girlfriend Collective
Pricing
Sustainable is usually synonymous with expensive. With the rise of anti- fast fashion, it is becoming more apparent that cheaper won't do us better in the long run. But, luckily! Girlfriend Collective is as transparent when it comes to pricing as they are with their environmental impact.
They do not gauge their prices up because they want to get their product in as many hands as possible. That being said, their prices for leggings are around $68 and sports bras for $38. These prices may be more than you would typically spend on leggings, but when it is high-quality, eco-friendly and has an option to buy them back after their use, it is worth the investment.
Let us know what plus size workout clothing you love! We love to hear your favorite brands.
A great idea for a Collection, is a workout themed one - especially if it helps you win $300 just by creating it!