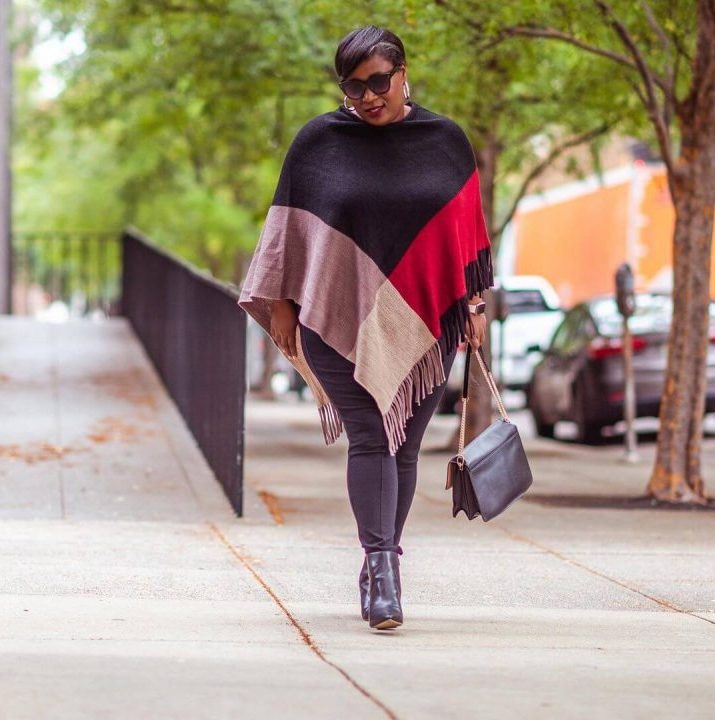 They say that 40 is the new 30 but why should we care, age is just a number the same way your dress size is just a number. Numbers like age and dress size do not define what you should wear or your worth, ok? You can wear whatever makes you feel comfortable, sexy and stylish - whether you're 25 or 70.
Featured Image: Je Ne Sais Quoi

I once met a lady who was 44 and wearing the most amazing combo of bright pink tights, printed skirt and a fluorescent cardigan that wouldn't have looked out of place in a  kindergarten. Yet she was owning her look and it totally worked for her. 

We all want to be like that. Simply saying ' haters to the left' and wearing whatever we want but there's always that creeping doubt when we are getting dressed in the morning, like is this outfit 'age-appropriate'? 
Let us share 3 style tips to live by. 

Style Tips For 40+
1. Avoid clothes that are too small
Basically, don't try and fit into a size too small for you, just because you're scared of sizing up.
And don't buy smaller sized items of clothing as some sort of incentive for you to slim into it. This type of thinking is like a reward for manipulating your body and can leave to more feelings of shame if you don't reach the size you said you wanted to. Instead, shop for your actual size, or whatever size is most comfortable.

Today and every day, wear clothes that aren't too tight, that fit you right and you feel comfortable in.
Life is too short for ill-fitting clothes so don't get hung up on the number on the hanger, just get the size up!
2. Invest in the way you dress.
Fast fashion clothes may look cute but can fall apart after only just a few wears. Why? Because a lot of it is made with cheap fabric that has literally no durability and it shows.  
For more mature fashionistas it pays to invest in quality. Build your capsule closet (or not so capsule, we're not judging) on a few key pieces that make you feel a million bucks. 

Choose premium quality items, not only do they like more classy but they will last you for years too.
See our recommended plus size brands below!

3. Get measured for a great fitting bra
Our third top tip for buying plus size clothes for 40 plus is to make sure you have a bra that fits! Sounds simple, but honestly having a supportive and well-fitting bra will make the world of difference to your shape, confidence and how your outfits look.
Going to a department store and getting your bra size measured that one time is not enough, boobs change their size and even their shape on the regular, not just when your breastfeeding, so go and check that you are wearing the right size every few years.

It's been proven, wearing the right bra can boost your confidence and even improve your posture.

Plus Size Clothes For 40 Plus: Best Brands
11 Honoré
For the longest time, designer clothing and plus size clothing did not mix. Or at least it was really hard to find it. Now, 11 Honoré makes it easy for women of all sizes to get some of the best designer clothing out there. We love the personal client services form the size-inclusive brand, including fit advice and expert styling.

How incredible does the amazing Marie Denee of The Curvy Fashionista look in the Preen By Thornton Bregazzi Esther Dress 
Lane Bryant
Lane Bryant is the OG plus size clothing brand in the US and she's still got it. The female-led company has a can-do attitude to creating comfortable fashion that fits! Read about the Lane Bryant story on our History of Plus Size Clothing blog.

Blogger Chardline Chanel is killing it in the new Livi Active range and wears the Livi tie dye top with lace upfront.

Shop Lane Bryant clothes here.
The trend-driven, classy styles of Eloquii are focussed on fit and available in US sizes 14-28. (UK 16 -30). We love the catwalk-ready styles from Eloquii that are perfect for dressing up for that special occasion.
 We are obsessed with the Puff sleeve gathered waist dress, worn by the Queen herself, Tess Holliday.

Jessica London
For style and quality to live by, check out the range from Jessica London. All pieces are tailored to complement your curves so you can look polished and poised any day of the week. Expect the unexpected from the collection of high-quality clothing with an emphasis on details and fit.

We love this classically sophisticated look from blogger The Smiling Sweetheart, wearing the V neck sweater.

Soncy
Clothing from Soncy is fashionable, affordable and available in US sizes 10-32 (UK 12-34). All the clothes from this lifestyle brand are made in house and are under $100! 
Soncy is all about empowering women to strut their stuff and feel fabulous in the clothes they wear, whatever the occasion.
Plus model Nerdy Curvy and Thriving looks stunning in the No Way Rosé wrap dress. 

5 40+ Bloggers We Are Loving Right Now.
We love getting fashion inspo from our favorite bloggers and we know that you do too. Check out these bloggers who are showing us how to be fabulously fashionable at forty.
Pretty Plus Pep
Pepper Martin of Pretty Plus Pep loves fashion and wants to share her stories and style to let you know that you can look and fabulous at any age without having to spend loads of money.
The Je Ne Sais Quoi
J'adore the Je Ne Sais Quoi. The stylish guide to plus size life from Jeniese is simply sophisticated and inspirational.
La Pecosa Preciosa
Sandra Negron is the author of La Pecosa Preciosa and cofounder of Blogger House Curvy Closet. On her blog, she shares fashion and beauty tips and tricks helping all plus-size women to look fabulous. We love her frugal approach to shopping smart.
Fearlessly Just Me
Fit model, public and speaker and writer Marcy of Fearlessly Just Me is living her best life and we love how we can be a part of her life experiences through the blog. Marcy is an incredible inspirational blogger who believes that everyone is beautiful. We hear you sister.
March and May
Ana of March and May started blogging in December 2014 after finding that plus size fashion for women in their forties was massively under-represented. On the blog, Ana creates looks that are totally relatable.
Tell us, who is your style inspiration?
Read more Insyze style guides right here including the stylish tops for 50+ or our 24 amazing style tips for plus size women.
Share This Post On Pinterest!