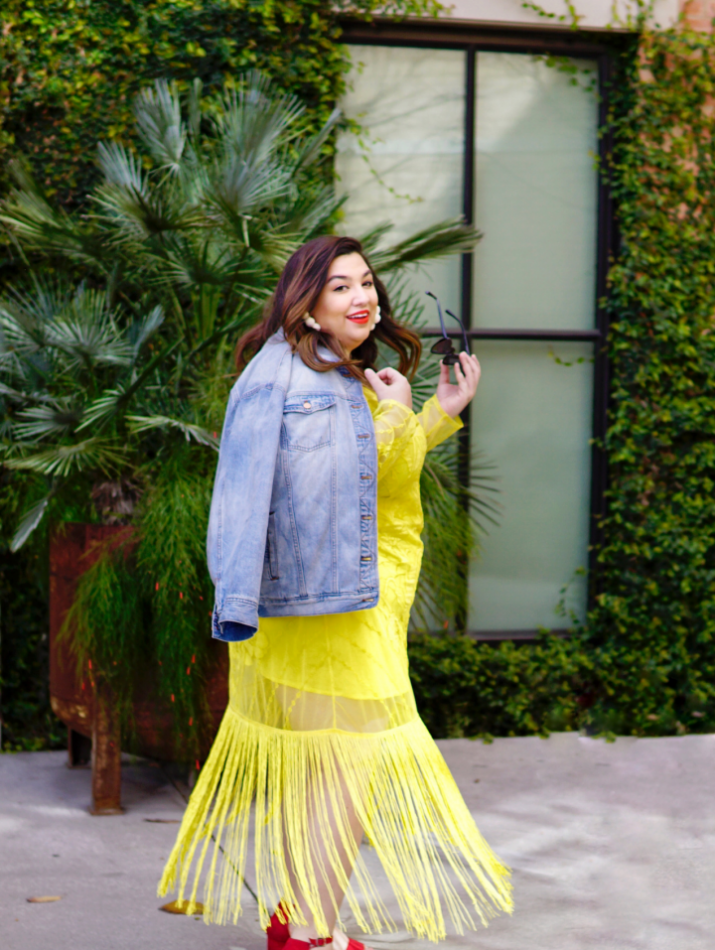 With her bright and colorful Instagram feed, elegant style and stunning photography, it's easy to see why Ranya Sakatan, aka @TummySociety has over 10,000 followers who love her plus size fashion updates. As a San Antonio, Texas native - Ranya shows off her amazing home city and style with the most creative photos and inspiring messages on being body confident at any size.
"All tummies are good tummies" is her motto and obviously we 100% agree! We chatted with Ranya this week to ask her about how she started, her best plus size style tips and how to overcome low self-esteem and body confidence issues.
We love your Instafeed and style. Why did you first start instagram?
Style. I wanted a way to share my personal style I had built over the years, and @tummysociety was actually @mintsociety and ran by me and my best friend.
Over awhile we realized that what we wanted for our blog was different, so in our "Instagram Divorce" (don't worry - we are still good!) I got custody of the blog, and it really turned into a celebration of all bodies, the body positivity movement and loving yourself, as you are, at this moment. @Mintsociety never felt like mine, so a few months ago i rebranded as @tummysociety, because my messaging is that all tummies are good tummies -- and i want anyone to be able to come to my page and feel inspired to be just as they are.
How do you find such colorful locations?
San Antonio is such a vibrant city - and a lot of my locations are actually everyday places. There's a yellow and red wall that's a Mexican food place a few blocks from my house; I've taken pictures in front of pink doors that belong to a nail salon in spa -- it's just a matter of knowing your surroundings. It also helps that my boyfriend is a great, supportive scout and will save locations he finds to shoot at!
What's your favorite thing about living in Texas?
Oh ... everything. I don't know anything but Texas and have lived in most of the major cities at some point in my life. But being a native Texan comes with a big sense of pride, a natural friendliness and some of the best BBQ and Mexican food you can find.
What's your favorite beauty product of all time?
Red Lipstick. I love a good matte red lip and its the one thing I really couldn't do without.
Sneakers or heels?
I used to want to be a heel girl. But the power of comfort is something I can't resist - Sneakers all the way.
Hair done or messy?
Done. I really feel better when my hair is done, and for me it's just as much a part of the outfit as what you're wearing.
Ice-cream or French Fries?
Chips and Salsa. For sure.
Bikini or onepiece?
If you told the fifteen-year-old Ranya that one day she would answer Bikini, she would really have an extension crisis. But I feel so good in a bikini, still self-aware, but you can really find the most beautiful, flattering and trendy two-pieces that just weren't available years and years ago.
What's your best style tip?
Wear it. Don't wait until you 'lose the weight' to buy a beautiful dress. Don't have goal clothes. Wear beautiful clothes at the current size you're in and know you are worthy to wear whatever you want, at any size.
Favorite clothing brand and why?
Honestly I tow between Eloquii and Asos Curve. They both are brands that have paved a way for plus-size women to wear gorgeous, unique pieces and not the leopard, laced, over-sized tunics of the past.
Any shopping tips for plus size women?
Get to know what silhouettes fit your body. Understand that the size on a garment is going to fluctuate from brand to brand, and you have to be okay with that. Find something that fits your body, makes you feel good, and don't be afraid to take risks - build up to it! I've been someone who shies away every summer from showing my arms.
Even for someone who isn't afraid to take a risk, i'm afraid to do something so tiny, so over the past two years i have becoming more and more comfortable with stepping out of the house, sans sleeve - It takes time to get comfortable with the things that scare you.
What's your advice for plus size women who are struggling with body image and confidence?
You are beautiful and you are worthy. Don't spend the best years of your life not living because of a number on a scale. Confidence isn't something you can buy; You have to work, you have to know yourself and over time it becomes easier and easier to know that you are exactly who you are supposed to be. One of the biggest things that changed my mindset was changing the visuals, meaning - i don't follow a lot of straight sized women on instagram.
This may sound weird, but when you think about your life, especially before 2010, thin was it - You rarely saw anyone over a certain size on TV, magazines, modelling, movies - and that messes with you. You felt alone. But if you are surrounding yourself and what you see with people that look like you, and you see how beautiful they are, then you begin to understand that people look different and that's so, so important to helping with your self-worth.
What's your opinion on the term 'plus size' - should the fashion industry use it?
I'm indifferent really. I wish that there wasn't a plus-size section, or an A+, or extended sizes  - We should just be included. But is that the most heinous thing? No. I'm just excited that stores i wasn't able to shop at for years are now on board (hello J.Crew, Anthropologie, Madewell, H&M - they're getting there!)
What's the best message you've received from one of your followers on Instagram?
I had gotten some really nasty message about my weight a few weeks ago - and it was the first time in my life anyone openly harassed me about my weight. I shared this experience on my stories and didn't realize how much it actually hurt until I realized i hadn't been posting - because I was scared. But reading the comments of those who i've connected with and being apart of a community that has been marginalized and ignored in the past, that's the best thing.
Do you have a Youtube channel and if not, would you start one?
I think about it all the time. If i started a YouTube channel I do want it to be fashion-oriented, but i want to also share the other things i'm passionate about - Fighting for Civil Rights, Voter-awareness, politics - and I toy with how i could merge those worlds via a visual channel.
What are your goals for your instagram?
A year ago it was about growth, working with brands, being an 'influencer'. I've realized that i just want to be me. I want to share my style. I want to connect. I want to educate on issues i'm passionate about. I want to build genuine, and meaningful friendships. I want someone to look at me, and see that their body is similar, and know that if i can be confident, and happy, so can they. If I've helped just one person feel better about who they are, and all they can be - then I've succeeded.
Follow @TummySociety on Instagram here.