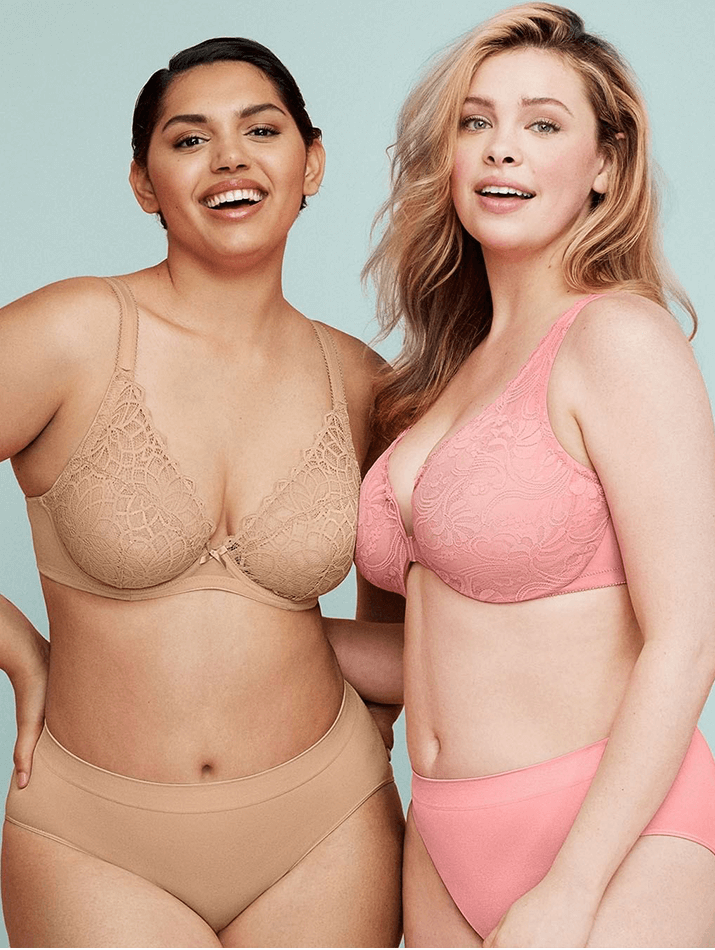 Previously we looked at where to buy underwear for the fuller bust, but what if you are on the other end of the spectrum? If like me, you are part of the small boob club you'll know what a struggle it is to find a cute bra. After all, being plus size means you also have a big bust, right? NOPE. In this guide, we are highlighting where to buy plus size bras smaller than a D cup. 
Featured Image: Glamorise
Ti Voglio / Addition Elle 
Plus size fashion that is great value and trend inspired includes lingerie experts Addition Elle and Ti Voglio.
Bra sizes range from B cups up to 48 and C cups for 50 and 52
Padded Wire Free
With a sleek silhouette and now wires, the Eva bra is all about everyday comfort.
Leading Lady 
Bigger bra band sizes don't necessarily mean bigger cup size, something that Leading Lady knows only too well. This is why bras are available up to a band size 56 and in cups A-H.
The Claire
The black, white or nude everyday comfort bra for A-C cups are made of super breathable microfiber fabric.
Glamorise
Glamorise has been bringing us bras fit for all curves since 1921. The huge range of bras from A to K cups and band sizes of up to 58 and all designed to give you the perfect fit, comfort, and support.
Perfect A
This lightly padded bra is made exclusively for A cups. We love that it's totally seamless and breathable.
Miss Mary
The world-class lingerie at Miss Mary is about more than just a bra; it's total comfort every day. It's a great place to start when looking for plus size bras smaller than a D cup as sizes range from A to I, and band sizes up to 56.
Romance Non-Wired
The super-soft non-wired bra with low cups is designed to give you a lift. Available from a B cup and up to band 52 .
ThirdLove
Making bras and underwear for everybody means that ThirdLove delivers more than 78 different sizes! All of them giving you the perfect fit and comfort.
One thing we really love about ThirdLove is that you can see how the bra fits on different bust sizes.
A and A 1/2 cups are available up to band size 38 and B cups up to 48.
Artisan Lace Racerback 
Including the signature half-cup design, this racerback bra is available for cups A-I and bands up to 44.
If you want to read more about how you can find the perfect bra for you, check out our ultimate guide to bras.
*Disclaimer: We may earn a commission on these links*