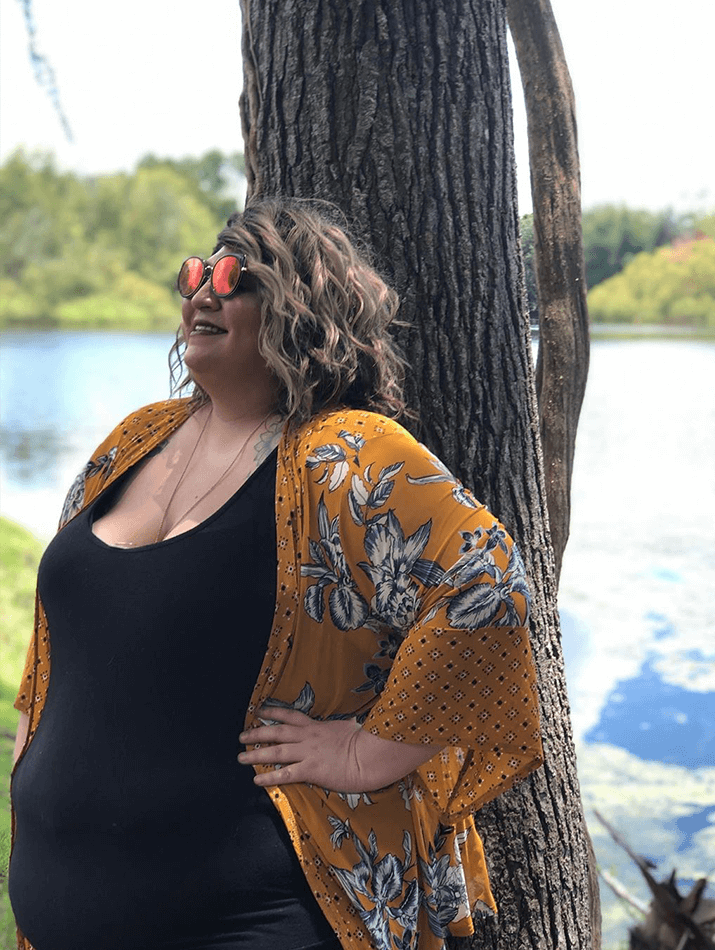 From podcasts to Youtube videos and thought-provoking blog posts, all of our Florida plus-size bloggers have got more than just geography in common: we love their body-positive messages and relatable style.
Featured Image: AbyInRealLife
Cheyenne Lenore
Plus-size fashion, lifestyle blogger and Vlogger Cheyenne Lenore was born and raised in Tampa. Cheyenne aspires to be able to help others and let them know that it's ok not to fit in.   We are so here for the Disney hacks!
Blogs to read:
A decade in the making - my confidence in the making
Outfits for less- summer tops for under $13
AmaPoundcake
Beyond being a fabulous plus size blogger, Danni is an activist, body image coach, facilitator, content creator, pop culture enthusiast, black feminist, and entertainer. It may be easier to say what Danni isn't!
On her blog, you can expect to find her body coaching services as well as a peak into her personal life through her writing.
Check out these posts:
I Needed a Staycation During Covid-19
What To Do As A Single Person On Valentine's Day?
Positive Bod Blog
Wendy of the Positive Bod Blog is sharing her self love journey to empower women and boost their confidence. We just can't enough of her beautiful looks and super helpful advice blogs!
Check out these posts: 
Covid-19 -My symptoms and home remedies that helped
GlobalMidwife
When it comes to plus size bloggers, Katrina is one of the most colorful and vibrant dressers we know! She is always in a beautiful dress or fab pants that give us all the colorful inspo we need.
Blog posts we love:
My PCOS Story: I Diagnosed Myself!
The 5 Best Luxury Experiences For Black Women
Melissa Whitney Plus
Melissa Whitney Plus is all about sharing stories of fashion, beauty and happiness on her self-love blog. We have loved reading Melissa's shopping guides and hope to see more.
Blog posts we love: 
Ruthie Fonseca
Orlando based body positive blogger, Ruthie will inspire you to embrace your curves through fashion and beauty. Ruthie specifically has a ton of plus size bridal inspo as well, so if your special day is coming up, we definitely recommend checking her out!
In addition, Ruthie is a podcast host for Unexpected Reality Podcast, where she discusses everyday life and its hurdles!
Check out these blog posts:
Must Have Sleepwear with Cacique Intimates
The Perfect Fit in Denim and Bras for Curvy Girls
AbyInRealLife
Body positive and mental health advocate, Aby is not only the author of the Aby In Real Life blog but also the founder of the curvy confidence events and co-host of the Curvy Chat Podcast. Aby is inspiring us to love ourselves just the way we absolutely love her authentic and frank way of blogging. 
Read these blogs:
Letting go of guilt and refusing the narrative
This Blonde Life
Last but by no means least, the final Florida plus-size bloggers we are shining a light on is Blakeley of This Blonde Life. The beauty, life and style blogger shares her stories of parenthood, beauty tips and affordable style inspo. Blakeley and daughter Daisy's matching looks are totally adorable.
Posts to read now: 
My closet staples -pink, red and leopard pumps
How to wear lipstick like a boss
Tell us about the Florida plus-size bloggers who you love to follow.
Next month we want to feature bloggers from around the midwest. DM us your nominations! 
Join our Plus Size Outfit Share community on Facebook to be inspired by plus size babes from across the world.
For more from our 5 bloggers to follow series check out our New York edition or Non- Binary and Queer bloggers.