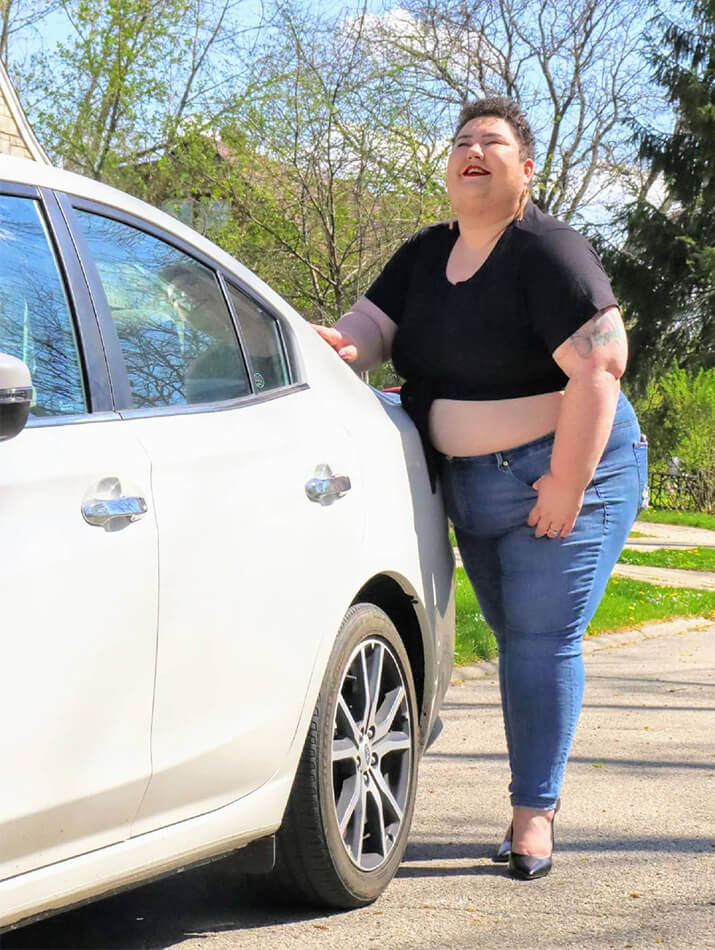 Traveling whilst plus size is a hot topic for lots of us and transport like planes and trains are high up on the list of worries. But one mode of transport that's not really talked about that much is cars, even though many of us use them pretty much every day. Trying to squeeze yourself into a tiny little car seat, with literally no leg room and the steering wheel right up against you, can be an absolute nightmare. Don't even get us started on trying to get into the back seat of a 3 door car. So let's talk about the best cars for plus-size drivers. 
Ok, so before we get started with our recommendations, it's worth thinking about problems you've had with cars in the past. If you're tall, maybe the seat was too high up and your head was literally touching the ceiling. For petite drivers, you might have had the completely opposite problem and the seat was too low and you could hardly see the windscreen.
Featured image: Mechanic Shop Femme
SUV Cars For Plus Size Drivers
Large SUVs are perfect family cars and great for country living. They are also top of our list for choosing the best cars for plus-size drivers as they are super roomy to give you the best leg and headroom.
Honda CR-V
This hybrid SUV caught our eye because of its easy access. The doors open wide so you don't have to struggle to get in and out. We also really like how the gear stick is high up on the dashboard rather than taking up space between the seats. There are 8-way electric adjustments and memory functions in the front seats which is ideal as you can adapt the seats to just the way you like it. The Honda CR-V is also fuel-efficient and low emission! #winning  Headroom 40.4  inches, Legroom 41.3 inches.
2021 Hyundai Santa Fe
Our second SUV on our list of best cars for plus-size drivers is also a hybrid. There's  loads of (42.6 inches) headroom and 41.2 inches)  legroom on offer in the Hyundai Santa Fe, ideal for those longer journeys. It's a 7 seater which means that's great for families and is an affordable option too.
Sedan Cars For Plus Size Drivers
Sedans are classic passenger cars, great for families and for longer journeys where you have lots of luggage. 
Subaru Legacy 
The Subaru Legacy is a great balance between comfort, safety, and advanced capability, and technology. It has an all-wheel drive which makes it perfect for driving all year round and is super spacious with legroom of 42.9 inches and 40 inch Headroom. 
Audi A8
If it's a luxury drive that you are looking for then the Audi A8 is a perfect choice. You can even get a foot massager for the back seat and advanced sound system! German engineering and a super-high-tech finish mean that's it's super quiet, powerful, and has an incredibly roomy interior too. There's also a hybrid option available. Headroom 38.3 inches, Legroom 41.15 inches 
Compact Cars For Plus Size Drivers
Having a huge car if you live in a big city is not ideal, or maybe its just your personal choice. Cars that are said to be 'Compact' kind of sound like they are going to be small, but if you step inside some of these they are actually really roomy.
Nissan Leaf 
This Automatic Compact Hatchback is completely electric. It comfortably seats 5 with 6-way manually adjustable driver's seat and 'floating roof'. The Nissan Leaf offers over 41 inches of both leg and headroom. Great for running errands and the daily commute.
2022 Kia Soul
This versatile hatchback with high-tech features is a great affordable choice that gives you 41 inches of legroom and 39 inches of headroom. We think the Kia Soul is a great choice for big and tall drivers because it's both roomy and efficient. 
For top tips for looking after your car plus awesome workshops, we love Chaya Milchtein of @MechanicShopFemme.
We'd love to hear what cars you own and your thoughts about where to buy the best cars for plus-size drivers. Join the discussion on Insyze.