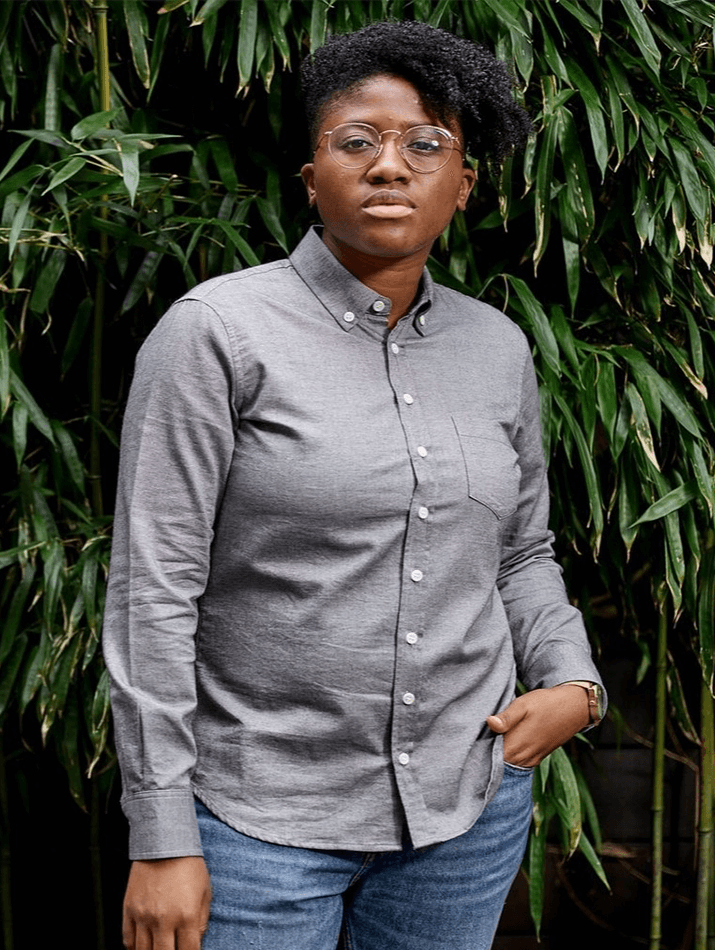 If your style preferences are more aligned to gender neutral styles then we know that finding the perfect clothes for you can sometimes be a struggle. Especially as one thing many of you have told is that plus size clothing is often overly feminine with all the ruffles and the lace. In this blog, we want to explore the best places to buy plus size gender-neutral clothing.
Featured Image: Kirrin Finch
Kirrin Fitch
Top of the list when we think about plus size gender-neutral clothing is Kirrin Finch. The gender-defying fashion house is THE place to go for menswear-inspired and tomboy-esque looks. We love their dapper range of apparel just like this botanical-inspired print shirt.
Sizes range up to US 24 (UK and AU 28) 
Arber shirt
Look cool and collected in this long sleeved button down Arber shirt.
Haute Butch
The masculine inspired androgynous clothing of Haute Butch reinterprets the aesthetics of menswear to bring us plus size gender neutral clothing that never compromises on creating the perfect fit. Sizes run up to 6x.
Lamberton Flannel Shirt
Checked flannel shirts are must-have staples at any time of the year but especially in the fall. 
Dapper Boi
Fit, confidence and style are key to the gender-neutral clothing range of Dapper Boi. The androgynous collection includes everyday styles that all about feeling comfortable and confident in your own skin. 
Slim Olive Stretch Chino Pants
These slim fit chino pants in olive have superior fit that are perfect for curves. Wear them with a patterned button-down and sneakers for a casual everyday look. 
Tomboy X 
At Insyze we have been loving the gender neutral underwear on offer from Tomboy X for a while now so we're super stoked about their range of loungewear where comfort is the number one priority. 
French Terry Joggers
We're obsessed with these charcoal grey joggers, perfect for those low-key days. Question is, would you wear them with the matching hoodie or just by themselves? (with a tee obviously)
Beefcake Swimwear 
The final shop in our guide to buying plus size gender neutral clothing is all about swimwear, and particularly 1920s inspired one pieces. At Beefcake Swimwear they have taken the 1920s silhouette and made it into the must have androgenous swim. Its even sustainably made too! #winning. 
The Charmer
We love the retro rainbow stripe detail on the Charmer swimsuit as seen worn by Alysse Dalessandro of Ready To Stare.
Where To Buy Plus Size Gender Neutral Clothing On Insyze 
Check out this collection for recommendations of androgynous clothing you can find right here on Insyze.
For more style guides from us take a look at our tailoring tips as well as our guide to sustainable fabrics.