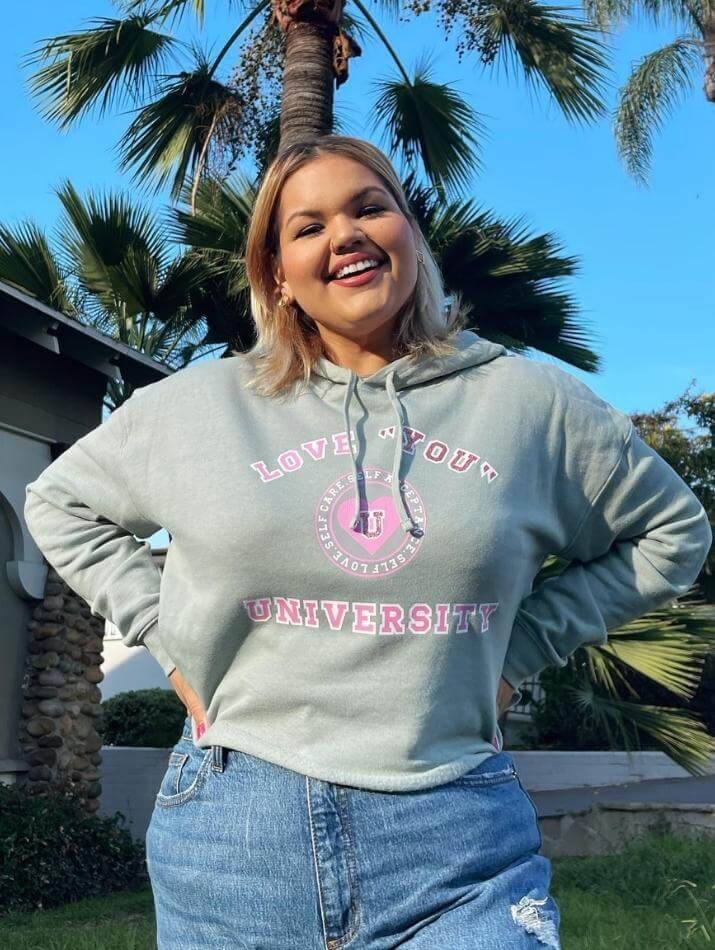 Clothing that is both comfortable and stylish is a win-win and we love that plus size cropped hoodies are so on trend right now. By cropping the hem of a hoodie you are instantly giving this loungewear staple a fresh update. Plus size cropped hoodies are also super cute for layering. 
But before you get your scissors out and go to town on your hoodie drawer we want to show you our top cropped hoodies from Ashley Nell Tipton as well as sharing outfit inspo and style tips. Wanna see more from our crop top series? Check out our post on styling bralettes plus our top 5 occasions for wearing crop top outfits.
How to wear a cropped hoodie
We love that you can wear this versatile item as either a top or sweater depending on the occasion, season or even just your mood. Layer the cropped hoodie over a bralette or tank top and pants for the colder months or ditch the layers and just add shorts and sliders in the summer.
The super comfy sweaters are ideal for lounging, travelling, running errands or as an activewear cover up.
Top tips for wearing cropped outfits
Choose sleek jewellry like stud earrings, cuban chain or layered necklaces to compliment your crop rather than creating a look that's bulky. 
Don't be afraid to play around with colours and patterns. We love a matching set as much as the next girl but for  a high contrast look, try  experimenting with pants, shorts and skirts in different colors and patterns.
If you don't want to show too much skin or a newbie to the crop top game, wear your cropped hoodie with high waits pants or a skirt. Alternatively you could layer a plain tank top underneath.
Style Inspo
We adore the Ashley Nell Tipton Love "you" range, not just fr it's empowering message about self-love but also because it's so easy-to-wear and versatile too. Here's how we styled the cropped hoodies:
Love "you" white cropped hoodie
We're styling this Ashley Nell Tipton cropped hoodie with some distressed finish mom jens and white sneakers for a super chilled look thats perfect for running errands or hanging out with friends.
Love "you" university aquamarine cropped hoodie
To really make the aquamarine blue of this cropped hoodie pop, wear with floral or printed leggings. Go for complementary tones for a casual, comfortable and stylish look.
Love "you" black cropped hoodie
For our third Ashley Nell Tipton cropped hoodie look we wanted to create a work ready style. Wear this black sweater with tailored pants and simple heels or booties for a sophisticated yet edgy style. 
How do you like to wear your cropped hoodies? Share your looks with us on Insyze or on our Facebook group. Plus Size Oufit Share.