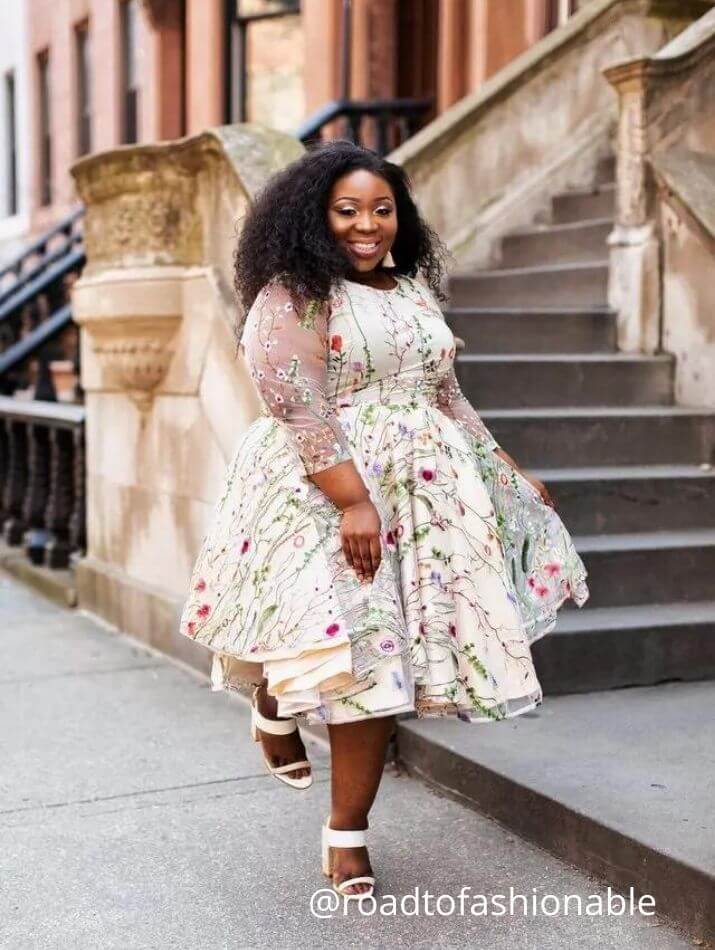 Imagine the scene, you see a gorgeous dress online and not only is it in your size but it's also a style that you know will look good on you. Or maybe you've just walked into a shop and see the perfect dress that you know will look great on you…alas, it's not meant to be, regardless of how hard you try the clothes just won't hang right. Why is this you ask?
Its all down to the fabric that the item is made of. As Marie Dence, founder of Curvy Fashionista, says "Fabrication is sooo key and the wrong fabric choice on a garment can kill its overall look!"
Get more top style picks and tips from Insyze and check out the collection of plus size shirt dresses, wrap skirts and so much more by signing up today!
Featured Image: Road To Fashionable
What are flattering fabrics?
Fabrics are basically the backbone of all clothing. (well it is what clothes are made of after all) Style, cut or patterns make very little difference to a piece of clothing. If the fabric used is wrong, then it's going to flop.
Finding a flattering fabric for your fuller figure can sometimes be a bit of a struggle so Insyze is here to break down those fibers and give you a definitive guide to the materials that will make you look amazing:
Natural Fibers/Fabrics
They are basically two different types of natural fibers; those of plant origin or animal origin. Natural fibers are also thought to be better for the environment because they are sustainable materials.
Animal Origin
Wool
Wool (mostly sheep 'hair'), is removed by shearing the sheep before it is washed, combed, and spun into yarn. The yarn is then either woven or knitted into garments. These are durable, warm, cozy, and (like most natural fibers) breathable and hypoallergenic.
Wool has a hairy texture and can vary in levels of coarseness. If you want soft, fine wool choose Merino or Lambswool.
Try looking past sheep's wool though and you'll find a woolly Aladdin's cave of alpaca, angora, mohair and even cashmere.
Cashmere (goat) is luxuriously soft (and comes with a higher price tag while mohair (from the angora goat) has a fuzzier texture to wool which gives it a distinctive look.
Washing and caring for your woolly items can be a bit more effort as well. Wool has a habit of shrinking in the wash so make sure you read the label carefully!
Leather
There are three main varieties of leather; nubuck, nappa, and suede. These leathers all come from cowhide but you can get leathers from other animals too like goat, lamb etc.
Properties of leather include that it is durable, strong, and has limited elasticity so it won't stretch and lose its shape with wear. It is also wind and water-resistant which makes it a great choice for footwear and jackets.
Silk
Silk is seen as being a very luxurious fabric; it's soft, comfortable and drapes beautifully; ideal for ladies of any shape or size. But, silk, especially pure silk can be very expensive and is often dry clean or hand wash only.
Many vegans, vegetarians and animal activists alike choose not to wear any clothes, shoes etc that are made from these fabrics. The development of synthetic materials such as acrylic and polyurethane means that you can get faux fabrics with a similar finish without compromising on your morals.
Plant Origin
Cotton
Cotton is possibly one of the most commonly used fabrics in the entire clothing industry, not only is it comfortable but it is also very breathable which makes it ideal for wearing throughout the year. It is hypoallergenic, (good for people with sensitive skin) long-lasting and easy to care for as it is machine washable.
Cotton is a very versatile fabric that can be woven in a variety of ways to give it a completely different touch; including knitted cotton, used a lot in jumpers and jersey cotton which is most commonly used in t-shirts.
As with most plant-based products you can get organic as well as non-organic varieties- and those come with the price tag to boot!
Cotton is used a lot in plus-size clothing as it hangs well and is not overly clingy. A lot of cotton clothing may include a small percentage of elastane or spandex to give it stretch. This can change the way that clothing fits so try to stick to items that have the highest percentage of cotton to avoid clothes that are 'clingy'. It's a great choice for occasional wear like a shirt dress for Mother's day.
Twill and Denim
Twill and denim (a type of twill) are both types of cotton fabric. They have a diagonal weave which makes them a lot stronger than standard types of cotton and more robust.
There is no stretch in either of these fabrics unless mixed with elastane/spandex so when you're wanting to buy a new pair of jeans try to choose a pair that is made of 100% cotton or the highest percentage you can for a more flattering look. Jeans not your thing? We also love a denim dress or urbanize your look with a denim jacket..
Linen
Linen, like cotton, is durable and breathable, which is why linen trousers are so great for holiday wear and sunnier climes. It is twice as strong as cotton but is less supple so is used a lot in tailored styles.
Linen is a very structured fabric that will skim over your lumps and bumps rather than hugging them – we're onto a winner here!
The process of making linen is very labor intensive so you can expect that clothes that are made from pure linen are on the expensive side and this means that a large number of mass-produced linen products are made with a linen mix.
Did you know that the best linen is produced in Normandy, France or Flanders and Belgium? Yet the best linen mills are in the Biella region of Italy.
Modal
Up until writing this guide to fabrics blog, we thought that modal was a synthetic fiber. It turns out that we were wrong; modal is a cellulose fiber from the wood chips of a beech tree, yes you read that right, modal is made of tree!
Modal is a soft, stretchy fiber often compared to cotton or viscose. It has a softer drape than cotton, which is a good look for fuller figures and is more durable than viscose.
Another win for modal over viscose is that whilst both are breathable, modal is also water absorbent.
Bamboo
Bamboo a.k.a bamboo viscose is made, as the name suggests, from the cellulose of a Bamboo tree. It's sumptuously soft (softer than cotton) and very absorbent. (twice as absorbent as cotton)
It also has antibacterial and even anti-ultraviolet properties which is great for summer clothes.
Bamboo sounds pretty great and trust us when we say that it definitely lives up to the hype. The only drawback is that clothing made from pure bamboo can be expensive.
Tencel/ Lyocell
Whilst Tencel, the leading brand of the Lyocell print is a plant-based fabric made of the cellulose of the Eucalyptus tree, it is actually a regenerated fabric because it is a 'solvent spun fiber'.
The 'closed loop' spinning process uses non-toxic chemicals which are thought to be environmentally friendly and production uses less water and energy than cotton.
Like bamboo viscose, Tencel is super soft, breathable, and absorbent. But Tencel does not take in dyes very well which means that it can take a lot of dye to make the clothes colorful.  Instead, when looking for Tencel garments, choose plain, natural shades.
Synthetic Fibres/Fabrics
Advancements in technology have meant that there are a lot of synthetic fabrics around today. Clothes made from synthetic fibres are often cheaper than those made from natural fibers but most synthetic fibers are not breathable.
Elastane/Spandex
Putting the stretch in….well pretty much everything.
Elastane, spandex, or the popular branded Lycra is added in small amounts to a wide variety of clothes to give them stretch and helping them to hold their shape.
The good news is that clothes that have elastane in them are easier to move around in. Activewear is big on the elastane/spandex front.
But the not-so-great news is that they are very clingy, highlighting all of your wobbly bits. Elastane also doesn't breathe well and is sensitive to heat.
Viscose
Viscose a.k.a rayon is a semi-synthetic fabric made from wood pulp. It has a silky feel and used a lot in 'plus size' clothing. It drapes well and has little to no stretch….unless mixed with elastane/spandex.
This fabric is one of the few synthetics which is actually breathable so is a great choice of fabric to wear the whole year-round.
Acrylic
Polyacrylic and Acrylic are used instead of (or as well as) wool in knitted items and can be (a lot) cheaper than pure wool.
It is easier to clean than wool and can be soft and durable.  But acrylic is not as thick as wool and can irritate the skin. If you are looking for a thick jumper or cardigan for winter, stick to the real thing.
Polyester
Viscose and polyester are two of the most commonly used fabrics in the plus-size clothing industry. Advantages of polyester mean that; it doesn't crease very easily, won't shrink, fade or even lose its shape.
The disadvantages of polyester are that it is not breathable and it is sometimes shiny which can be unflattering.
Polyester is used a lot as part of a cotton mix because it extends the life of the cotton fibers.
Polyamide / Nylon
Nylon is the trademark name of a kind of polyamide. It's used a lot in the making of activewear because of its elasticity and resilience. It is not environmentally friendly and is prone to static electricity.
Polyamide fabrics are easy to care for and new technologies have made them more breathable.
Faux Leather
Production of faux leather is now so good that it's hard to tell the difference between what's real and what's faux.
Faux leather a.k.a Pleather is much cheaper than real leather and no animals were harmed in the process. It Faux leather has a polyester or polyamide base with a plastic coating which gives it a leather look.
Combination Fabrics
Sometimes synthetic and natural fibers are mixed together to create new fabrics, kind of like a hybrid. We call these combination fabrics.
Velvet
Velvet was traditionally made from silk. Meaning that it had a hefty price tag.
These days though, velvet and/or velour can be made from cotton and lots of synthetic fibers too.
Velvet is a very durable fabric with a strong sheen that has been made with double woven yarn.
Properties of this luxury fabric of medieval origin depend on the fibers it is woven from. Silk-based velvet has the best drape which makes it the most flattering fabric choice for fuller figures.
Satin
Silk and satin go hand in hand, which makes sense because satin can be made from silk. Satin is a smooth, silky fabric with a glossy finish that falls well and has a good drape. Satin can also be woven out of polyester, wool or cotton.
Chiffon
Another popular choice for 'plus size' clothing is Chiffon. It is a floaty fabric that is rarely skin tight and has a fluid drape, skimming over your problem areas. It is a sheer fabric that can be made from either polyester or silk and is perfect for layering.
So there you have it, the definitive guide to fabrics. We hope that this will help you in your search for clothes that look and feel good.  Happy Shopping!
Whilst writing the Insyze guide to fabrics I'm wearing a top that's 96% Viscose / 4% elastane and harem pants  93% viscose and 7% polyester (top – Laura Ashley, trousers -Next) .... in case you were wondering.