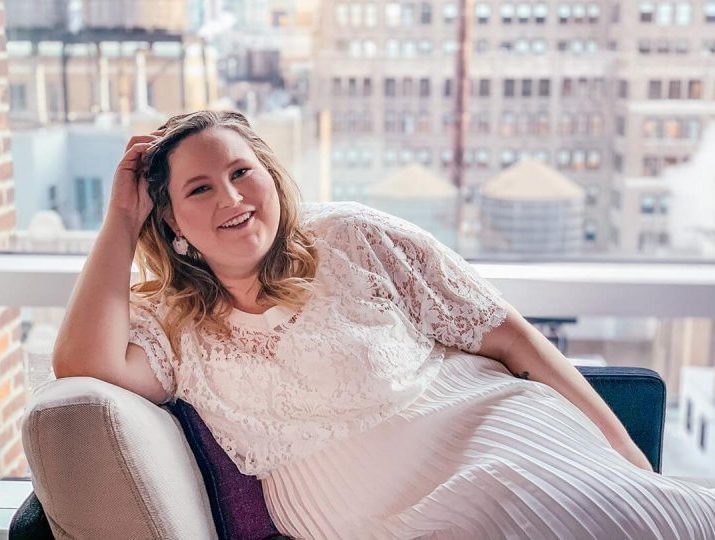 "The tag sewn into your clothes only label your clothes, they don't label you."

- Shelby G
That quote is a great representation of our woman of the week, Shelby G, or more commonly known on Instagram as SheChonky. 
Having only started her Instagram a couple months ago (November 2019), she has built up a strong following of like-minded women all around the world.  
Shelby is also venturing into the YouTube space to post longer content such as getting to know her and dressing room try-ons!
What has been your journey with body positivity?
"I have not always loved my body, and still I don't love every inch every day. Over the last year or two, however, my relationship with my body has improved so much! My good days far outnumber my bad ones. I've learned to appreciate the body that only I have. I've been inspired by other women to try new styles I would have never tried. I've pushed myself out of my comfort zone and realized that not only did I survive, but I looked and felt beautiful doing it. Even something as simple as tucking in my shirt or wearing a cropped top. If you had told me a year ago that I wore my shirt tucked more often than untucked these days I would have never believed it! I've spent so much of my life trying to hide my belly but no more! My belly isn't a secret, other people know I have it, and I'm tired of pretending they don't. Accepting that was the most freeing feeling! Now I feel inspired to try new looks and new styles and every time I try something new it boosts my confidence even more. My body positivity journey is ongoing and constantly changing and I'm so thankful to have the opportunity to share it with other women!"
Do you remember a time when your mindset changed regarding your body positivity?
"The first time I ever put on a bikini! Or fatkini as I lovingly call them! It was an article of clothing I never thought I would look good in. Once I put one on and realized that I looked just as beautiful as the girls in the ads for them it really helped propel my body positive journey."
What motivates you when you're feeling low in confidence?
"Whenever I am hitting a low in my confidence I go put on a sundress, put on a little make up and maybe fix my hair. Just the act of getting dolled up helps pull me out of my slump and makes me feel better! I always feel cute and flirty in a sundress so that immediately boosts my confidence!"
What's your advice for women who are struggling to accept their bodies?
"Just know that you are not alone. Everyone (even those who are usually very confident in their bodies) have days where they struggle. As women, our bodies are constantly changing. It's okay to have rolls, it's okay to have a belly, it's okay to cellulite. You look beautiful no matter what size clothes you wear. The tag sewn into your clothes only label your clothes, they don't label you. "
What is your favorite fashion trend?
"Midi skirts!! Can't get enough of them! I also love that sneakers are being worn in so many more ways! I adore seeing people dress them up! I'll take sneakers and flats over heels any day!!"
What is one piece of clothing that you cannot live without?
"Any romper!! I'm a sucker for them!! They make it so easy to get ready and I love the variety they come in!"
How do you think the world is changing (if it is) to be more or less inclusive to plus size people?
"I think more companies are slowly expanding their sizes which I love to see but I would really love for those ranges expand even more! I see more 1-3x available than before but it is very hard to find sizes beyond those. It's really discouraging for people to see brands advertise as 'size inclusive' and then not be able to find anything to fit their body. I would also really love to see more plus size options in the store!! Shopping online can be so convenient but many women like to see how clothes will look on them before they commit to buying."
Who is a role model for you in the body positivity space and why?
"Natalie Drue! (@NatalieMeansNice) I've been obsessed with her for a while! She is gorgeous, so fun and positive, and brings an editorial look to the plus size world. There are so many amazing women who represent body positivity (too many to name) but she has been my biggest inspiration!"
What is your favorite instagram tip?
"Engage, engage, engage! Genuine engagement is the most important thing to me. There's no better feeling than lifting another woman up and letting her know she is killing it!! Be real, be vulnerable. People love connecting with others they relate to and if you're honest, open and positive you'll draw so many people to your light!"
We could go on and on about Shelby. She is such a positive person to have on our Instagram feed, so we highly recommend you following along!
Shelby is also an avid member of our Facebook Page, "Plus Size Outfit Share" where members can post personal photos and ask for advice. Ask to join HERE.
Stuck inside? Read which stores are having sales at the moment. In need of more content? Check out more of our blogs for style tips and tricks.
Let us know who else we should be following!