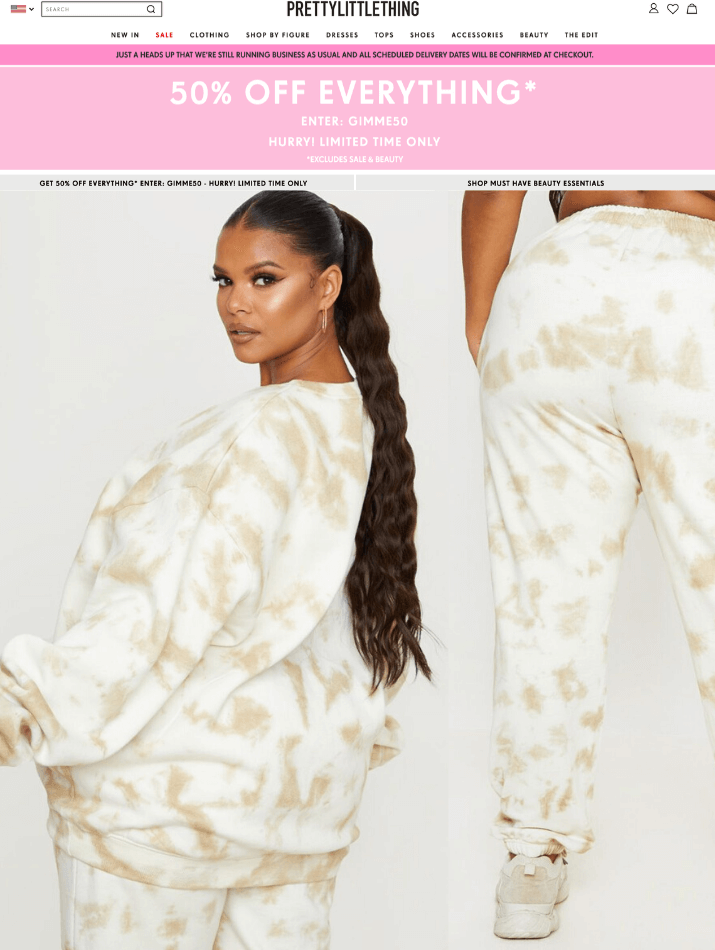 We are all on our computers more than ever.  Rather than continue on to the tenth episode of The Office, why not update your wardrobe by taking advantage of the online sales happening right now to find affordable plus size clothing? 
We have sourced the 5 best online sales for plus size clothing right now.  Whether you're looking for a new loungewear set or you're feeling the need to get your spring and summer wardrobe ready early, there will be something for you!
PrettyLittleThing Plus, 50% Off Everything
Use code GIMME50 at checkout 
PrettyLittleThing is one of Insyze's favorite brands for plus-size clothing. There is always a wide selection of adorable loungewear, dresses, lingerie and so much more.  
Torrid, 50% Off
No code necessary
Shop Torrid HERE
We all know Torrid well, but with this sale, we're going to get to know them even better! Torrid does not size off of mannequins, but rather off of real women. Thank you for being realistic and having bomb sales.
Torrid is a go-to spot for affordable plus-size clothing that is on-trend.  The days of frumpy plus size fashion are gone and a lot of that is due to companies like Torrid creating premium clothes for us. 
Torrid also has a great rewards program, read more here.
NastyGal, 50% Off or 40% Off w/ Free Shipping
50% Off: No code necessary
40% Off w/ Free Shipping: use code SHIPME
NastyGal is the queen of sales.  It seems like there is always 40% off, but right now it is 50% off online! Stock up on some loungewear or even a cute oversized plus size blazer. 
NastyGal is still fairly new to the plus size game, so it's not very clear on the site how to get to specifically plus size. If you're looking to shop there, click here to easily access the plus size section. 
Eloquii, 50% Off All Pants, Jeans & Skirts
Use Code YESPLEASE
Yes please and THANK YOU, Eloquii! Whether you're looking for some new spring linens or your new favorite pair of plus size jeans, Eloquii has you covered. 
Eloquii is our go-to for good quality and business casual or dressier clothes.  If you've been holding out on some quality purchases due to prices, this is your time to shine!
FashionNova Curve, 30-80% Off
Use Code Shop80
Do we even have to mention FashionNova Curve? They are always running a great sale for clothes that are already reasonably priced. 
FashionNova Curve is our go-to for sexy dresses and adorable activewear.  There are so many options on the site, so maybe carve out a couple hours to run through it all.
We recently gave away $100 to FashionNova Curve and may have to start planning another giveaway soon...
Where are you all shopping? Have you bought anything yet? Join our Facebook group Plus Size Outfit Share to share with our group! You will be smothered with compliments and more.
Get inspired by what to buy with some of our recent style guides: