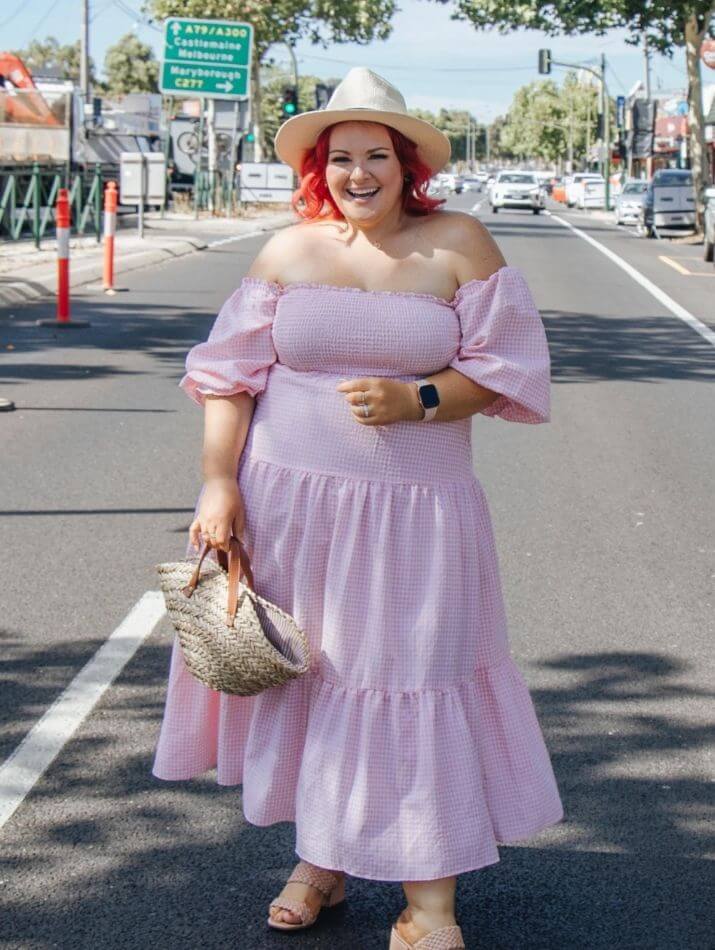 Sienna Miller, Vanessa Hudgens, and Florence Welch are goddesses of boho chic. They embody everything that boho-style clothes represent: freedom, spirit, and radiance. You can do it too by dressing yourself up with flowy, feminine plus-size boho dresses we offer here at Insyze. Pair them with a few other boho essentials, and you're sure to feel free and beautiful all day long!
What Is Boho?
"Boho," short for Bohemian, is a style of dress inspired by the hippie movement in the 60s and 70s (with its roots being traced even further back to the nomad Romani people of France). It's characterized by long, flowy, tiered skirts and dresses, peasant blouses, patterned clothing, ethnic fabrics, embroidery and embellishment, fringes, sandals and ankle boots, and lots of accessories. The style is often layered and colorful, and typically mixes and matches different prints and textures for a funky but put-together look.
In the mid-2000s, boho was all the rage, with celebrities wearing it from head to toe even in red-carpet events. It's still very much trendy today, and you'll often see it during events like Coachella. Nowadays, though, people like to work this look into other more current trends, giving the laid-back fashion a more sleek and modern take.
Essential Boho Items to Have In Your Closet
You can easily dress in boho with these boho-style essential items:
Boho Dress
A boho dress is usually a flowy dress that reaches your mid-thighs or ankles. It has a breezy look that's also characterized by large or puffy sleeves, though there are strappy versions, as well. You can get them from Insyze in plain colors or in Bohemian-style patterns (e.g. florals or island-style design), with ruffles, or as tiered pieces.
Midi or Maxi Skirt
A midi or maxi skirt is a versatile piece that you can use for an easy-to-put-together boho outfit. Pair it with a simple tank top or have a little bit more fun with a flannel or chambray top to complete the look.
Flare Pants
Those bell-bottom jeans of the 2000s will forever stay in style thanks to the boho movement. Rock a pair of them with your favorite Bohemian-style top, and you've got an inexpensive, comfortable yet super chic ensemble!
Slouchy Cardigan or Sweater
A slouchy cardigan or sweater is a must-have for boho looks during colder times. Opt for lacy, knit, or fringed types to keep to the style and layer it along with flare pants or a midi skirt for a spring or autumn-time Bohemian look.
Printed Tops
Breezy, strappy, and effortless tops are must-haves in a Bohemian-style outfit. Look for them in bold, colorful prints to mix and match with the rest of your outfit, giving it a bit more flair. You'll find a lot of options; to narrow them down, think about how you can work the piece into different ensembles so that you can make the most out of it.
Patterned Scarves
If you don't have a ton of jewelry to play with, patterned scarves can swap them out as an accessory. They bring some personality to your outfit, helping it look more laid-back and earthy—all while keeping you comfy.
Tips for Dressing Boho
Getting the boho style right can get tricky. Here are some tips to keep you looking fresh.
Think about Layers
Play around with layers. Maybe throw on a fringed jacket over that floral dress, and finish it off with a cool fedora, a bright scarf, and your go-to ankle boots. Just make sure not to overdo it!
Explore Fabrics
Mix and match different fabrics to complete your Bohemian look. Take ethnic fabrics, vintage textures, and cool patterns, and pair them with each other to create groovy looks that'll turn heads for the right reasons.
Remember to Accessorize
Accessorizing for boho style isn't just limited to layered necklaces and chunky earrings. Explore hats and headpieces, and even experiment with your makeup!
Get Into Boho Mode Today
A quick shopping spree can help you turn your dream boho look into reality. Soon enough, you'll be walking on the streets turning heads just like other Bohemian style icons, decked in a beautiful, laid-back, and comfortable outfit that'll have you feeling liberated and amazing in your own skin!