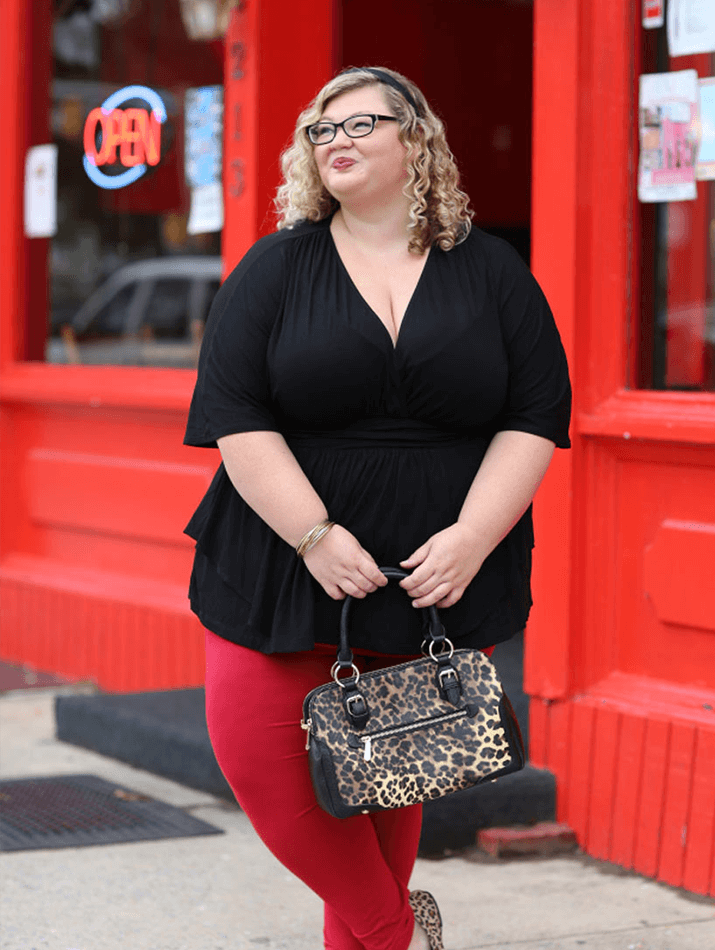 One of the best and worst parts of the pandemic is definitely Zoom! Video calls and endless back-to-back meetings sat on Zoom or Hangouts mean that even though you're working from home, you can't always roll out of bed and into your loungewear.
So we've rounded up the best tops for Zoom calls that fit an apple body shape. If you're apple shaped - or as we call it on Insyze - the 'O' body type - then you carry your fat mainly around your middle.
Featured Image: Kiyonna
Our top styles for the Apple or letter O body shape include choosing tops in block colors, have V necks or patterns around your neckline.
If blazers or cardigans are part of your go-to looks for zoom, choose styles that are single-breasted, open front, or waterfall.
Please note that these are just our suggestions, and you should wear whatever makes you feel comfortable and happy!
Lyanna Puff Sleeve Bustier Top - Fashion To Figure 
Keep it simple and classic with gorgeous tops in block colors.  We're loving this sunrise orange Lyanna Puff Sleeve Bustier Top from Fashion To Figure. The wide neckline is ideal for balancing out your Apple-shaped silhouette and the upbeat orange is sure to put a smile on your face. Can we talk about the sleeve detail? - how cute are the 'puffed cuffs.'
Beaded V-Neck Stretch Knit Top - Ulla Popken 
If you're craving pattern or detail when searching for the best zoom tops for the Apple body shape than we would recommend choosing styles with detail to neckline, shoulders and decolletage.
We've chosen this Beaded V-Neck Stretch Knit Top from Ulla Popken, it's soft, silky, and has ¾ length sleeves too! 
V-Neck Slouchy Pullover Tunic - Torrid
One thing you might have noticed from our collection is that pretty much all of the tops have V necklines. Thats because this is an ideal cut if you have an Apple body shape. Alternatively wide, scoop necklines also look great.
We've gone for a classic and simple look with this Torrid Slouchy Pullover Tunic in black.
Crepe One Button Blazer - Ashley Stewart
Let's talk blazers. This fitted jacket is a staple for a dressed-up office look, so we just had to include it on our best zoom tops for the apple body shape collection.  As you may want to distract attention away from your waist we recommend choosing classic block colors with single-breasted fronts.
Check out this classic black Crepe One Button Blazer from Ashley Stewart -  a must-have for you business wardrobe.
Longline Open-Front Cardigan - Kiyonna
Long length tops, tunics, kimonos, and knitwear are ideal choices for your body shape as they skim over your belly and waist. We love this Kiyonna Longline Open Front Cardigan and it has pockets too!
See our Insyze collection for more top picks:
Do you have a zoom meeting coming up? Share your looks on your Insyze account. You can sign up here for loads more style inspo for plus-size babes. 
*Disclaimer: We may earn a commission on these links*
For more Apple Body shape style guides check out our top tips for the Apple body shape plus workwear styling tips.