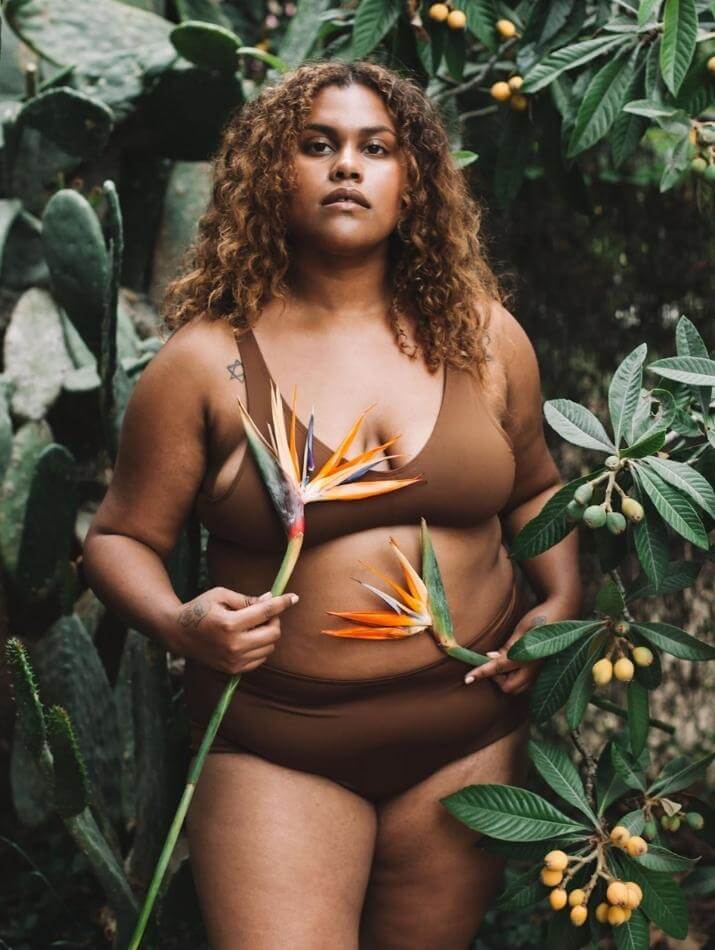 We bang on a lot about buying sustainably and being environmentally conscious about the clothes we buy. But how can you tell if a fashion brand is sustainable or not? Here are some of our top tips:
Start on the About Us Section. 

Before you buy sustainable plus-size clothes from a new brand that you've discovered (there's a few right here on Insyze) it's worth taking a look through the brand info. Look out for transparency within their supply chain, can they provide information about how and where their clothes are made? Do they visit the factories where their clothes are made regularly?  
Unfortunately greenwashing is a real thing, so it pays to find out if a brand is actually committed to sustainability or if they are just jumping on the bandwagon. 
All brands listed on Insyze have their own brand profile. When a new brand signs up with us, they fill in a questionnaire about their ethical and sustainable practices. This means that we can provide you with the information you need in a way that's easy, quick to read. 
Look out for badges
As with everything, there are pros and cons of sustainable fashion, yet for us a major benefit is that many ethical and sustainable brands hold themselves accountable for having very high standards on both environmental practices as well as moral standards. A quick and easy way to spot this is through certified badges from organizations like Fair Trade as well as those interested in highlighting the quality of sustainable clothing. You can normally find them in the footer of the brands website or even on the product page. Ones to look out for include:
Fair Trade

Guaranteeing that everyone involved in production, from the farmers to the workers and beyond, are paid fairly and are justly compensated. Whilst this is seen to be more about ethics, it also promotes more sustainable practices in agriculture.
B Corp 
This badge is a certification that shows that brands meet rigorous standards of both social and environmental performance, as well accountability and transparency.
Ecolabel by the European Union

You can find this badge on products that reduce impact on the environment throughout their life cycle.
GCC Brandmark

The Eco Age brandmark is a validation for products showing that they meet rigorous ethical, social and environmental standards.
Global Organic Textile Standard (GOTS)
This certifies that textiles contain a minimum of 70% organic fibers. As well as this, any chemicals used in production must also meet strict criteria and the brand needs to use proper wastewater treatments.
Made-By

Confirmation that a brand adheres to responsible practices that respect both people and the planet.
Oeko-Tex Standard 100
This badge is a confirmation that all the tested textiles are free of harmful or illegal substances and unregulated chemicals.
PETA Approved Vegan
Companies use this badge to show that they make vegan and animal-friendly products. To use it, they need to first sign the PETA agreement.
USDA Organic
This shows that the brand uses organic agricultural processes. However as this is a farming certification, it doesn't regulate the manufacturing process.
World Fair Trade Organization (WFTO)
The use of responsible practices across the supply chain are needed to apply for this certification. In addition, the company or brand should also support small producers and their communities.

Check the fabric label
Our final top tip for knowing if a fashion brand is sustainable is to know your fabrics. Always check the label of any clothes or accessories that you are looking to buy. For sustainability, you ideally want to buy natural fibers like hemp, bamboo or linen. 
Cotton production is often chemical heavy so if cotton is your thing, look for organic options. 
The main reason why natural fibers are best when it comes to sustainability is that they are biodegradable. 
However recycled fabrics like nylon and polyester, a lot of them made from recycled plastic bottles, are often a more affordable option.