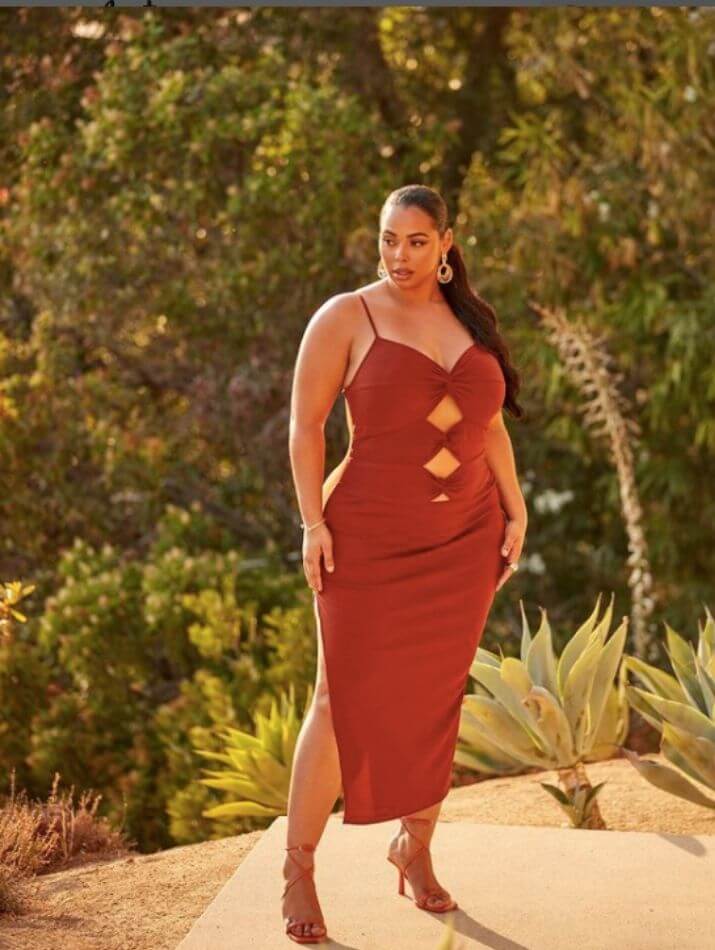 Hourglass body shapes are incredibly fun to dress with easy options such as wearing a shirt dress with a statement belt to emphasize those va-va-voom curves to slinky wrap shirts with cute tie detailing.
If you're unsure how to dress a plus-size hourglass figure or what is considered plus size, the personal shoppers at Insyze have put together a masterful selection to get you those instant style points.
Choosing the Right Cut In a Plus-Size Dress
The beauty of an hourglass silhouette is that you don't need to worry about picking the dresses that look best on plus-size bodies because you've got the proportions to pull off just about every look.
Some of our favorite styles include:
Wrap dresses to highlight your waistline without sacrificing comfort. 
Retro dresses with dramatically flared skirts and attention-grabbing necklines.
Vertical pintucks and v-necks, or a gentle cowl neck if you're after an elegant, effortless feel.
The trick is to avoid anything baggy or boxy. It's better to choose necklines and cinched styles that embrace your curves with confidence, whether that be daring micro-minis or graceful floor-sweeping gowns.
The Best Tops for a Plus-Size Hourglass Shape
As with dresses, any casual or formal top length looks gorgeous on a super-feminine hourglass figure.
If you're a petite height, a shorter top works perfectly and won't drown your waist in fabric.
Tailored tops and tees with a subtle flair at the hips are a perfect go-to style, and can be dressed up with leather leggings or fitted capri pants and a heel. Alternatively, they can be dressed down with a box-fresh pair of sneakers and jeans.
We're all about making the most of that classic shape. A cinched, belted or ruched style around the waist will add to the look, while avoiding too many layers of textiles or bulky embellishments that detract from your natural shape.
Perfect Pants for Plus-Size Dressing
Many plus-size women avoid fitted pants. But a great cut, quality fabrics and styling created specifically for plus-size bodies will do wonders for your confidence and comfort.
Here's what to look for:
Bootcut or slightly flared designs, paired with business attire or your casual brunch-with-the-girls outfit.
Wide-leg pants look fabulous on taller hourglass women, and go perfect with a pair of super-sized shades.
Fitted waistlines remain a popular style, giving your waist center stage and showing off that hourglass shape.
We suggest tailored or fitted styles over pleats, and lighter fabrics that move with your body. This design will keep up as you power through the day or dance the night away.
Expert Tips for Plus-Size Hourglass Outfits
Finally, let's talk about details that will bring an outfit together for a look that makes you feel like a catwalk queen.
Layered outfits are great for spring days and cooler evenings. Pick up a short jacket that falls just higher than your natural waist to add to the visual horizontal line.
Solid colors are easier to work with if you're short on time, and a bold, bright statement will ensure you stand out from the crowd.
Lastly, if we had to recommend one single wardrobe staple for a plus-size hourglass, it would have to be a pencil skirt. This is the must-have piece that fits and flatters your body in all the right ways.
Remember, style rules are made to be broken. If you've tried a few new looks and found your fashion groove, run with it. 
Nothing is as beautiful as confidence, and whatever makes you feel empowered to show off your amazing hourglass figure is the style that's right for you.