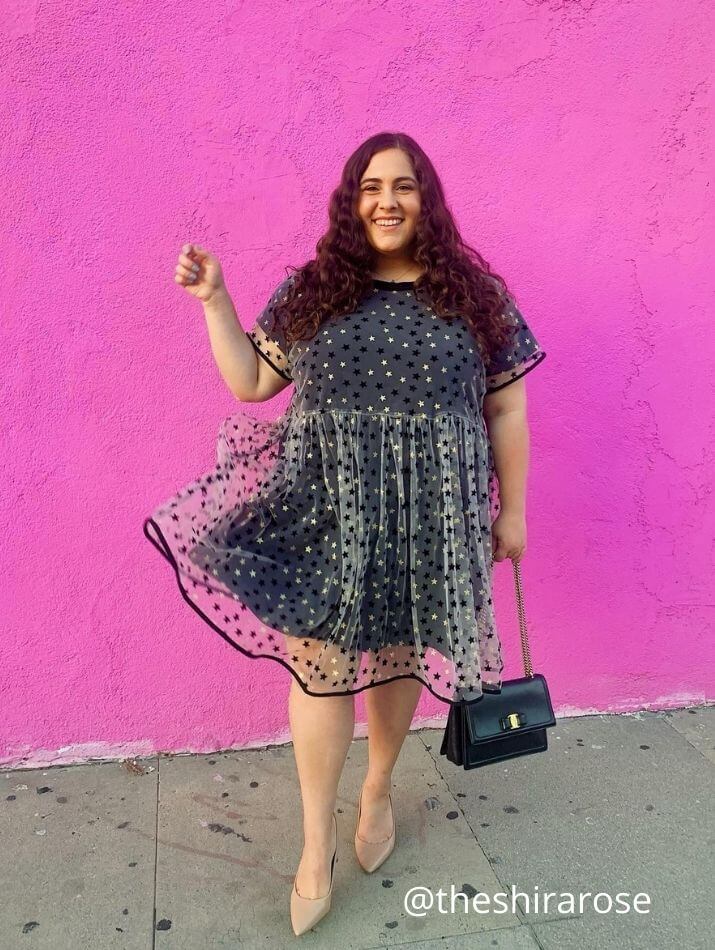 Learning to love your body just the way you are is not a quick fix (sorry) though it may look like it from curated social media feeds but, trust us, it's so worth it when you do and we want to share with you some tips that we used to learn how to love ourselves in a plus size body. 
After literal YEARS of being fat shamed by society and diet culture it's not really any surprise that negative body image is a problem for a lot of us and it's now cropping up in younger and younger kids.
We could probably write a book about the damaging effect of diet culture (food is not a 'sin') and how fatphobia made us feel, as Maddie Zahm puts it 'so goddamn inferior' as the designated funny fat friend. Check out her music video at the bottom of the page!
But you my friend are ENOUGH and you don't need to change anything about yourself unless YOU want to. 
See more Insyze guides and style tips including our top tips on styling a skater dress, looking great in a wrap dress and how to dress for a pear shaped.
Practice Body Neutrality 
A great place to start on your self-love journey is to practice body neutrality, think about what your body can do for you, rather than what it looks like.
Next time you're standing in front of the mirror, instead of thinking 'I really hate my arms' try to focus on what your arms look like and more about what they can do. From hugging your loved ones to creating things - your arms are pretty cool. 
By doing this, you are taking control of any negative self-talk and neutralizing it with a positive one.
Be Kind to Yourself
Daily self-affirmations that you can stick to your mirror, save as your screensaver or on your lock screen are a great reminder to be kind to yourself and give yourself a self-love boost whenever you need them. We recommend repeating them at least twice a day. 
Dress To The Nines Just Because You Can 
If you think that dressing up for a night out is probably the best part, then this tip is for you.
No matter if it's a Tuesday afternoon and you have nowhere to be, doing your hair and makeup and putting on your most gorgeous outfit is a sure way to feel super confident and sexy in your skin. 
Make sure to buy clothes in a size that fits you instead of trying to squeeze into something that doesn't. Clothing sizes are just a number, so don't be afraid to size up if you need to. 
Curate Your Feed
You've probably heard of the old saying 'comparison is the thief of joy' and that is so true especially when we see bodies that are totally different to ours. One trick that works for us is to put the focus back on yourself. When you start feeling like you're going down that comparison spiral give yourself a bit of a pep talk.
Social media is probably the worst place for this - we're looking at you Instagram. So our tip is to unfollow all the accounts who don't bring you joy or make you feel bad. 
Instead try following other incredible plus-size creators who have similar body types to you. Not only will they boost your confidence but it's a great way to find style inspo. 
Surround Yourself With a Community of People Who You Can Relate With
For a lot of us, we may have been the only fat friend growing up. From feeling super awkward on group shopping trips because you couldn't find anything that fit you (shoutout to hanging out by the jewelry sections), to being the odd one out at the theme park because the weight restrictions meant that you couldn't go rides  (better to be safe than sorry but our ears are still burning from the embarrassment) - it was an experience and one that a lot of us had to go through alone because, try as they might, our thinner friends just didn't get it.
We can't tell you how amazing it feels to go to curvy conventions and join communities where plus-size folks can feel free to share their experiences, get advice and literally just feel heard.
Find your tribe, it really makes a difference.
Sign up to Insyze to chat with plus-size baddies or if Facebook is your thing, join us on the Plus Size Outfit Share group. 
Remember that learning to love yourself is a process and it's ok to have bad days.