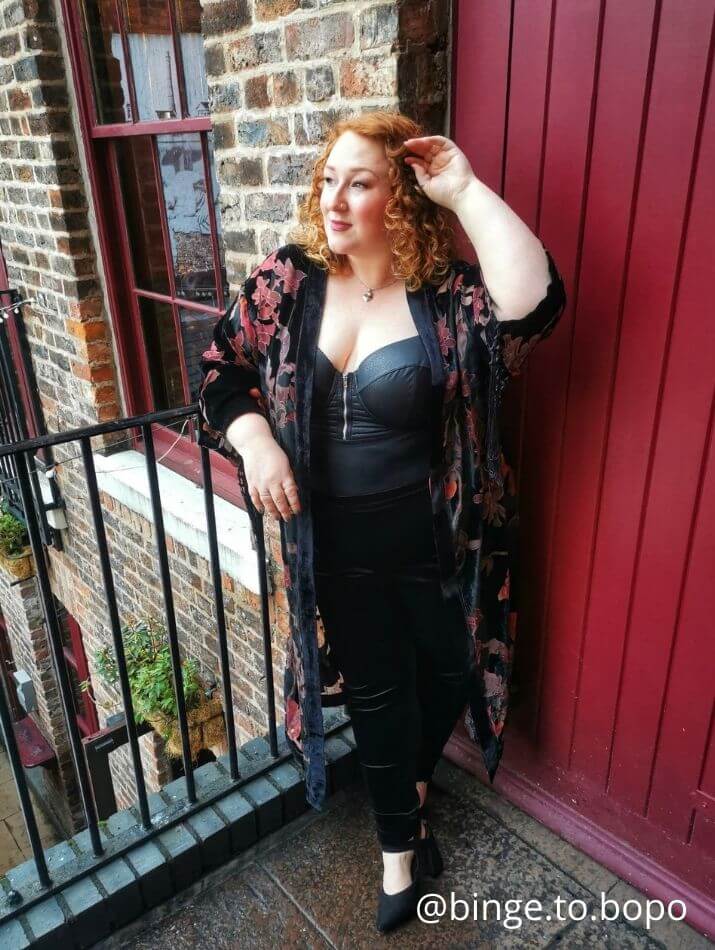 Have you got an hourglass figure? On Insyze we call this the X body shape, but we know many people call it hourglass so in this guide we'll use both terms.
Did you know that only 8.4% of women have an hourglass body shape? Yep, your sexy shape is not only extremely desirable from a 'conventional beauty standard' it is also one of the rarest.
Your hourglass curves are often quite easy to dress because many styles with stretch in the fabric suit your body shape. The only limitations you might find will  be down to your bust size, weight and back, as it can be easy for your curves to be drowned in shapeless tops, dresses and skirts.
With your body type, you're in great company. Famous hourglass ladies include Kylie Jenner, Kim Kardashian, Marilyn Monroe, Kate Winslet and Mariah Carey. All bombshells! Just like you.
Shop for hourglass plus size clothing on the Insyze app! You will get daily recommendations based on your taste in plus size clothing. You can also follow people with your similar body shape for inspiration.
What is an hourglass body shape?
The hourglass body shape a.k.a the X body shape, is defined as:
equally proportioned boobs and hips
full/large boobs
well defined slender waist
shapely legs
If you have a curvaceous hourglass figure,  you should dress in the way that will show off your figure! Don't be shy babe, flaunt what your mamma gave ya!
Dresses For The Hourglass Shape
Feeling a bit of a Kim K vibe today? With your hourglass figure, you can look even more gorgeous than the most famous Kardashian in bodycon and figure hugging styles.
Dresses with scoop or V necklines will emphasise the bust and draw attention down to your womanly curves. Strapless or off-the-shoulder styles work well with your shape but avoid high-necklines.
Dresses which have a lot of embellishment, beading or large prints or patterns, can make hourglasses look larger than they actually are. Instead, pick dresses in solid colours.
This wrap dress is perfect for an hourglass shape because you can adjust to your size. The low neckline is also a beautiful, flattering touch.
Tops for the hourglass shape
Your great boobs are what give you a beautiful hourglass shape, but although they're fantastic most of the time – big boobs can be problematic when choosing certain tops. We're looking at you, shirts. Those gaping holes between the buttons are less than ideal right!
Tap here for our guide on workwear for the hourglass shape.
The best tops and blouses for your figure are fitted tops, or those made of stretchy materials that will hug your curves. Stiff or bulky fabrics should be avoided as they will tend to hang from the widest part (the bust) and will make you look larger than you are.
Necklines that will look fabulous on you include V necks or scooped necks as these will accentuate your bust. Wrap style tops (or dresses) are also are a perfect choice for you as they will have the desired neckline and the belt or waist tie falls at your defined waistline.
Bows, ruffles, frills and any other volume enhancing details are things to be avoided. As you are already perfectly proportioned these will only be a distraction, or, if placed on the empire line or neck, will make you look top-heavy.
A problem that many 'hourglass' women face is that their figure makes them look 'too sexy' attracting the kind of attention you'd rather avoid.
If this means you want to downplay your curves instead of flaunting them, then we have a great trick!
Vertical stripes are a great way of elongating your body and drawing the attention down and away from your bust area. In the same way, wearing dark colours on top will slim you down and give the effect of a smaller bust.
Tops and dresses with 3/4 length sleeves are also fabulous for your body shape as they show off your wrists and will draw attention to your gorgeous waist.
Coats and Jackets For The Hourglass Shape
As with tops, you don't want to be drowning your beautiful hourglass curves under frumpy fabrics. So, tailored styles are what suit you best! Any length coat will look great on you but you should try to stick to single-breasted styles as double breasted front coats will broaden you and make you look bigger than you actually are.
Jackets with belts, trench coats and short jackets that accentuate the waist are all styles that are very flattering on you.
Simplicity is key when it comes to choosing the right coat or jacket for the hourglass figure. Try to avoid accentuated shoulders, frill details and double-breasted buttons. Slender styles that show off your shape work well whilst bulky, overlarge types hide your frame and should, therefore, be avoided.
Here are some of our favorite styles for plus size hourglass babes:
Accessories
Believe it or not, the right accessories have the power to make you look slimmer.
Wearing a belt to the waist brings the eyes attention to the narrowest part of your physique, not only making you look slimmer but also accentuating your curves. Always a bonus.
However, you should be conscious of the size of the belt that you choose as if you have a short waist you may shorten your torso by wearing a thick belt. Thin belts work very well on the hourglass figure.
Avoid flat shoes. This may sound very impractical but your wide hips will automatically make your legs look short and stumpy which therefore makes it necessary to elongate your legs. Heels are perfect for this!
Skirts, Jeans and Pants for the Hourglass Shape
Skirts For The Hourglass Shape
Streamlined is key when it comes to choosing the right skirt for an hourglass shape. Classic styles such as the a-line or pencil skirt are perfect for doing just that.
Choose draping fabrics with a bit of stretch that will hug your curves. Stiffer fabrics such as starched cotton and linen may widen the hips, making you look 'boxy'.
Fashion Nova Curve Yellow Velvet Skirt
Jeans and pants for the hourglass shape
Your curvy hips have the tendency to shorten the legs and can sometimes make you look stumpy with the wrong pants.
Skinny fit jeans are fabulous for your figure because they'll show your curves off beautifully while giving you a slender silhouette. Pair them with some heels to add length to your legs and elongate those pins!
Mid to high rise jeans are best if you are an hourglass as these will lengthen your legs. Low rise jeans, which sit on the hips, are a no-no and should be avoided – but let's be honest, unless you're a Kate Moss or Kendall Jenner then low rise jeans aren't anyone's friend!
Try to pick jeans and/or trousers that do not have lots of embellishment and /or large pockets around the waist as they will draw the eye to the hips.
Plus Size Patterns
Hourglass babes suit solid colours and shapes really well. Heavily embellished clothes and big patterns can sometimes work against you, as depending on their placement they could make you look wider than you are.
The hourglass figure will look great in pretty much any style. These are only guidelines for 'what not to wear' if you have an hourglass body shape.  Have you got an an hourglass figure, tell us what you like to wear. Want more guides? Here's our Guide Dressing The Pear Body Shape. Read our Guide to Dressing The Apple Body Shape Or our Guide To Dressing The Straight Body Shape.