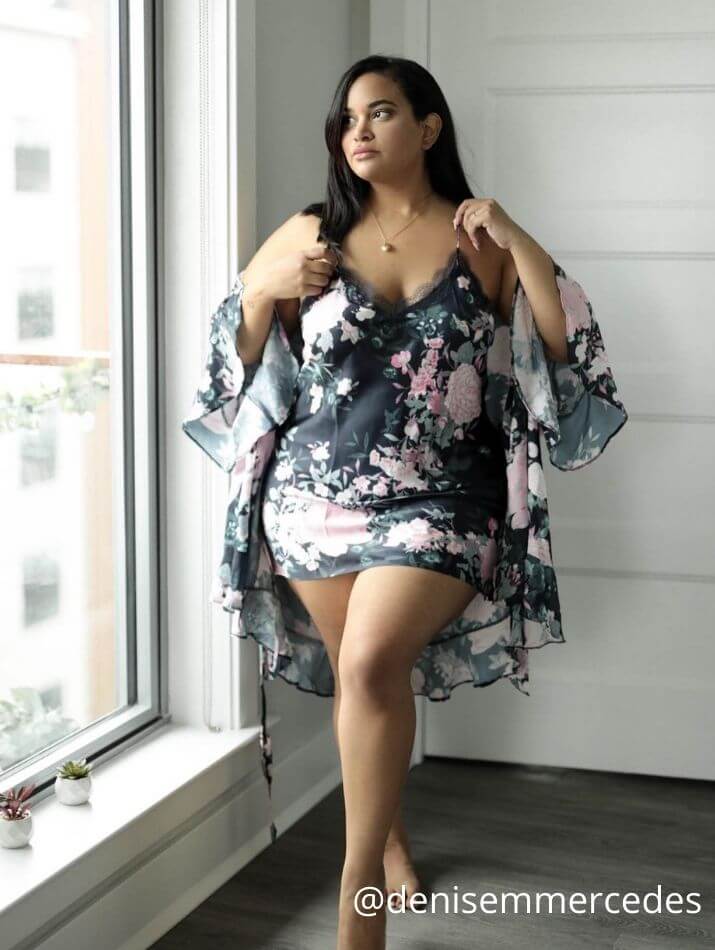 Whether you're after comfortable, supportive basics or stunningly seductive lingerie, incredible plus-size underwear can make you feel like you're rocking a catwalk even in a simple skater dress.
So, does Victoria Secret have plus size? And if it does, are their plus-size styles designed to make you look like a red-hot siren?
Unfortunately, like a stack of other well-known brands, Victoria Secret still misses the mark in this market. It makes only token nods to body diversity and offers no help for plus size women looking for lingerie.
But surely other clothing brands have options, so you may be asking, "Does Zara have plus size?" as we creep closer to lover's season, but unfortunately, you'll be equally stumped looking for perfectly fitting slips, bras, and garter belts.
Where to Find Seriously Sexy Plus-Size Lingerie
As a dedicated personal shopping service for every plus-size shape and silhouette, Insyze knows that quality underwear can transform your attitude about everything.
Female lingerie should be empowering, wonderfully made, and ultimately a pleasure to wear.
We offer personalized recommendations based on your unique taste and personality, stocking everything from special pieces for big occasions to everyday undergarments, such as:
Everyday basics, including thongs, briefs, swimwear and control sets to make you feel beautiful at any time of the day.
Amazing bras and bralettes curated from plus-size underwear designers who appreciate that there is no need to sacrifice comfort for style.
Secret bra sets to help you feel confident and in command, even in daring backless dresses and strapless halters.
Finely made hosiery from cheerful sock prints in sustainable fabric to gorgeous stockings and stay-up-all-day tights.
Shapewear, from stunning faux leather to paneled bustiers—and the best of the rest.
Whatever you go for, we're here to remind you that exceptional plus-size lingerie should fit you like a glove. There is no reason to settle for less with so many options out there!
Underwear Shopping Tips for Plus Size Women
Here's some awesome news—plus-size apparel is big business. As brands started to take note of what women with larger bodies wanted, the industry grew exponentially. 
Today it is a whopping $21 billion industry!
That doesn't mean that all retailers are body inclusive or that their intimates are any better, but it does mean that we have thousands of astonishingly brilliant brands that appreciate the elegance of all sizes.
It can be tricky to know where to start, but your best bet is to buy brands that put real effort into creating sexy plus-size lingerie. Anything generically sized up isn't going to support you or make you feel wonder-woman sensational.
Our advice is always to start with the correct bra measurements (80% of all women still buy the wrong size bras).
You can go for a professional fitting with a respected retailer or jump on our blog for a library of resources to help you understand body shapes and fitting fundamentals.
Second, let's pause for a moment to say that shapewear can be an ego boost if you need one, but it's far from the catch-all solution it claims to be!
The best way to embrace your body is to show off your curves and go for something that doesn't sculpt your figure beyond recognition, but rather hugs your contours like a delicate whisper.
Sure, underwire, heavy-duty support, and cleavage boosting bras can create a show-stopper aesthetic, but there's nothing better than sliding into plus-size intimates made from the softest silk and luxurious lace that are designed just for your body type.
If you are looking for more info on dressing when your pulse size, check out our other blog content, such as Tips for the Apple Body Shape.