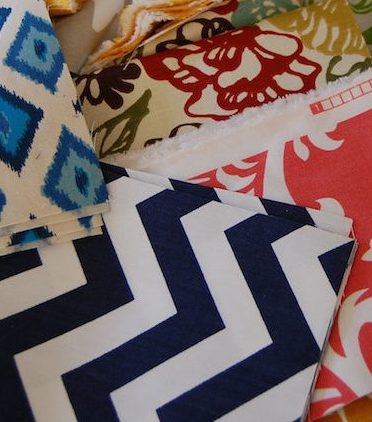 A lot of women who wear clothes in sizes 16-32 wear mostly plain clothing as they don't think that they can pull off patterns but this is totally wrong! You can look great in prints and patterns whatever your shape or size as long as you know what will look good on you and what won't work so well.  We think the reason why women with full figures shy away from wearing patterns and prints is that they think that the pattern will make them look bigger than they are and add bulk to their outfit so we're here to break down some of those ridiculous ideas and urban fashion myths in our definitive guide to patterns and prints for women who wear clothes in sizes 16-32.
A Guide To Patterns For Plus Size Fashion
First things first, let's talk about the fundamentals, pattern size and placement.
Pattern Size and Placement
The size of the pattern you wear can have a major impact on how you look. 'Plus size' ladies look best wearing patterns that are of a small or medium size as larger patterns can divide the figure into sections.
As a general rule of thumb, ladies who have a petite frame ( women shorter than 5,4) should avoid wearing patterns that are larger than their fist and this would be a great rule to adopt for dressing a fuller figure.
They say that patterns can make you look more voluptuous, so use this to your advantage, if you are top heavy (apple or strawberry) try wearing patterns on your lower half such as patterned trousers or skirts; drawing attention down and away from your tummy or bust.
Scarlett and Jo's Organza prom dress would be an ideal choice for apples and strawberries.
If you are more bottom heavy (think pear) then go for the opposite look and wear patterned tops to even out your silhouette.
Want an all-over printed style?  Pattern placement can be key. A well-placed pattern can detract focus away from your problem areas and instead highlight your assets.
This paisley print jersey dress from Curvissa mixes up small and medium-sized prints which skim over any problem areas.
If you are a pear body shape choosing a top or dress with a pattern around the décolletage or chest area lifts the eye-line and distracts from the waist.
Stripes 
Horizontal Stripes
You've probably heard this one before: 'horizontal stripes will make you look fat'  this is a myth. Anyone can look good wearing horizontal stripes yet you should be aware that wearing block stripes, especially two large stripes in your midsection will literally split you in half and leave no room for a flowing look that skims over your silhouette.
Smaller, multiple stripes can actually make you look taller and slimmer.
This bodycon Plusee dress from TB Dress is simply stripetastic
Vertical Stripes
Make your body look longer with vertical stripes, great for those who have a petite frame.
When it comes to vertical, go for a 'less is more' approach. A dress that has a singular bold stripe to the centre directs focus to the stripe which will make you look slimmer.
Our top pick is this Dolce beaded trim dress from Yoek
Multiple stripes have the opposite effect as they spread focus to lots of different points which can make you look wider than you actually are.
Diagonal stripes
It's all about working those angles and diagonal stripes are the perfect choice for doing just that!
Diagonal stripes are thought to be a very slimming pattern that is bursting with energy and creativity.
This tunic from Evans mixes diagonal stripes with florals to great effect.
Spots and Dots
From big to small, you can look fantastic wearing spotty prints of all sizes so let's go and bash that 'fat girls can't wear dots' fashion myth on the head shall we:
Wearing light coloured or white polka dots and a darker background can actually be very slimming.
Your dark coloured dress/top etc is already creating a slimming effect but add those polka dots and you create a distraction, as the eye literally doesn't know where to look.
Spots of lots of different sizes is a great way of doing this, pulling focus away from your problem areas and towards the pattern.
Did you like doing 'dot-to-dot' puzzles when you were little?
Let your clothing do the same. Dots that create lines are basically doing the same for your figure as the vertical stripe.
We're simply dotty about this cowl neck dress from Scarlett and Jo 
Animal Print
Here's another phrase that you might have heard before:  'fat women shouldn't wear animal print,'  well excuse you!
Ladies, you can wear whatever the hell you want, so release your inner animal and embrace the trend.
This wild and feminine print can look great whatever your shape or size but try to stick to a small or medium print as a large print can split your body into sections.
This abstract leopard print wrap dress from Melissa McCarthy is available at Pennington 
Flower Power
Florals, for spring? Groundbreaking.
You can wear florals all year round and look great doing so but try to stick to floral designs that are either small or medium-sized rather than large, for the same reason as above.
You should also think about the placement of the pattern.
For example, if you are an Apple and/or have a protruding tummy wearing clothes that have a floral pattern around the midsection will draw attention to this area so instead pick items with the floral section either above or below to distract.
How cute is this 50s style dress from Hell Bunny
Other Patterns
Other patterns such as tartan/check, gingham, houndstooth, paisley etc.  can all look great on you if you remember the tips about pattern placement and size; stick to small or medium-sized patterns and try to find items where the pattern doesn't draw attention to your problem areas.
gingham? – check, florals? check
We know that we won't be giving this dress from Simply Be the cold shoulder
Forget iKan't you CAN wear this JIBRI iKat print dress and you WILL look amazing when you do!
There are no limits to what kind of patterns ladies of any size should or shouldn't wear. You can flaunt all those patterns (maybe not all at the same time though) just be aware of the fundamentals and what works for your body shape. 
We tried to cover every pattern that we could think of in the InSyze guide to patterns and prints but there's probably some out there that we missed. What patterns do you like to wear?