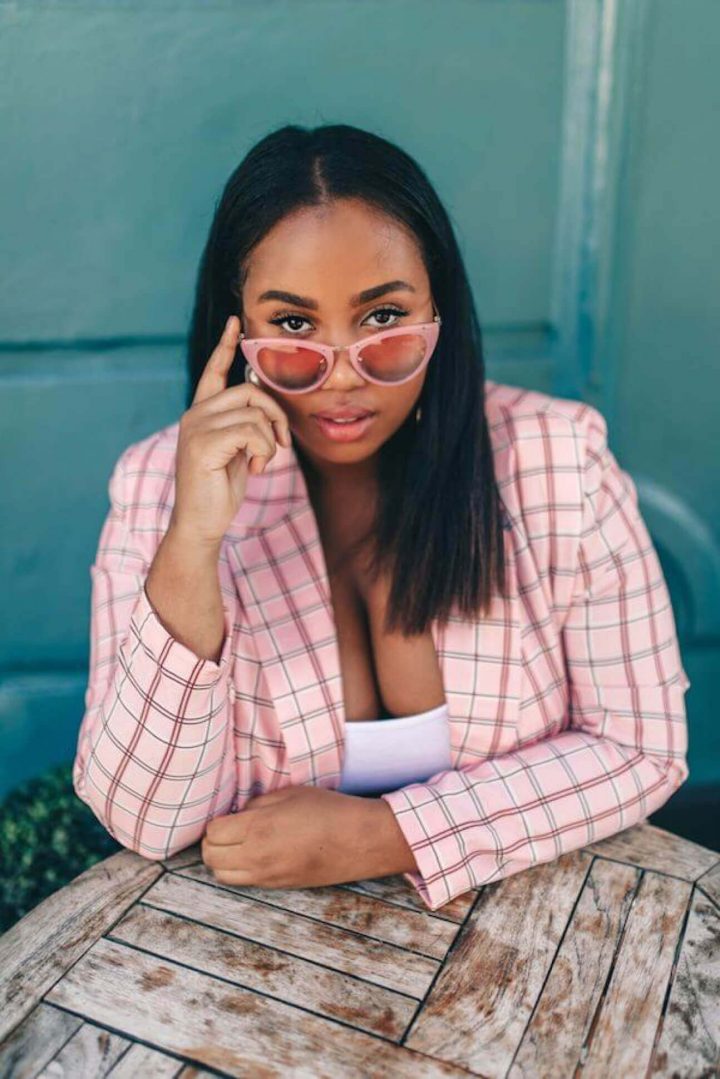 We've all been there before, looking in the mirror, wondering why the dress you're wearing looks totally different on you than the model on the website. We're not just talking about seeing plus size clothes on size 6 models either! Even women of the same dress size can wear an item and it will look completely different. Why is this the case?
The answer is body shape.
What are the different body shapes?
As women, our bodies all have different proportions; some women have big boobs whilst others are flat chested, some have a clearly defined waist and others don't and so on and so on.
There are five main categories of body shapes (which can then be divided further giving a total of twelve but we thought five was a nice round number so we're sticking to that.)
Circular = Apple
Triangle = Pear
Inverted Triangle = Strawberry
Rectangle = Banana
and Hourglass
We've broken down each body shape type to help you work out which one you are. Keep an eye out for our style guide for top tips on what to wear for your body shape.
Apple Body Shape
The circular/apple body shape a.k.a. the O body shape, means that carry most of your weight around your top half and mid section. If you are an apple, you have:
Large or average bust
Little to no definition to the waist
Tend to carry your weight on your tummy/mid-section.
Famous apples include the Gala, Braeburn and Pink Lady……We mean Kate Upton, Liz Hurley, Drew Barrymore and Tyra Banks.
Yes, you read that correctly, you gorgeous apples have got what it takes to be America's Next Top Model!
What to wear for the apple body shape
A-line and skater dresses
Tunics and longer tops/cardigans/jackets
V-necks
Patterns to be kept to a minimum on your top section
Single breasted jackets
Knee length skirts
Bootcut or straight leg trousers
Read our the full guide for the Apple body shape here.
Strawberry Body Shape
This top-heavy/ inverted triangle shape a.k.a. the V body shape, means that you have:
Wide shoulders and large bust
Narrow hips
Flat bum
Slim legs
Juicy strawberry ladies include Naomi Campbell, Demi Moore, Jessica Simpson and Renee Zellweger. Bridget Jones eat your heart out.
What to wear for the strawberry body shape
A-line and skater styles
Tunics and longer tops/cardigans/jackets
V-neck tops and dresses
Patterns on your bottom half
Single breasted jackets
Bootcut or straight leg trousers
Check out what to wear for the strawberry body shape guide here.
Pear Body Shape
The pear, triangle or A body shape is defined as:
Small chest
Flat(ish) tummy
Narrow waist
Wide hips
Big booty
Bootylicious pears include Beyonce, Kelly Clarkson, Shakira and Jennifer Lopez.
What to wear for the pear body shape
Choose tops in structured styles with low or wide necklines
Stick to embellishment on your top half
Body con skirts - emphasise your small waist
Go for dark colours on your lower half and lighter colours to the top.
Stripes and florals are the perfect patterns for pears.
Read our full guide for the pear body shape here.
Banana Body Shape
Rectangular, H-shaped or bananas (not the curved ones that you often get at the supermarket) often look shorter and often wider than they actually are and this because:
Bust and shoulders are proportionately the same width as your waistline
There is little to no definition to the waist.
Nicole Kidman, Anne Hathaway and Cameron Diaz are all flaunting their banana bods and so should you!
What to wear for the banana body shape
Peplum tops
Embellishment such as ruching, pleating or pockets
Skater dresses and skirts
Wrap styles
Structured jackets
See more from our banana body shape guide.
Hourglass Body Shape
Finally lets talk about the hourglass or X body shape. The body shape that Kim Kardashian has made so fashionable in 2017:
Equally proportioned bust and hips
Full/large bust
Well defined/ clinched in waist
Shapely legs
Marilyn Monroe is perhaps the most famous hourglass but other famous egg-timers include Dita Von Teese, Mariah Carey and Salma Hayek.
What to wear for the hourglass body shape
Body con dresses
Pencil skirts
Sweetheart necklines
Wrap styles
Trench coats and belted styles
See more hourglass body shape guides here.