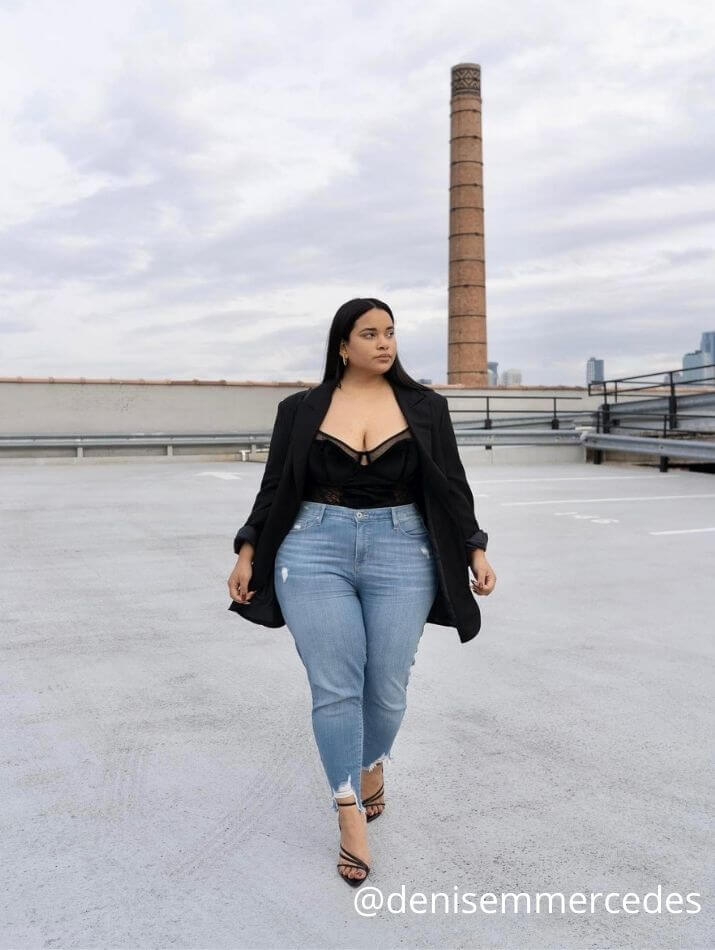 No wardrobe is complete without a bodysuit. Unfortunately, many plus-size and curvy women are hesitant to show off their bodies. As a result, they may limit their choices of what to wear when they are out and about, and not even consider bold options like the bodysuit. 
What a shame! Every body can rock a bodysuit. Gone are the days when plus-sized clothing was designed solely for functional purposes,and your choices were limited to items like the skater dress. Let's look at some fashionable plus-size bodysuit outfit ideas and how to find the perfect one for every occasion. Women of all shapes and sizes deserve to look and feel great; also check out dressing when you're on the shorter side. 
Bodysuit As Base Layer
If you are the sort of person who's not used to wearing figure-hugging apparel, perhaps now's the time to be daring and rock a nice-looking bodysuit! This can prove to be very liberating, and you can still stay as covered as you desire and are comfortable with. The bodysuit is ideal for layering and can be worn in place of your usual tank top. Or feel free to wear it under a flowy dress as a base layer for additional coverage. However, it should go without saying that it is not an outfit for a funeral or other formal occasion.
Pairing a Bodysuit With Jeans
A bodysuit with a neutral color can do wonders for your style. It's not too basic, which means it allows you to create an effortless outfit by pairing it up with your favorite jeans.
Wearing a bodysuit with jeans can be somewhat of a balancing act. For the look to come out perfectly, consider complementing a form-fitting bodysuit with loose fit, flare or straight-leg jeans. If you prefer a more contemporary twist on your ensemble, try a one-shoulder bodysuit and match it up with some distressed boyfriend jeans and crisp-looking white sneakers. For those with a knack for flair, you can level up this piece with a cardigan. Tuck one sleeve under your arm and then tie it across your bust to finish off the look.
Wearing A Bodysuit With Leggings
If you're like us, you jump at any opportunity to wear a comfortable and stretchy pair of leggings. Luckily, bodysuits and leggings make the perfect activewear match. Like the leotard a ballerina wears, a good bodysuit made using moisture-wicking properties is functional and sleek. Paired with leggings, bodysuits are particularly suited for activities such as yoga, pilates, or barre, which means getting physical for plus-size women has never been so fashionable.
Lace Bodysuit
Lace exudes femininity, and is ideal for any time you want to show out in a flirty dress for a party or a romantic evening dinner. You can play with different textures by styling your lace bodysuit with a silk midi skirt and a pair of velvet heels. Consider accessorizing with a trendy pearl necklace for the cherry on top.
Wearing Your Bodysuit To Work
Now you know bodysuits can serve as evening, casual, and activewear. But did you know you can wear a bodysuit to work too? If your office dress code allows for less formal attire, why not jump on the bodysuit trend! A black piece with black knee-height shorts will make you appear sleek and sophisticated. Finish off the look with a longline boyfriend blazer. Accessorize with a couple of layered necklaces and a nicely sized tote. Finally, some suede loafers will ensure you walk into the office in style.
To Sum Up
Any woman out there wondering if a bodysuit will work for their figure should be assured: with a wide range of sleeve lengths, colors, necklines, and more, you can be confident that you'll find something that is right for you. No two bodies are similar, but whether you're on the shorter side, have a long torso, or incredible curves, there is a bodysuit for you.