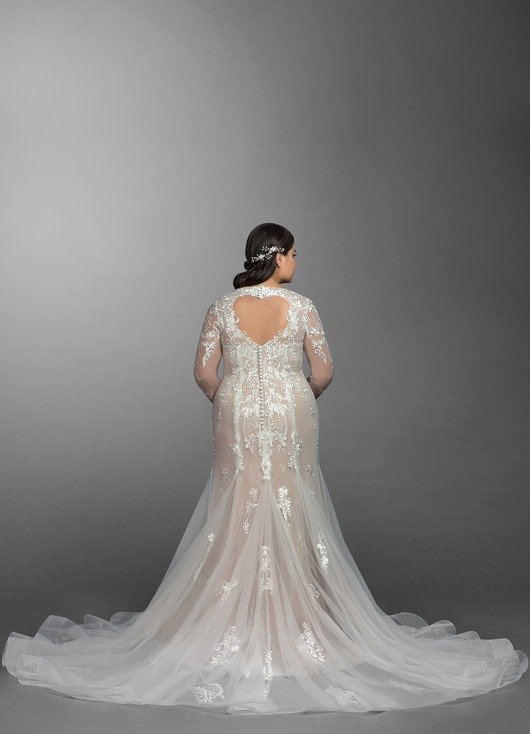 First of all, congratulations must be in order, because you've landed here on Insyze looking for plus size wedding dresses, mother of the bride outfits or a beautiful bridesmaid dress! 
There's nothing more beautiful than a bride who looks radiant and confident on her wedding day and with all her friends and family around her in their beautiful outfits, celebrating the love of two wonderful people. Whether it's your big day or someone you love, we know you'll want to look and feel your absolute best for the wedding of the year. 
Finding the perfect dress can be hard, especially if you're plus size because so many stores only carry straight sizes or frumpy wedding dresses for larger sizes that just aren't what you dreamed of when you were building your Wedding Pinterest board for all those years!
In many stores, it's also very frustrating to find that there's an assumption that just because you're a plus size bride, you don't want to spend some serious cash on a dress. 
In a world where size inclusivity is still being freshly adopted by brands for fashion in general, wedding shopping for plus size women can still be very difficult. Luckily the wedding industry is moving more towards size inclusivity, with beautifully designed dresses that can suit every budget. 
 So we're making it super easy and collating all the best plus size bridal designers in one place.
Plus Size Wedding Dresses
Plus Size Wedding Dresses if you're on a budget
Weddings are expensive AF, and if you're just not that bothered about spending all your budget on a dress and would rather save your cash to spend on other parts of the wedding then you can still look elegant and classy on your day. You just need to find good quality fabrics and fits for pocket friendly prices!
One brand that has an amazing selection of cheap plus size wedding dresses is Azazie.
With stunning dresses ranging from $199 to $599 and the convenience of ordering online (you can try dresses on and pay just $25 for the service!), Azazie is definitely one of the most affordable and helpful wedding dress brand options for plus size brides.
Here's some dresses we LOVE:
The Azazie Indie Dress $199, sizes 0 - 30
The Azazie Astrid Dress, $349, sizes 0 - 30
Another great option for brides on a budget is David's Bridal. With dresses available up to size 30 in selected styles, and over 440 options online; there are a huge range of plus size wedding dresses in a variety of styles, embellishments and prices. 
You can get a simple dress for as little as $199.95 that's trendy, size inclusive and will make you feel really special on your big day. Or you can push the boat out and go for one of the more premium options on David's Bridal; which are still all under $1100.
Keep your eyes on the sale items too, you might just find a bargain and save even more money for your special day!
Dresses we love:
David's Bridal Off The Shoulder Dress, $499, sizes 16 - 30 
David's Bridal Goddess Dress, $883, sizes 16 - 30
This gorgeous satin off the shoulder sheath gown is a bride on a budget's dream! 
Available up to a size 24, Kleinfeld's are another amazing budget-friendly choice for plus size brides. With an easy to browse website where you can filter items by price range, fabric, shape and silhouette - there's something for every bride.
This long-sleeved Kleinfeld's dress is super glam with classic details inspired by Kate Middleton's Royal Wedding dress. Would you believe that the gown, which comes complete with train is on sale for merely $995 and up to size 24?
We couldn't feature a round-up of beautiful Plus Size Wedding dresses without mentioning Torrid. Yes, Torrid. Torrid makes wedding dresses. 
Torrid actually makes very beautiful plus size wedding dresses that are affordable and a very low-fuss option for plus size brides on a budget. Available in sizes 10 - 30, their range of dresses are priced between $118.90 for a super simple dress that you could wear again and again, up to $268.90 (yes that's the highest price wedding dress!) for a glamorous and elegant lace design.
https://www.torrid.com/clothing/dresses/wedding/
Plus size wedding dresses if you have more than $1500 to spend
It's your big day, so maybe you wanna go BIG with the budget and spend some cash on the dress that, let's face it, is going to front and centre of all the photos on mantle pieces around your family's homes! 
SO although you might just wear the dress for one day, the memory and image of that dress will be seen EVERYDAY. There, that's all the justification and argument you need to persuade your other half that your expensive wedding dress is worth every cent. 
Now, back to the dress shopping. We've found some gorgeous styles that we think you'll love.
Ella & Oak are a plus size wedding dress designer for brides with a bit more money to spend. Their designer choices a mid-to-high price range and they offer you a $25 try-on-at-home service
We are loving the plus size bridal dresses at Lovely Bride, in fact they have a huge plus size range of designer dresses that we know you'll feel incredible in for your big day. You can either browse their range online or head to one of their bridal boutiques, located in some of the major capital cities across the US. 
Here are a list of the bridal shop locations:
Here are some of our favorite designer dresses:
Louveienne Remy (up to size 22)
Alexandra Greco (up to size 20)
Ok, so we've already covered David's Bridal, but did you know that as well as budget-friendly plus size dresses, they also have some incredible designer collaborations? Here's some of our faves:
Wedding Dress Silhouette Guide
When it comes to choosing a wedding dress, brides of any shape or size want to choose a silhouette that brings out their best features. Everyone should feel included in the process of finding their perfect dress and if you're plus size, there's sometimes a few more things to consider in terms of the shape and design of your dress to make you feel your most confident and beautiful. 
There are five main wedding dress silhouettes that you'll find on your quest for the perfect dress.
Ball Gown
Mermaid
Sheath
Aline
Short
Now of course within these silhouettes you'll find all sorts of variations in terms of sleeve length, fabric and design but the principals of the shape and how it flatters your figure remain the same.
Plus Size Ball Gown Dresses
A fitted bodice paired with a dramatic full skirt.
A traditional and classic wedding dress shape, it's easy to see why brides of all body types love the ball gown style. With a contrast between the close-cut bodice and voluminous skirt, you're guaranteed to feel like a princess in a ball gown. Drawing attention to your waist and fanning out at your hips makes the ball gown a good choice for balancing out a fuller bust or broader shoulders.
Good for:
All Body Types
Plus Size Mermaid Dresses
Slim through the bodice and hips before flaring out.
The Mermaid, or trumpet style is a dramatic and sophisticated dress that emphasises hourglass shapes. It's a great choice from straight up and down body types or strawberry shapes looking to balance their top half with a wider bottom. 
Good for:
Plus Size Sheath Dresses
A slim cut that follows the body's natural shape.
Sheath dresses closely follow the outline of your body and some even fit so snugly they're like a slip dress. This is a great choice of dress for brides who don't want to be covered in layers upon layers of fabric and tulle and is perfect for a beach celebration or simple ceremony.
Good for:
Petite brides
Hourglass shapes
Plus Size A Line Dresses
Trim on the top with a skirt that widens gradually.
The art of a beautiful A-line dress is in the proportions. This dress is a beautiful cut for most body shapes as it has a graceful skirt that skims over your hips and elegantly slopes into a classic shape. If you're an apple shape however, this cut will emphasises your widest point round your middle and make you look bigger than you are.
Good for:
Pear shapes
Hourglass shapes
Strawberry shapes
Plus Size Short Wedding Dresses
Hemlines tea-length and higher.
The perfect short wedding dress will help you look elegant without feeling too stuffy. Short styles are fitting for brides tying the knot in a daytime, destination, or less formal ceremony, or for anyone who wants to make a modern statement.
Plus Size Bridesmaid Dresses 
Your wedding day wouldn't be complete without your beautiful besties all around you, showing their undying love and support for you on your special day. The honor of being a bridesmaid is huge and you want to make sure your bridesmaids feel cherished, beautiful and stylish as they stand by your side.
Recently plus size bridesmaid dresses have really improved in terms of quality, choice and affordability. So whether you're paying for the dresses yourself, or your bridesmaids are chipping in, we've found some of the best plus size bridesmaid dresses that we know your whole wedding party will love.
Plus Size Bridesmaid Dresses with Sleeves
If you're a bridesmaid and wear plus size, then you may prefer a style of dress that has sleeves. Whether you prefer short, floaty sleeves or long elegant laced sleeves; here are some of our favorite plus size bridesmaid dresses with sleeves:
David's Bridal. Sizes 00 - 30 $139.95
Plus Size Bridesmaid Dresses in Purple
One of the most popular bridesmaid dress colors is purple. A rich, beautifully dark purple is perfect for winter weddings, evening dos and flatters all skin tones, or a pale violet purple is timeless and elegant.
Azazie Bridesmaid dress, $119.95, sizes 0 - 30
Plus Size Bridesmaid Dresses in Wine Color
Another hugely popular color for bridesmaid dresses, especially for winter weddings is wine color - aka Burgundy. This beautiful shade suits most skin types wonderfully and is a gorgeous color aesthetic for your wedding.
Plus Size Bridesmaid Dresses In Different Styles
With all women and therefore bridesmaids coming in all shapes and sizes, some of your besties might feel better and more confident in different styles of coordinating dresses that flatter their particular figure more. Here are some great retailers who provide budget friendly plus size bridesmaid dresses in different styles.
Plus Size Mother Of The Bride Dress
Congratulations beautiful mama on your daughter's upcoming wedding! All eyes will be on your gorgeous family for the big day so of course you want to look your best in a stylish mother of the bride dress. Did you know that it's customary for the mother of the bride to purchase her dress first? It's supposed subtly dictate what the mother of the groom will wear - but let's face it, this tradition is very old-fashioned and probably not realistic for modern weddings! 
However when it comes to the color of your mother of the bride dress, then traditionally you should avoid dresses in white, ivory or champagne colors - which would be too similar to the bride's wedding dress. Black gowns are also a no-go, because they suggest that you're in mourning and overly bright "flashy" dresses or red color gowns are probably best for you to stay away from. 
That being said, there are many black and bright color dresses which may be perfect so bottom line is, speak to the bride and see what she thinks before your start shopping for your outfit.
If she expresses some reservations or has a clear color theme in mind for her big day then you could find a dress that matches the theme or wear subtle yet stately color such as light blue, navy blue, lavender, silver, burgundy or pale pink.
Here are some styles we love from Dillard's...
If the wedding invitation and dress code have got you in a panic about what to wear, then don't worry! We've pulled together a full cheat sheet on what the different dress codes are and how you should dress accordingly.
If the invite says "White Tie"
White tie is ULTRA formal. So you should consider a full-length ball gown or full length sheath dress. Your make-up should be glamorous and hair beautifully coifed. If you'd rather not wear a dress, you could of course wear a tux.
We love...
Azazie Plus size gown, $119, Sizes 0 - 30
If the invite says "Black Tie"
Black tie is still formal but you have a bit more leeway in your outfit choices. Choose a full length evening gown or a chic cocktail dress. You can always ask the bride what her preferences are for dress length. Again, if you'd rather not wear a dress, a tux is also a great choice.
We love...
If the invite says "Formal"
You have a lot more freedom for relaxed styles, but still want to wear a full length dress or cocktail dress to suit the occasion.
We love...
Eloquii strap and lace fringe dress, $169
If the invite says "Cocktail attire"
This means that full length gowns are optional and you'd usually be expected to wear a smart cocktail dress, dress suit or jumpsuit.
We love...
If the invite says "Beach formal"
A beautiful beach wedding could mean you'll be at the mercy of the elements, so wearing loose fitting clothing is a must to keep cool. As it's beach formal, you should consider an outfit that you'd wear on a nice evening holiday - linen is a good choice.A formal sundress that's knee length would be a great choice.
We love...
If the invite says "Semi-Formal or "Smart Casual"
This means you can be way more casual but you're still expected to look like you made an effort! A nice cocktail dress or skirt and top will be a great choice for this dress code.
We love…
Plus Size Wedding Shoes
Finding a beautiful pair of shoes to wear with your wedding attire is an absolute must! But depending on the event and your outfit, it's not always such an easy choice. If you carry a lot of fat on your feet then wide-fit shoes are a must - they are also so much more comfortable and will guarantee you can stay dancing for as long as the party goes on for.
Here are some amazing shoes we love:
Thanks for reading our ultimate plus size wedding fashion guide. There's something for everyone here and we hope you find everything you need to have an amazing wedding day or wedding experience!