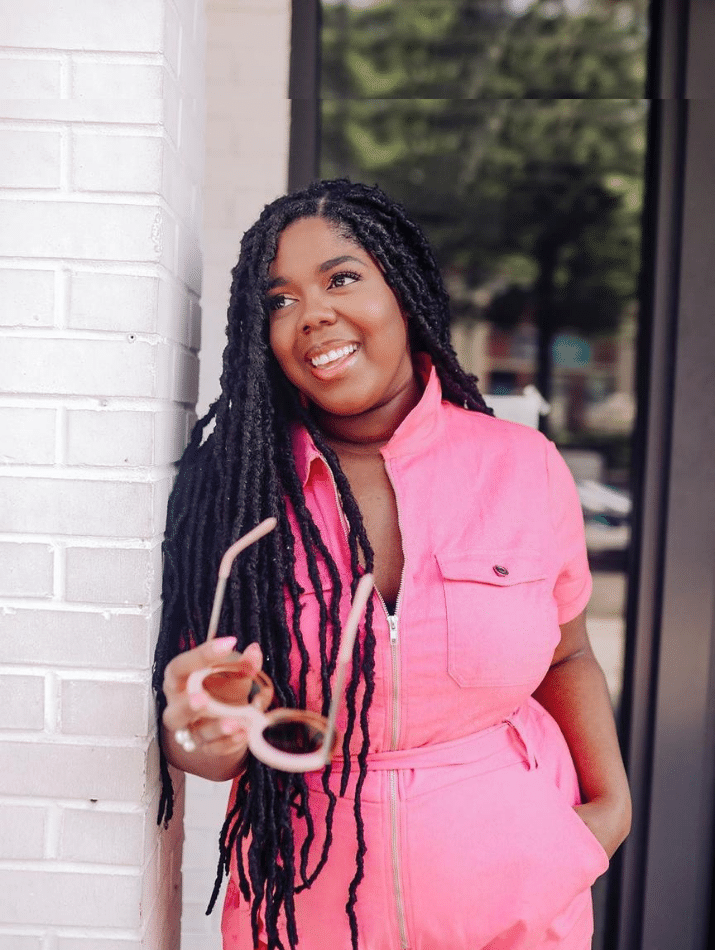 Our top 100 Bloggers round-up is back for its second year and we are beyond excited to share with you the incredible talent. This year, we wanted to focus on plus size bloggers in North America that have less than 100k followers because they may be not as obvious as the most followed ones.
Featured Image: @Hayet.Rida
Not only do they create thought provoking and inspirational blogs, but also stunning Instagram feeds. In addition, you can find them hosting podcasts, YouTube channels, creating clothing lines, working the front line as a nurse, teaching, podcasting, voicing worldwide campaigns and tons more.
The list of Top 100 US Bloggers 2020 features many familiar faces. In addition, we'll be introducing new names who you might not have heard of before, but we know that you're going to love.
This list is in no particular order.
1. JD Series
Jazmine is our New Orleans based plus size blogger and fashion connoisseur. On her main Instagram account, she focuses on posting plus size modeling shots, fashionable outfits and her everyday lifestyle. In addition, Jazmine also works as an event curator and runs a brunch instagram.
You can expect an array of styles and color in Jazmine's outfits. While her outfits may vary in style, it is assured they will all be matched with the best accessories. Whether it is a pair of heeled booties, or a fabulous hat, she will not disappoint!
I mean, brunch and fashion, what more could you want from a blogger?!
On her official blog The JD Series, you are able to get a better understanding of Jazmine's life. She posts multiple behind the scenes photos for events in her life to not only update, but inspire her readers.
2. Vivian Sinya
Vivian is our "Bombshell on a budget" blogger as can be seen on her Instagram. This Las Vegas based plus size blogger allows her followers to see the ins and outs of her life. While her main focus is plus size fashion, she also focuses on promoting body positivity to all.
The style you can expect to see ranges from plus size athleisure, everyday outfits, all the way to fabulous plus size looks to rock in Europe.
Her athleisure looks typically include matching crop tops or sports bras with leggings. While she styles her looks so well that it looks pricey, her outfits are definitely attainable in terms of cost.
When it comes to everyday outfits, Vivian loves to style up normal looks by either tying a plus size graphic tee with a high waisted skirt, or pairing a jean jacket to spice up a look
3. She Chonky
Shelby is the beauty behind the Instagram She Chonky, our Louisiana plus size blogger. This corgi loving, Diet Coke obsessed, mirror selfie queen is constantly brightening up our Instagram feed.
No day is wasted when it comes to Shelby's outfits. She is always rocking a new plus size bikini, off the shoulder dress or a fashionable blazer and shorts combination.
What we love about Shelby's Instagram is that she shares the wealth when it comes to plus size fashion. She always tells us exactly what she is wearing, how to buy it, and what size she is wearing. She even goes beyond that by giving her honest reviews on the sizing because as we all know, a 2x one place can be a completely different size at another store.
4. Olga D Official
For an extra bit of brightness on your Instagram feeds, we highly recommend giving Olga a follow on Instagram. Her style varies from plus size party pants, colorful sundresses, to two pieces and so much more.
Her style varies from vintage chic, to timeless in an instant. One of her most recent outfits include a garden kimono from Vada Winter with fabulous Twiggy earrings finished off with large white circle sunglasses. But in the same week, Olga can rock a two piece plus size suit in hot pink.
You will get a load of plus size outfit inspo mixed with a pinch of sass and adventure.
5. Virgie Tovar
Author, Podcaster, Blogger, Activist, what can't Virgie Tovar do?!
Virgie is the author of multiple books that promote body positivity and helps people distance themselves from the toxic diet culture. One of her books, You Have the Right to Remain Fat dives into unlearning fatphobia and rejecting diet culture.
This book comes as no surprise, as Virgie has committed her online presence to empowering others. In 2018, she started the hashtag campaign #LoseHateNotWeight, which she explained the origin in a TedX Talk.
This body confidence theme continues through to her blog, Instagram and everyday life. We highly recommend checking out Virgie if you are in need of body confidence tips.
6. A Neutral Life
Jess behind A Neutral Life is a plus size writer who tells stories about Black and/or fat women. On her blog, you can expect to see posts ranging from plus size loungewear to wear while working from home to roundups of dresses for every budget.
Her Instagram highlights not only her life, but other women she promotes to her followers. In one of her most recent posts, she shared five beautiful plus size women rocking a bikini. She writes, "Wear your bellies, thighs, slim hips, small boobs, not snatched waist, ALL OF THAT in your bikini with pride. We all deserve to have our bikini bodies celebrated today ❤️"
7. Natalie in the City
Natalie grew up with the love of fashion from a very young age. Although she was young, she was not naive. Natalie shared in her blog that she "realized that the media and the fashion industry did not love me back. I grew up receiving harsh criticism for my full-figured shape, and the thin standards of the fashion world made it difficult for me to embrace the trends that I loved."
She took that experience into creating a blog for sharing plus size style advice and inspiring confidence in her readers. We've loved reading her blog because of its continuous content. Natalie shares blog posts on everything from plus size swimwear, to how to rock a plus size slip dress and literally everything in between.
Her blog gives us all the details we need, but her Instagram is a highlight reel for her plus size content. You will be able to get tips, tricks and inspiration from her daily instagrams.
8. Gess Flyy
Gess Pugh is our millennial fashion loving gal in the Big Apple. While her fashion is top notch, there is so much more to Gess than fashion deep.
Gess's passion is fashion, which luckily for her followers, is how we are able to gain inspiration and advice. She is a plus size fashion stylist and model who constantly posts clothing and accessories she has bought and how she styles them. One of our favorite type of post she shares is when she wears an outfit inspired by a celebrity and tags #goodstyleknowsnosize. These posts do exactly as she says, it shows that plus size people can rock all the same styles! Thank you!
On her blog, you can expect to find fashion tips and tricks, but that is nowhere near the extent of it. Gess allows her followers to experience her life alongside her. This includes raw and emotional posts pertaining to her dating life.
We HIGHLY recommend not only following her on the gram, but checking out her blog.
9. Hayet Rida
Plus size Fashion Blogger, Interior Decorating Superstar, Entrepreneur, successful Black Woman in tech, where do we begin with Hayet?!
Hayet admits to having an unhealthy relationship with dieting and until she finally let that obsession go, she became a happier and better person. Her blog dives into her journey and tips for loving yourself, but that is not the extent of it by any means.
What initially attracted us to her blog was her impeccable style - both as a plus size Blogger, but her interior design style. Her apartment in Chicago is straight up GOALS. Once we started following along, we were sold. Hayet quickly became one of our favorite bloggers.
As a full-time working gal who blogs in addition, you can find all the advice you may need for everyday life. Her blog is laid out very well, so once you get there, you can easily navigate from fashion, to career to lifestyle easily.
10. Lulu + Birch
If Coachella style were a person, it would be in Renee Marie. Renee is a Los Angeles based Plus Size Model who deals with an addiction to travel and style - we feel you girl!
You will notice her plus size boho style immediately upon seeing her Instagram. But Renee offers so much more than impeccable style picks!
Her blog Lulu + Birch showcases her love for fashion, beauty, home decor, traveling and art. The tips she shares on her blog are seen in her daily Instagram posts as well.
In addition to everything above, Renee runs multiple social accounts and creates a cohesive style to brands' accounts.
11. NoteBlair
Let's talk about aesthetics. Blair has a classic style with a touch of modern femininity. She defined herself off of the fact that style has no size.
Her blog was inspired by the fact that people naturally asked for fashion advice. Rather than answering everyone individually, she created NoteBlair. The name is meant to reflect a diary, a place where she shares with the world.
So what will you see on Blair's blog? There is style, home tips, recipes and beauty. What more can you want? Her style ranges from casual comfy outfits, to beautiful summer dresses.
Visit Blair's blog for the fashion, but stay for the aesthetically pleasing vibe she has created on her gram!
12. I Love Me So Much
Tiffany Turner is the fashionable blogger behind I Love Me So Much and owner of Brand Made Marketing.
In her blog, Tiffany highlights fashion, lifestyle and self love. Her blog emits body positivity, great plus size style and so much more.
This southern trendsetter never lets an outfit go to waste. One day she'll be in a hot pink jumpsuit, and then next in a vibrant floral long sleeve dress.
We featured Tiffany on our Insyze Spotlight where we got to know her a bit better. We got to dive into her life behind the screen. A great piece of advice she shared with us was, "You are beautiful. No matter what anybody says or how they treat you are a beautiful human being."
In addition to her blogging life, Tiffany runs a marketing company that helps create brand strategies for female entrepreneurs.
13. Liv by Viv
Vivian is the style guru behind Liv by Viv, which was formerly known as Mix It Up With Curves. In her blog, Vivian shares "how to 'liv' and dress with style all with joy."
Vivian tries to share style and life advice to all, regardless of size, age, or budget. She does this through her writing, but also on her podcast, Don't Mix In.
Viv supplies us with a colorful wardrobe that includes affordable plus size clothing. She is a Target gal and shares the wealth with all of us from her impeccable fashion finds!
There is a lot to choose from, but we'd have to say her colorful blazers are some of our favorite looks of hers. She styles them in a number of ways; dressy, casual, etc. So, thank you, Viv! You have inspired us in so many ways.
14. Heiress the Curvy Model
Arris is an absolute plus size vision! This plus size model is Chicago based and will serve you up daily content.
In addition to being a model on the runway, her Instagram lets us see behind the scenes of a model in real life. She posts photos both on and off the runway, which allows us to gain some realistic style advice, while also appreciating high fashion.
She is definitely not afraid to hide her curves, which not only inspires us, but makes us love her style! In addition to her amazing curvy style, Arris loves rocking her plus size lingerie.
Her lingerie posts are all about confidence, feeling yourself and fashion! What more can you want?!
15. FabEllis
Ashley is the beauty and brains behind her blog: FabEllis. Since 2010, she has turned this blog into a smashing success. What first was a beauty blog, has turned into a lifestyle one by including work, marriage, and so much more.
A big theme on FabEllis is encouragement. You will see it in every blog post, in every picture; Ashley wants to help women love themselves for them!
She also does this while keeping our wallets in mind. She focuses on affordable plus size clothing, by mixing new clothes with vintage - we love a slow fashion gal!
Her blog is a great resource for plus size fashionistas; she offers amazing advice from personal experience. Ashley also shares tips and tricks such as Life Hacks For Thicker Ankles. Seriously, you will not regret checking out her blog.
16. Tummy Society
Do you feel like you need to add some color to your plus size closet? Want some inspiration to rock those sundresses you have in your closet? If yes, Ranya from Tummy Society will be your new best friend.
Tummy Society is a fashion and lifestyle blog that was created on the fact that all tummies are good; big or small, you will find yourself relating to her blog.
You will find her fashion pieces linked, guides on where to shop and lifestyle pieces that will fill up your plus size content needs any day of the week. Ranya recently posted Plus Size Swim Under $30!, which will have you covered for the last stretch of summer!
17. The Bailey P
Curvy model and content creator, Bailey Peyton shares her journey to confidence while encouraging others to do that same. On her blog, The Bailey P, her stories are separated into separate categories. She has, Marriage, Journey to Confidence, and Modeling. In addition to Bailey's normal blogs, she also hosts a weekly Q&A on her Instagram stories.
This Southern California, Denver raised, plus size woman gets real and raw by being the woman she never saw growing up. She never saw women that looked like her and now that she has the platform, she wants to represent her plus size community in the most authentic way.
This size 16 model was signed in July 2018 and we are excited to see where this world takes her because we'll be following along.
18. Curvy Girl Chic
Allison behind the blog Curvy Girl Chic is a confessed shopaholic and shoe fanatic - aren't we all?!
Her fashion sense is boho chic fabulous with a mix of classic! Literally everything that she pairs is insta-worthy, colorful and fun. In addition to her fashion sense, Allison also posts things she buys in a week from beauty, lifestyle and fitness. Items she has bought include Megababe products which we know and love at Insyze.
It is not just what plus size fashion she buys, but it is how she pairs it with her plus size accessories. Whether it is a cinched belt, a colorful heel or a trendy bag, Allison will have you sorted.
19. Jay Miranda
Calling all plus size fashionista mamas! Jay Miranda is a pink-loving, body-positive blogger. Her blog goes beyond the normal scope of plus size fashion; she shares the details behind her family's life to offer support, ideas and guidance.
Jay offers plus size outfit inspiration with her clothing linked, while also linking her beautiful daughters' clothing as well. She also goes beyond to link decorations, activities and other useful tips for her readers.
On her Instagram Pink Lip, she gives content more frequently, but less in-depth than her blog. But, it is perfect for checking out all of her plus size fashion on your feed!
20. CeCe Olisa
CeCe goes far beyond the role as a plus size blogger. She is the Co-Founder of theCURVYcon, "a convention celebrating body positivity and plus size fashion during New York Fashion Week." This convention brings plus size fashionistas from all around the world to connect in a space dedicated to them.
Being seen and heard are two very different things, and to CeCe, she made herself heard as a plus size woman in New York City. She created her blog as a hobby to write about her unique challenges as a curvy woman.
As her blog has evolved, so has she. But the core of her blog has not. She still writes about dating, work and self-confidence, but maybe with a bit more confidence than she did when she began.
21. Curvily
Sarah from the Curvily blog, is a great resource for plus size women who want to realistically see fashion for their bodies. Sarah runs a series of #inthefittingroom on Instagram where she brings the camera in the dressing room or, more recently, in her closet. For a lot of us, dressing rooms can be a place of vulnerability. But, with Sarah, it's like your best friend cheering you on and hyping you up to buy an outfit that looks fabulous on you.
Beyond her fitting room help, she also shares brands for you to discover and love. Seriously, I am trying to figure out a way to not only have her shop for me, but to cheer me on while I'm trying on clothes.
22. Authentically Emmie
Emily has been blogging plus size fashion and life since 2009. Her blog, Authentically Emmie, has evolved over the years and now focuses on p;us size fashion, body positivity and other general lifestyle content.
She has been featured in Refinery29, BuzzFeed, Oprah.com, and so many more. She preaches that, "Instead of focusing on losing weight, I am focused on gaining life."
Her fashion sense includes plus size everyday wear pieces as well as more formal looks. She doesn't stray away from color - we highly recommend following along!
Emmie has also created Authentically Social, a digital marketing and influencer consulting company for lifestyle and fashion brands.
23. Glamazon Diaries
Makeda runs Glamazon Diaries, which is a fashion, food and lifestyle blog. She started blogging in Washington DC in 2007 purely dedicated to fashion in 2007. She now is a fabulous plus size blogger in New York that shows all shapes and sizes to her followers.
In addition to curvy fashion, Makeda boasts her love of travel, wellness, parties, beauty and lifestyle on her blog as well.
Her Instagram displays her AMAZING style. She does not skimp on the details; her hats, accessories and shoes are truly the icing on the cake to her stylish plus size clothing.
24. And I Get Dressed
And I Get Dressed has evolved from a personal blog created by Kellie Brown, but has now become a global network. This global network showcases stylish women from all lights and focuses on fashion, plus size style and much more.
On the fashion side (which is why we're all here right?), the blog includes where Kellie is shopping, her tips, and general thoughts on the fashion industry. In addition, And I Get Dressed sells its own merch, which sells a range of body positive clothing and items.
Aside from fashion, it is fun to follow along with her life; her travelling, beauty tips and lifestyle.
25. My Curves and Curls
Assa is the beauty behind My Curves and Curls, a blog that "aims to inspire and educate women around the world about loving their bodies, develop their personal styles and increase their confidence."
Assa splits her blog into seasons to help navigate her readers to find exactly the content they're after. She also regularly updates the blog with plus size lifestyle, travel and family content.
On her Instagram, she does a great job at showcasing her entire life, not just fashion. It is a feel good, happy IG that we highly recommend checking out.
26. Musings of a Curvy Lady
Thamarr is one of the best plus size bloggers to follow if you want to style up your daily look. She runs her blog Musings of a Curvy Lady, which she began in 2012 and has grown it into so much more.
She showcases specific brands such as Lane Bryant and Target, while also posting general content with multiple brands. No matter the brand, Thamarr is always rocking something in style and probably paired with a fabulous sun hat.
This Florida curvy woman does not limit herself to just plus size fashion. Her blog also includes her general life, beauty and travel.
27. Miss Lion Hunter
Musemo showcases her Instagram as a piece of art. Her content is carefully curated,making it one of the most aesthetically pleasing blogs we've seen. This is due not just to her blogging style, but her fabulous plus size fashion sense.
Musemo has a Youtube Channel where she lets her viewers behind in the most intimate details to her plus size style tips.
This is the blogger for you if you are a high end fashionista, but appreciate well-priced clothing. She often posts photos from H&M and ASOS, but they look straight off the runway.
28. From Annette With Love
Annette is a loud, encouraging and necessary voice for fat fashionistas in the fashion industry. Having worked in the world for 10+ years, she has experienced almost every side of the fashion industry. While being high up in the world and with the creators, she saw the lack of plus size representation and knew she needed to help change that.
Currently, Annette is the creator of her personal blog From Annette With Love and Fat Girls Traveling. Fat Girls Traveling has blown up into so much more than an online resource. Annette organizes events, meetups and even camp for fellow fat travelers! How fun!
29. Style Plus Curves
Amber, the curvy creator of Style Plus Curves somehow has mastered all things plus size style. One day, she'll be wearing a beautiful plus size dress from Eloquii, and the next day, be rocking trendy curvy pants!
You don't know what you'll get with Amber's style, but you know it will be good. On her blog, she not only offers clothing links she loves, but she created a full-figured and fabulous plus size shopping guide for Chicago. This guide includes a list of plus size stores, where they are located and her own description of what you can expect to find.
30. Leah Vernon
Body inclusive Content Creator, Public Speaker, Plus Size Hijabi Model and Author! If your head is spinning like us, let us break down some details.
Her book, Unashamed: Musings of a Fat Black Muslim, is an honest memoir of her self-acceptnce journey. She documents her journey of seeing her body as a symbol of rebellion and how she made her life about herself. While this is her main writing production, she also writes for multiple mediums sharing her life and story with as many people she can.
In 2020, it is intimidating and hard to be authentic, especially online, but Leah has done it beautifully. The number of people she has affected through her raw sharing is immeasurable. Lots of love to this blogger!
31. Grown and Curvy Woman
Georgette's Instagram bio says it all: Style has NO age or Size! This is exactly what you come to see on the Grown and Curvy Woman blog and Instagram. This 40+ plus size blogger serves us with amazing fashion and lifestyle content.
On her blog, you can expect to find consistent content of what she is currently wearing, plans to wear or fashion picks of Georgette's. This does not stop at just fashion, her love of travel is shown through in all her platforms as well.
Georgette is a lover of plus size maxi dresses, maxi skirts, colorful blazers and always the perfect accessory to match.
32. Amarachi Ukachu
Amarachi is a Style Blogger, Designer and Therapist. We have followed along on her blogging life, which we highly recommend you doing as well.
Amarachi takes her blogs a step further. While yes, she provides amazing plus size fashion tips and shares clothing links, her blog posts are carefully designed into beautiful pieces of content. One photo is never enough when it comes to her amazing blogs.
You can expect to see this curvy girl in all angles sharing not only her fashion, but her opinions. She is an extreme advocate for mental wellness and health. Following Amarachi will keep you informed, entertained and well-styled!
33. Lovely in LA
While we know the weather is lovely in LA, Rachel shows just how lovely the plus size fashion is. With experience in the fashion industry as a plus size fit model for Nordstrom and knowledge in trend forecasting, Rachel shares it all on her blog Lovely in LA.
The blog was founded upon Rachel's frustration with the lack of options for those sized 12 and up. Rather than sulk, her blog was created and Rachel actually enrolled at FIDM to pursue a degree in fashion design and manufacturing.
On her blog, you can find her daily life, personal style and the ins and outs of the fashion world from a curvy girl's point of view.
34. Fearlessly Just Me
Marcy is a Latinx NYC based plus size model and blogger. With inspiration style icons such as Audrey Hepburn with a 80s hip hop twist and a bit of sparkle, you can expect to see lots of colors, prints, metallics, materials and accessories on her fabulous plus size blogger.
Her blog Fearlessly Just Me highlights fashion, wellness and travel. Her wellness ranges from physical beauty products for women over 40 to opening up about grief and general mental wellness.
Marcy has also gone off the internet to be featured in magazines, publicly speak and present in multiple conferences. One of her public speaking stents was at Annette's Fat Camp as written above!
35. The Plus Side of Me
Rebecca is a fatshion blogger that previously focused on writing, but has recently transitioned to Youtube. On her channel The Plus Side of Me, she includes "Get Ready with Me," "Shop with Me" videos where she takes you along as well as general talks and venting.
Her casual, down to earth approach allows you to feel comfortable and confident while opening your eyes to new fashion trends. In addition to general clothing videos, Rebecca focuses on specific brands to dive into all they have to offer!
In addition to Youtube, Rebecca's Instagram is updated frequently with her looks and style tips.
36. With Wonder and Whimsy
Liz created With Wonder and Whimsy as a fashion, travel and lifestyle blog that ranges from daily looks to specially curated events and posts.
While a lot of plus size blogs include travel, Liz easily separates her travels from Iceland, to Norway, Paris and beyond.
Her Instagram boasts her fashionable plus size outfits, but the details are in the blog where she links to all of her clothing. Liz not only links her specific clothes, but suggests others you may like based on her outfits.
37. On The Q Train
On The Q Train's author Peggy has been blogging since 2010 and started as a space to share personal experiences in the plus size fashion world.
Peggy's blog has not only transformed, but her style as well while she has been blogging. This has landed her in People Style Watch, Refinery29, and other online publications boasting plus size style.
In addition to blogging, Instagramming, etc, Peggy offers a virtual personal styling service that includes a consultation, style board, ten full plus size outfits with links and more. Or, in real life, you can also shop with Peggy in NYC for a specific event.
38. In My Joi
Joi says, "style is a way to express who you are, without having to speak. I wholeheartedly concur. Each day of life offers up a blank canvas, a fresh opportunity to use style to express different dimensions of my authentic self," which she does perfectly on her blog In My Joi.
Joi does this through general blog posts that include specific plus size brands, styles and outfits. She also focuses on thrifting, "Thrift Store Scores" which promotes slow fashion. Slow fashion fights against fast plus size fashion and focuses on buying quality products that have more life to live.
On her Instagram, you can expect to see a variety of colors with a plus size style that is vibrant and fun.
39. Suits Heels and Curves
Darlene is a New York City-based Latina of Puerto-Rican descent who runs Suits Heels and Curves. This curvy blogger is passionate about not only plus size fashion, but her family and the beauty world as well.
This blog allows us to not only dive into the plus size fashion world, but also the world of motherhood and how she manages both. Darlene's ability to share not only her fashion sense, but her personal life gives us a peek into her entire life.
Darlene's style includes crop tops, party pants, and adorable plus size dresses - if you love colors and being on trend, Darlene should be at the top of your list.
40. Nikki Free
Nikki is an influencer, writer, plus size style expert and Web Series Host. Her Instagram boasts her daily fashion picks with detailed information on pricing and where to buy.
Her style ranges from adorable lingerie in the house to plus size high-fashion with her rocking a Gucci belt and fabulous heels.
She not only has amazing fashion sense, but great advice when it comes to navigating your personal life and careers. One of her recent captions that especially resonated:
Sometimes the most productive thing you can do is relax. It's also the best way to replenish the mind, body and soul.
41. KP Fushion
Memphis lifestyle blogger and photographer, Kim Thomas, is a lover of pretty things she writes on her Instagram and that definitely is true!
Her blog KP Fusion includes her fashion, beauty and lifestyle tips. Her fashion tips give all the details, small and big, on her outfit with direct links - we love an easy shopping experience!
42. La Pecosa Preciosa
La Pecosa Preciosa (The Precious Freckle Face) is ran by Sandra Negron, a native New Yorker. Sandra is a lover of fashion and a lover of her plus size dress size.
On her blog, Sandra emphasizes smart shopping, which gives everyone an opportunity to rock fabulous clothes while sticking to a budget. In addition to sharing her tips, she is the COO of Blogger House Curvy Closet which is a virtual plus size consignment company where they host FB Live Closet Sales.
43. Fat in the City
Aisha behind the Fat in the City Instagram is a freelance television producer, body image advocate and Co-Founder of Body Confidence Canada.
Constantly going against sizeism and a proud member in the LGBTQ+ Community, you will be able to follow along for fashion tips and stay for a look behind the scenes of Aisha's life!
44. Eclectic Kurves
Sierra Holmes is a plus size fashion blogger and the creator of Eclectic Kurves, a blog that celebrates everyone's differences that make them unique.
This curvy blogger and Mom of two has created this safe space for her readers to showcase all sizes, colors and background.
Join the Kurvy Nation for amazing fashion sense to level up your style game.
45. Pretty Plus Prep
Calling all 40+ plus size fashionistas! This Southern Queen shares her "plus size clothes, life antidotes & big curly hair."
You can expect to see a wide range of style on her Instagram that is always complete with accessories. Whether she is rocking an amazing pair of sunglasses or killer shoes, you will get all the inspo you need.
46. Josie Wass
Josie Wass runs the Instagram A Plus Fatshion where she posts both new and thrifted fashion very regularly.
You can expect to see a load of mirror selfies on your feed with a neutral color palette. She rocks maxi dresses, bathing suits and blouses, typically in a beautiful floral print.
47. Anabeth.jpg
Anabeth is a "Texan blogger focused on body positivity and loving the skin you're in, with adding the brightest colors I could find into the mix."
This is exactly what you can expect from her blog. Anabeth is always in a bright color or multiple. Her smile is as bright as her wardrobe that constantly radiates happiness.
In addition to her fashion tips, Anabeth also shares her Spotify playlists, her poshmark to sell her gently used plus size fashion, blog posts and so much more.
48. Meredith Gypsy Glam
Meredith Grace is a lover of books, recipes, true crime, thrifting and adventure. Yes, true crime! We love a fashionista that is into crime, and blogs about it!
You can expect to see the background behind Meredith's life on her blog Meredith Gypsy Glam. Some posts we love include her a past Halloween outfit and a general one discussing a move to Vermont.
49. Sydney Grace
"Fashion, but make it fat." Is everything you need to know when it comes to Sydney's Instagram.
While the fashion aspect is what will attract you to her instagram initially, she is constantly sharing great resources to stay informed on social justice issues in the world.
50. Born in Sequins
Brittney is an aesthetician, Youtuber and Creator living in Chicago. Her style is fun, trendy and a great representation of a woman who knows her worth!
On her blog, you can find all things Chicago, whether it be a Louis Vuitton Pop-Up, an event, or even just her outfits. We love her Youtube Channel because it allows you to get to know the girl on the camera through her bubbly personality.
51. The Huntswoman
Brianne of The Huntswoman is a creative consultant, fashion designer, and LGBTQIA lifestyle and plus size fashion blogger. Brianne is all about empowering others through blogging about fashion, travel, business, and queer living.
We love reading her inspiring posts, especially #lifelessons that challenge us to become better versions of ourselves.
52. Made Me Pretty
Dionna Murphy of Made Of Pretty is back on our list of top 100 US and Canada Bloggers for 2020! The Made Me Pretty blog, founded in 2014 was created as a space to encourage others to be experimental with their style and at the same time build a community of empowerment that celebrates plus-size bodies and style.
We're obsessed with Dionna's Skin On Fleek e-book
53. The B Word Blog
Brianna McDonnell is a fat babe creating fat media and we are here for it! Having grown up with a passion for fashion, Brianna uses her online presence and The B Word Blog to represent plus-size bodies.
You need to go watch The_Word on IGTV. So so good!
54. Something Gold Something Blue
Emily of Something Gold Something Blue is a Houston based curvy fashion and travel blogger and cyber-security consultant who blogs about her journey navigating a male-dominated career, bopo travel, and plus-size fashion.
We love her cute looks and workwear ready styles
55. Supple Chic
With an emphasis on empowering others through personal style, the Supple Chic blog and YouTube channel wants to show you that you can look stylish no matter your size or budget.
ChiChi O's affordable chic looks and super cute haul videos.
56. March and May
Ana Pejkanovic is the author of the March and May blog and a new entry on our Top 100 Plus Size Bloggers 2020. The March and May blog is all about elevated classic style and beauty for women over 40 and we love her sophisticated looks.
57. Maggie McGill
Maggie McGill of the Mags McGill blog is a non-binary plus size fashion and lifestyle blogger based in Mayland. Maggie is championing body liberation and creating plus-size inspo for all genders. We love reading the insightful blog posts on life, relationships and more.
Check out our exclusive chat with Maggie here.
58. Shapely Chic Sheri
The Shapely Chic Sheri blog was founded through a lack of stylish options for younger plus size women. The blog is all about empowering women of all sizes to embrace thor individual personal style and ignore 'fashion rules.'
We love being able to follow Sheri's journey as she navigates through 'a skinny world as a curvy girl' through both the blog and sophisticated chic Instagram feed.
59. Road To Fashionable
Ola Moreena, an ICU nurse has been one of the true heroes of the Corona crisis and we can't thank you enough for all your incredible, life-saving work. Did you know that Ola has a blog too? Oh and she's also a freelance makeup artist and jewelry designer too!
As a self-confessed girly girl, Ola Moreena uses her blog to showcase her personal style and #PSOOTD that are elegantly effortless.
60. Bianca Karina
Bianca Karina is living 'a lifestyle not limited by size' and believes that we can all look and feel pretty whatever our size.
The blog is all about plus size fashion, food, and travel and we LOVE her boho style and super cute looks
61. Jamie Jetaime
Jamie Hamilton is a trend loving, vintage-inspired, plus size fashion blogger from Tuscon Arizona. The body-positive curvy femme loves to dress up, travel, and break a few 'fashion rules' along the way and we are so here for it!
We love the Jamie JeTaime blog for Jamie's quirky retro looks.
62. Chubby Struggles
Fashion, self-love, and mental health are just three of the topics featured on the Chubby Struggles blog and we love reading Alex's super helpful articles about advocating for yourself, sex, and relationship advice.
63. Petite Plus Meow
New to our Top 100 Plus Size Bloggers is the life and style blogger Petite Plus Meow. Irene is a Toronto based Training and Development Professional who uses her blog to embrace a love of fashion.
From having grown up on the plus side, Irene has often struggled to find clothes to fit her petite frame and is sharing her style tips and gorgeous outfit choices with us on her blog.
64. From Head To Curve
Ashley Morgan of From Head To Curve wants you to live life to fullest and know that you are not alone. The blogger and Youtuber creates content on fashion, beauty, and lifestyle. Be sure to check out her great shopping guide!
65. XOXO Kaymo
Lifestyle, fashion and beauty blogger Kay aims to empower women of all shapes and sizes to push the boundaries of society's 'beauty standards' as well as creating a safe space for us to come together on both the blog and YouTube channel.
66. Triena Deniese
Blogging and branding bombshell Triena Deniese is all about living abundantly and is bringing the beauty tips and style inspiration on the blog.
The Atlanta based blogger and new mom is an advocate for body positivity and breastfeeding. We love reading about Triena's journey in motherhood.
67. Style Over Size
Jami Jay of Style Over Size is a Bronx native, shopaholic and believer that style has nothing to do with size and you can rock the latest trends whatever your budget.
The Style Over Size blog is the place to go for style inspo and recommendations on fashion, beauty and lifestyle goals.
We love Jami's bold and colorful style choices and are obsessed with her insta feed.
68. When The Girls Rule
When The Girls Rule is a plus size fashion blog catered for apple shaped women over the age of 40 who want to get their sass back!
Julia, a Midwestern Mom, founded the blog as a result of struggling to find advice for how to dress for a busty, apple-shaped body type that was age-appropriate and focussed on both comfort and style. We love how she uses her platform to share sophisticated style choices that are perfect for all occasions.
69. Prissy Missy
The Prissy Missy Plus Size fashion blog pushes for body positive looks that rejects the standards of society.The Ohio based blogger, plus sized model and owner of the Retro Rosie Chic promotes fun, fashion and frugal living with a 'dose of body love.'
70. The Pretty Plus
Brittany Mason of The Pretty Plus is a family lifestyle blogger and youtuber who is serving us affordable plus size looks and great budgeting tips!
We love Brittany's insights into motherhood with great tips on wellness, fashion and really delicious recipes too.
71. Fashion Schlub
Body positive, plus size fashion blogger Bettye Rainwater is on a style journey from frumpy to fabulous and wants to inspire women over 50 to live, feel and look better.
Check out the 'how to' series for great, budget savvy, style tips.
72. Personal Bravery
A new entry to our Top 100 US and Canada Bloggers is Personal Bravery. Midwestern blogger Princess is dedicated to being her own boss and growing as a person and would love to inspire others to do the same through fashion and lifestyle choices.
We love the Personal Bravery blog for the affordable fashion and totally relatable vibe.
73. Society Of Harlow
Society of Halow's Crystal is an Atlanta based blogger, model and brand consultant who is sharing her fashion forward life experiences on her blog and Youtube channel. From lifestyle, fitness, travel, beauty and plus size fashion you can find Crystal's advice on so many topics.
And did we mention how stunning the SOH insta feed is. #goals
74. Inspo and Co
The Inspo and Co blog from Katarina Simyab is all about style and self-love for the modern babe. Through blogging about plus size fashion and thrifting, body positivity, travel and more, Katerina wants to help others to learn to love themselves. She also shows how they can step out of their comfort zone when it comes to their wardrobe choices.
75. Curvaceously Bee
Memphis native Bianca Gale is our blogging BFF, author of Curvaceously Bee and ⅓ of the @SouthernCurvesCollective. Bianca wants to represent the plus size community through fashion. We love her stunning photos and style advice.
76. Simply Curvee
The Simply Curvee blog by Ashley Wall inspires plus-size women to be stylish, love their curves and to live their lives with confidence. Ashley does this by sharing stories about her own life and experiences as a plus size woman, killer style tips and dating advice.
You don't want to miss the e-book on The Modern Guide To Plus-Size Swimwear
77. Darker Berrie
DC blogger Yasmine is a content creator, brunch lover and author of the Darker Berrie blog. With a focus on fashion, fitness and finance for the urban millennial, Yasmine shares her life experiences and tips on her blog and gorgeously colorful Insta feed. Darker Berrie is all about being bold and we are here for it!
78. Jennifer Buckingham
Plus size lifestyle blogger, actress and model Jennifer Buckingham from L.A. is inspiring us to live our best life and how we can incorporate diverse fashion styles into our closets.
We featured Jennifer Buckingham in our 5 Bloggers to Follow April 2020 blog and love reading how Jennifer's travels have inspired her fashion choices. On the blog, Jennifer shares her love of fashion with a message that we are all 'beautiful, worthy, and enough just as we are right in the present moment.'
79. XOXO I Joelle
Ireana Joelle is all about style, confidence and motivating herself and others to step out of their comfort zone. The XOXO I Joelle blog aims to inspire you and motivate you to go after your dreams through posts on travel , fashion, lifestyle and sharing blogging tips.
80. Enjoy Curves
Joy of the Enjoy Curves blog is a model, speaker and writer who is bringing joy to all parts of our lives and we are loving her positive posts on style, fitness and lifestyle and bold and colorful instagram feed that we just can't get enough of.
81. Tori Block
This year we are excited to introduce Tori Block to our Top 100 US Bloggers.
The lifestyle blogger has spent too long living a life of insecurity but is learning to love her body just the way it is and wants to share her experiences with others to do the same and boost confidence. Because when we feel worthy we can make the world a better place. We love her candid posts and insight into her plus size life and motherhood.
82. Global Midwife
We recently partnered with Global Midwife on our Instagram and are loving how Katrina is breaking stereotypes.
Katrina Rollins celebrates curves on her blog and YouTube channel and wants to inspire plus size women to live life for right now, not waiting until they lose a few pounds. We absolutely LOVE the Ask The Midwife segment where Katrina offers her readers consultancy on a huge range of medical concerns.
83. Sincerely Summar
On the Sincerley Summar blog, weight is nothing but a number!
Summar shares her love of fashion, beauty, travel and (most importantly) food and wants you to know that your style does not need to be defined as just one thing. You can be classy, elegant, cutesy, street, urban and grungey ll at the same time, there's nothing stopping you! Don't miss Summar's top tips on her Youtube channel!
84. Fashion Foie Gras
Emily Jane Johnson aka. Fashion Foie Gras is representing style not size.and wants to encourage you to 'live a fashionable life in beautiful places''
On the blog and YouTube Channel, Emily shares her take on style, travel and food and has even been featured in so many fashion publications. Hello Vogue!
We're obsessed with the Outfit Du Jour segment.
85. Queen With Arlyne
Arlyne Marella wants to inspire, motive and encourage you to release your inner queen! The proud latina is a advocate for mental health, self love and is the creator of the new #RecipesforRealness podcast that's launching in August 2020 - We can't wait!
86. Wanderer Nicole
South Dakota based blogger Nicole is big on travel and body positive plus size fashion.
Nicole founded the blog in 2016 as a place to offer style advice but is challenging herself to choose styles that are out of her comfort zone and accepting your body just the way it is. We love scrolling through Nicole's insta feed and checking out the cute looks.
87. Tricia Ann Stoecklin
Tricia Ann Stoecklin wants you to love the body you're in, and look and feel confident. On her plus size fashion and beauty blog,Tricia Ann Stoecklin is serving tips and tricks on dressing to boost your confidence and inspire readers through sharing her personal style.
We're obsessed with the minimal PSOOTD posts which are big on style staples and earthy tones.
88. Raised By The Mouse
Like us, Cass of Raised By The Mouse is a huge Disney fan and we LOVE the vibrant Disney content, gorgeous photography and super cool merch.
When you are a plus size babe, spending all day at an amusement park can come with its own challenges. Whether that's legging it from one end of the park to another, trying to get the safety belt to fit properly (and if it doesn't,we recommended not getting on the ride) or exceeding the weight limit. Which is why we love Cass' Disney community where she shares tips and style advice.
89. Scrubs To Prada
The Scrubs To Prada blog is all about clothes that are cute, comfy and casual! As a registered nurse based in Southern California, Jill is keen to share her fashion journey with women of all sizes and shapes from around the world and we love the super relatable, everyday looks on Jill's Instagram feed.
90. Anne and Kathleen
We introduced you to Toni of the Anne and Kathleen blog on our 2019 Top 100 US and Canada Bloggers and we just can't get enough from the Nebraska based blogger and advocate for self-love.
The fat acceptance blogger and amputee want to normalize disabilities and believes that there is beauty in all bodies, we 10000% agree.
91. Maya Esthetic
Self claimed 'black Carrie Bradshaw' Maya G is the author of the Maya Aesthetic blog and creator of @Fat.Fit.Fly The millennial inspired, Gen-Z influenced blog is all about finding cute outfits and self-love.
While she continues to figure out what it is that she wants to do with the rest of her life, she's always had a love for writing and creating. Mayaesthetic is the product of that love.

- Maya Esthetic
92. Ragedy Anna
Anna Daniel and is serving some absolute looks on her Instagram and on the Ragedy Anna blog.
The fatshionista, blogger, model from Washington DC believes that beauty that beauty comes in all shapes and sizes and when you believe that you are beautiful then you are beautiful to the world.
93. Sophie Gold
New to our 2020 2019 Top 100 US and Canada Bloggers, Sophie Gold, is an executive producer, curve model and co-host of the Group Chat Realness podcast.
The queen of confidence wants to help you know your worth and be yourself unapologetically.
94. Chelsie Beauregard
For curvy Latin fashion inspo look no further than Chelsie Beauregard. The style and beauty YouTuber and TikTok queen features to die for looks on Instagram that are classy and sophisticated.
95. Britney Mae
We discovered BritneyMae on Instagram and are already obsessed with the It'sBritneyMae YouTube channel but did you know that the Living Life with Brit blog is launching soon!
We are so excited to read the blogs. Britney creates content on plus size fashion, beauty and motherhood and we are loving her stunning photos and outfit choices.
96. Taylors and Tiaras
Jen Taylor of Taylors and Tiaras is a lover of fashion and advocate for the plus size community who is igniting confidence and wants you to embrace and celebrate your curves. We are living for her tips on boosting your confidence and style advice.
97. Kala Riggins
Creator, motivator and slayer; Kala Riggins is the host of the Beneath The Seams webseries and the creative genius behind both the Kala Riggins blog and Youtube channel.
Kala Riggins has been giving us great tips and advice all about content creation since 2012 and wants to encourage others to embrace their true selves.
98. Arielle Estoria
We are so excited about adding Arielle to our top 100 bloggers list! She initially started her career in the competitive slam world of Spoken Word Poetry in 2012, but then went into freelance in 2015. She has worked on spoken word campaigns with brands a big as Lululemon and Google, but she has also made a brand of herself.
You can find all of her work listed on her blog here.
Her blog posts include both documenting her life, but also beautiful poetry - our favorite is her most recent poem about the beautiful Breonna Taylor.
99. So Shenell
With a passion to inspire and empower full-figured dolls, Shenell has shared her confidence and life on her blog.
I will be the blogger who is not defined by her size, but whom all sizes are mesmerized by her poise. Starting `So Shenell` is the blossoming of my rose. Each thorn intricately pierced in the sides of my stem is representative of my struggle of childhood, to weight, then divorce.

- So Shenell
This Chicago Curvy Fashion Blogger does an amazing job at engaging with her audience on a personal level through her Instagram. Her gram is an inspiration to women wanting to up their fashion game and Shenell makes it possible.
100. Kari Kemp
Youtuber and new fashion business owner, Kari Kemp lets her viewers into her life through video, pictures and more.
On her Youtube, you can expect to see plus size fashion hauls and her Tik Toks (if by the time you're reading this blog and Tik Tok is banned, you can check them out there.)
Her Instagram and other socials all exude confidence, making her a feel-good person to follow!
We are so excited we get to share 100 of the people we feel do an amazing job at representing the plus size world as fatshionistas, advocates, authors, speakers, poets, parents, teachers, nurses, models, photographers - the list goes on and on.
With our diverse list of people in not only skin color, but professions and styles, we hope you have found a couple new favorites to follow.
We always love finding new people to feature and the next feature could be YOU! We created Collections to get to see the style from our community and as an added bonus, are giving away money towards your collection if you make it into our top three.
You can read more about Collections here and sign up!
Once you create your Collection, share it with us by either DMing us a link or share it into our Facebook Group: Plus Size Outfit Share.